The Perfect Storm
The Perfect Storm:
When rare snowfalls blanket the mountains, the brave risk life and limb to ski the backcountry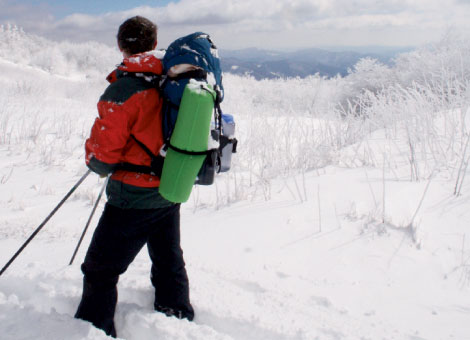 This is a really stupid idea," I say to my friend, Jeff, as we stand ankle deep in snow, looking down the face of a mountain. "I mean, this could end badly."
We're standing on top of Big Bald, a normally grassy dome that reaches 5,500 feet in elevation along the border between North Carolina and Tennessee. We want to ski a steep corner of this mountain that quickly narrows into a thick hardwood forest before giving way to an old logging road. From the looks of it, it's maybe 100 yards of tight tree-dodging with no room for error.
"It's definitely a stupid idea," Jeff says. "But…" I already know what he's going to say. "…it's what we came here to do."
He's right. Runs like this are why we passed a perfectly good ski resort (with lifts) to come to the mountains of Pisgah National Forest. It's why we strapped on cross-country skis and shuffled two miles uphill. We're here to explore North Carolina's backcountry in search of downhill runs exactly like the one before us. After all, there's a foot of fresh snow covering the surrounding mountains. Since we live south of the Mason-Dixon line, we don't see these conditions every day. We don't even see these conditions every year. So really, I have a moral obligation to ski this hill.
So I do it. I point my skis downhill and go. Luckily, the powder is so thick it slows my pace. My ankles disappear into the snow, only to pop above the surface with each ugly telemark turn I make. I cruise through the meadow with no trouble, but before I know it I'm in the thick of the trees, trying to plan every turn four or five moves in advance.
It's tricky business, but I'm wearing a helmet, so everything will be OK. It's amazing what strapping a hard plastic shell over your soft spot will do for your confidence. Low-lying branches scrape my jacket as I slip between the hardwoods. I stop every 10 yards or so to catch my breath and make sure I'm taking the safest route down the fall line. The ground is lousy with roots, fallen branches, and scrub brush hiding beneath the snow like booby traps.
Wilderness skiing is popular in Western states and parts of the Northeast, where frequent storms blanket steep public land, and expert skiers eschew the resorts for untouched trails. It's a completely different animal than running manicured slopes. It's solitary, peaceful, and difficult. Out here, if you want to ski down a mountain, you have to ski up the mountain first.
I supplement my habit with resort skiing just like everyone else, but skiing man-made snow with a thousand strangers pales in comparison with hitting natural snow. No church groups from Florida, no $7 hamburgers, no $70 lift tickets. It's just me, my dog, a ski partner, and a frozen PB&J sandwich.
I reach the logging road with only minor scrapes and bruises and turn back to watch Jeff follow my line. Neither of us navigated through the trees with any grace, but we've both got big grins on our faces. We climb back up the mountain, skiing a wide Z-pattern through the same trees. At the top, we take a break, sucking down half-frozen water before another shot, a little more confidently this time knowing that it can be done without fatal injuries.
Weather Man
A lot of preparation went into today's adventure. It's the culmination of a winter's worth of research, analysis, and bargaining with the snow gods. Turns like the ones Jeff and I are taking on Big Bald are dependent on heavy snowfall—at least six to eight inches. Ten inches is better. The 12 inches we're skiing today is primo and rare. During an average winter, I'm lucky to see half a dozen days in the backcountry.
During the winter, skiers become weather geeks. I watch live web cams, placed on top of various mountains throughout Western North Carolina, waiting for snow to fall. I spend a lot of time monitoring weather.com,
wunderground.com, and the National Oceanic and Atmospheric Administration website. I bounce from site to site watching as storms develop in the Gulf or Midwest, hoping the swirls of red and white will reach our corner of the state. I obsess over temperatures and high-pressure systems, the same way surfers track offshore cold fronts and hurricanes that bring them swells. If a storm is brewing on the radar, I pack my ski gear and wait. If it develops into a snowstorm, I drop everything and hit the mountains.
This particular storm came on fast, moving in during the night and dumping unprecedented amounts of snow. Where I live in Asheville got maybe two inches. These mountains 45 minutes outside of town got a foot or more. It's a Wednesday afternoon and I'm not supposed to be searching for powder stashes. I'm supposed to be in the office contributing to the Gross Domestic Product, but when this much snow falls, you simply have to call in sick.
Laying Tracks
After Jeff and I chop up the short tree run on the north side of Big Bald with repeated runs, we decide to look for fresh terrain and hopefully deeper snow. We're wearing cross-country gear—leather boots and skinny skis. It's not the sort of set up designed for what Jeff and I are doing, but the skiable vertical drop surrounding Big Bald is short and patchy. Every downhill run is surrounded by twice as many uphill stretches. The narrow skis are more versatile than traditional alpine gear, allowing us to ski up, down, over, and around just about anything.
After roughly an hour of skiing, we find ourselves standing on the edge of a graded slope where widely spaced hardwoods cast long shadows over the snow. The vertical drop is mellow, steep enough to keep us moving but not enough to be hairy, and there's plenty of space between the trees to make wide, safe turns. This is exactly what we've been looking for. Jeff looks at his watch. It's late in the afternoon and it will take us two hours to get back to the car. We should head back and remember this patch of forest for the next storm. That would be the smart thing to do. But we didn't come to this mountain to do the smart thing.
Jeff goes first, bending deep at the knee with every turn, and giggling as he skis through the trees. I follow him, taking a slightly different route so I can cut fresh tracks. There is no underbrush to catch my skis, so I glide effortlessly from one turn to the next. The snow will be gone in a day or two. We know we're lucky to be in these woods on this day. The turns we take are sweet because they are fleeting. I try to remember that Latin poem about seizing the day, but I can't, so I just ski.
Carpe snow.