Pedal Pushers
Pedal Pushers:
Trips For Kids introduces youth to the joys of biking in the wild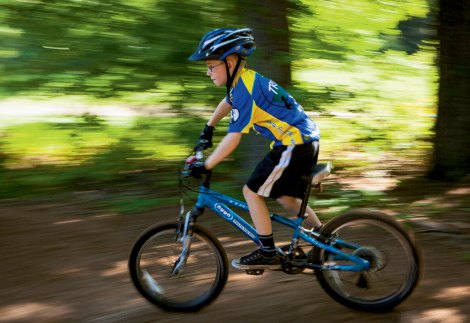 The sun is burning through the remnants of the morning fog when a yellow school bus emblazoned with Transylvania County Boys and Girls Club pulls across a gravel parking lot in DuPont State Forest. Within seconds of coming to a halt, excited kids stream out of the bus and instantly head toward an assortment of bikes lying in wait.
Hardly a minute passes before the group of 15 kids, most of whom are about 12 years old, have strapped on their helmets and are furiously pedaling around the lot. Their excitement is genuine and unabashed as they circle, talking amongst themselves about which trails they want to ride today as they prepare to head up the gravel roads and dirt paths into the forest.
The smiling faces and excitement about mountain biking are exactly the reactions Stephen Janes hoped for when he decided to launch a local chapter of Trips For Kids in autumn 2010. Since then, the nonprofit has taken nearly 1,000 children on excursions by collaborating with youth organizations, such as Children First and Boys and Girls clubs, as well as after-school groups. The goal is "to provide mountain bike outings and environmental education for kids who would not otherwise be exposed to such activities."
For Janes, who previously worked in the child mental health field and has biked the entire Blue Ridge Parkway, the Trips For Kids project is a merger of his passions. "I love working with youth, inspiring them, and guiding them," Janes says.  "And I love riding bikes."
Not only does this program provide opportunities for kids to get out into nature and improve their physical health, one of the purposes is to also boost participants' mental well-being. Another positive aspect is the rides  give participants the chance to strike up friendships through the common pursuit and build relationships centered around a healthy activity.
Many of the kids Janes works with don't have an abundance of positive role models in their lives. He and the volunteer ride leaders try to help fill that void.
Based on the Trips For Kids model established 25 years ago in San Francisco, the local branch is quickly growing into an organization that can make a big impact on the paths participants take in life.
Janes gauges his success not through the number of kids he reaches, but the long-term impact he has on individuals. "Success is going to happen 10 years down the road when one of these kids goes to college and graduates," he says. "Twenty years down the road one of these kids is going to be successful. So just having faith that the program is going to have an effect like that is success."
With humidity levels near 100 percent, it's easy to tire quickly while pedaling up a steep gravel road through the forest. But Samantha Mann, on her fourth group ride of the summer, seems indefatigable. "It's really fun because you get to come out and get exercise while hanging out with your friends," she says.
She's already learned a lot about what it takes to be a mountain biker, how to maintain a bike, and what skills she needs to improve upon. Mann thinks she might like to become a professional mountain biker one day. "I really like it because it gets your heart pumping and it opens up your lungs," she says as she tops the crest of the hill. "And the downhills are awesome."
For Marcus Morgan, the program has opened his eyes to a whole new world of possibilities and shown him success is achievable through perseverance.
When he started the program, he'd never ridden a bike without training wheels. But, with the help of a coach at the Boys and Girls Club and steady encouragement, now, just weeks after learning to ride, he's cranking his way uphill through moderately technical terrain.
In the last two weeks, 12-year-old Morgan has gone on two rides and says he's caught the mountain biking fever. The next step is to get his own bike so he can continue to ride. It's kids like Morgan who have inspired Jane's next endeavor. With hundreds of new riders, many of whom don't have the resources to purchase a new bicycle, he plans to open a bike shop specializing in repairs of older models, which he'll sell or donate to those who need them most.
To launch the shop in Asheville's Oakley neighborhood, Janes is asking for the community's continued support through funding and volunteers who can teach bike maintenance and help handle sales at the store. "It really takes a whole community to do it right," he says.
---
Get Involved
For more information about how to volunteer or support Trips For Kids, call Janes at (828) 777-1022, or visit www.tripsforkidswnc.com.