Past Is Present
Past Is Present:
New projects paint a fuller picture of WNC's Black history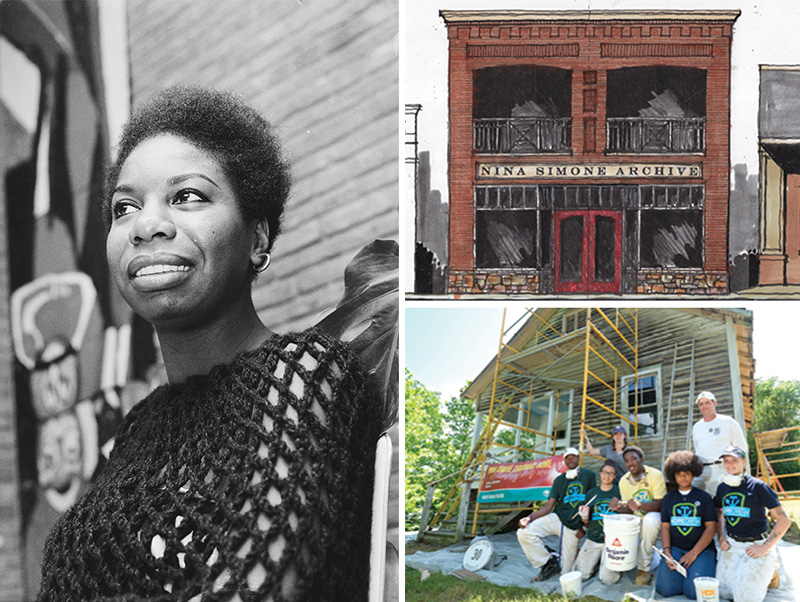 Back In Black: Local African American history rises with the times, including the recently proposed Nina Simone Archive in Tryon. Bottom right, volunteers refurbish Simone's childhood home in Tryon
Nina Simone Archive
Ten years ago, the Tryon-based Nina Simone Project installed a striking statue of the late Simone, who was born there with the name Eunice Kathleen Waymon and became known as the High Priestess of Soul. Now, the project has launched a $2 million capital campaign to fund the Nina Simone Archive. Slated to be built at 65 S. Trade Street, across from the statue, the facility will feature performance and gallery spaces, artist studios, offices, and archival storage. Crys Armbrust, founder and chair of the project, says the initiative is pinning much of its hopes on obtaining corporate underwriters to further salute Simone's musical legacy.
Meanwhile, progress proceeds on the years-long effort to restore and enshrine Simone's childhood home in Tryon. A collaborative effort between the building's owners and neighboring community, the Nina Simone Project, and the National Trust for Historic Preservation, the plan is to protect the structure in perpetuity while repurposing it. "There's a strong desire for it to be a place of education and interpretation," says NTHP field officer Tiffany Tolbert, "and a place for artists to come, create, and be inspired." Stay up to date on both initiatives at ninasimoneproject.org.
Black Asheville History Project
Launched in 2019 by a group of staff and volunteers at Pack Memorial Library's North Carolina Room, the Black Asheville History Project seeks to fill in the city's archival gaps and help complete its story. Its mission to collect and share documents, photographs, oral histories, and other testaments to local Black history has become all the more urgent in recent months, and the project is now spearheading an effort to increase the NC Room's share of holdings on local Black history to 25 percent of its total archive.
The project has already mined significant new materials and is actively searching for more community members who want to share their memories. "The archive is interested in donations of photos and photo albums, business papers, letters, diaries, and more," says Katherine Cutshall, the NC Room's collections manager, and the library is also happy to discuss loaning your keepsakes for digital scanning. Learn more at packlibraryncroom.com.
Roberta Flack Muralized
Black Mountain is now home to a sizable tribute to its biggest star: the singer Roberta Flack, who was born in the town in 1937 and lived there until she was nine. Flack rose to international fame as songs like "The First Time Ever I Saw Your Face," "Killing Me Softly with His Song," and "Feel Like Makin' Love" propelled her to consecutive Record of the Year Grammy wins, in 1973 and '74, and this year she was awarded the Grammy Lifetime Achievement Award.
In late July, a classic '70s visage of Flack was painted across the west side of Black Mountain Brewing on Broadway Avenue. The artwork was the brainchild of Scott Nurkin, a Chapel Hill-based painter who heads the North Carolina Musician Murals Project. Brewery owner John Richardson jumped at the chance to host the mural, calling it "an important opportunity for Black Mountain to celebrate a strong Black woman and embrace a piece of our history that, for some reason, we haven't." Learn more at musicianmuralsproject.com.