Page Turners
Page Turners:
Two mountain festivals draw top literary talents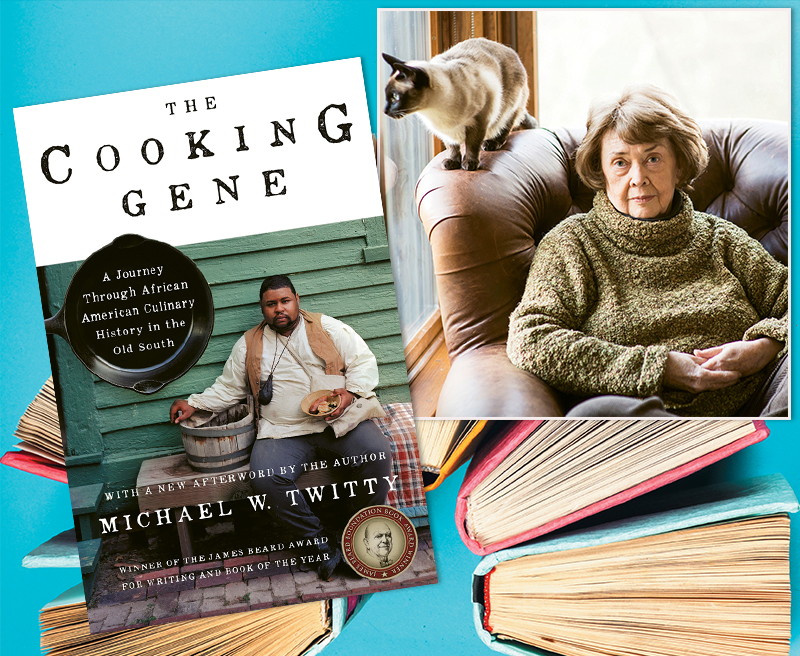 Burnsville's Carolina Mountains Literary Festival will feature acclaimed novelist Gail Godwin (above right) and award-winning culinary historian Michael W. Twitty, among others.
"The word that we hear a lot is 'intimate,'" says Kathy Weisfeld, festival chair of the 13th annual Carolina Mountains Literary Festival in Burnsville, which takes place September 6-8. The intimacy that defines the local lit fest is a product of its venues: small businesses around town lend their spaces to the event, and at each workshop, reading, presentation, or talk, 20 to 30 readers rub shoulders with some of their favorite authors.
This year's featured writers—including Michael W. Twitty, 2018 James Beard Award winner for best food writer and best book, and Asheville-raised, best-selling novelist Gail Godwin—speak to the year's theme, Surface & Rise, which aims to tell the tales of people who faced and overcame crises. The winner of this year's correlative art contest, Ginseng Rising by Rhea Ormond, depicts the native root in elaborate context. "Ginseng struggles to grow underground, but then when it rises to the surface, it's used for healing," explains Weisfeld.
United States Poet Laureate Tracy K. Smith headlines West Jefferson's On the Same Page Literary Festival.
Intimacy is also a hallmark of the following week's On the Same Page Literary Festival in West Jefferson. Jane Lonon, Ashe County Arts Council's executive director, notes that authors and attendees have the chance to closely interact at the annual festival. "Some of our signature events include a lunch with an author, a culminating luncheon with panel discussion, a Cinnamon Cinema event that ties a movie to one of our books or authors, and writing workshops," she says of the sessions, which are hosted at local businesses.
If this year's Same Page has a theme, it's poetry. No less than United States Poet Laureate Tracy K. Smith headlines the sententious celebration and will also lend her talents to local high school students through an outreach program. "Her mission of taking poetry to rural communities is one that will resound with some of our other featured authors," Lonon adds. Those include former poet laureate of Kentucky Frank X. Walker and North Carolina's own former laureate Joseph Bathanti.
Carolina Mountains Literary Festival
Burnsville, September 6-8
cmlitfest.org
On the Same Page Literary Festival
West Jefferson, September 11-15
onthesamepagefestival.org
RESOURCES:
Photographs courtesy of Carolina Mountains Literary Festival