Paddle Up!
Paddle Up!:
Nantahala Outdoor Center set to showcase international wildwater championships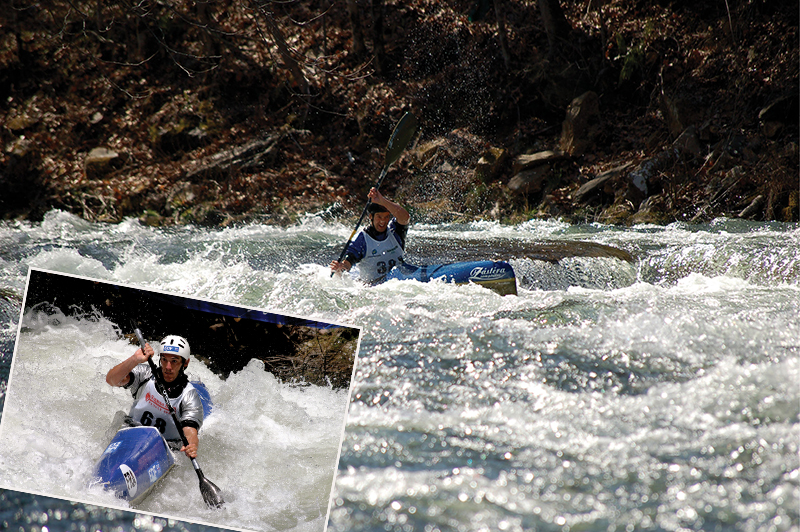 Race Is On - The Wildwater World Championships join a growing list of international competitions hosted by the NOC.
Over 150 of the world's best paddlers will converge this April as the Nantahala Racing Club and the Nantahala Outdoor Center the 2020 International ICF Wildwater World Championships. Wildwater paddling, a canoe and kayak race format that allows contestants free reign to pick any line while sprinting down river, is an Olympic sport that features both middle distances, also known as classic racing, and sprinting. With the 2020 summer games fast approaching, the world championships in Western North Carolina will take on special significance. "This event will include Olympic-level athletes who will go on to Japan," notes Jan Wojtasinski, NOC's vice president of marketing.
Event organizer and competitor Chris Hipgrave says the paddlers' velocity and grace, combined with the crash-and-burn drops on the river, will create a compelling atmosphere for racers and spectators alike. "These are the best guys in the world going through Nantahala Falls at breakneck speed," he says. "It's mind-blowing how fast they dance through the water."
Top Drops More than 20 Olympic competitors have worked at the NOC through the years.
The championships include both individual and tandem races. The classic race, a four-kilometer contest through Class II and Class III whitewater, runs numerous rapids before finishing at the NOC. The fastest athletes will complete the course in 12 to 13 minutes. The sprint, a lung-bursting 450 meters, starts just upriver of Nantahala Falls. The best paddlers can be expected to shred the course in a mere 100 seconds.
Hipgrave recommends that spectators arrive early and find a spot on either riverbank at the base of the falls. "Make noise," he emphasizes. "We want it to be as loud as possible when we come through—we are going to be hurting."
International powerhouses including the Czech, Slovakian, German, and French teams will all be competing, as well as Australian, Japanese, South African, and American athletes including Coloradan Cully Brown and Asheville sensation Alesia Sezario.
For the NOC family, the championships will continue the company's rich history in competitive paddling. "Healthy competition in paddlesports is instrumental to who we are as an organization," says Wojtasinski. "We are introducing wildwater racing to lots of audiences with this event."
2020 ICF Wildwater Canoeing World Championships
April 26-30; free
Visit wildwaterworlds.com for schedules, parking, and other info