Outside the Box
Outside the Box:
Three Boone entrepreneurs are cracking the lid on container eco-homes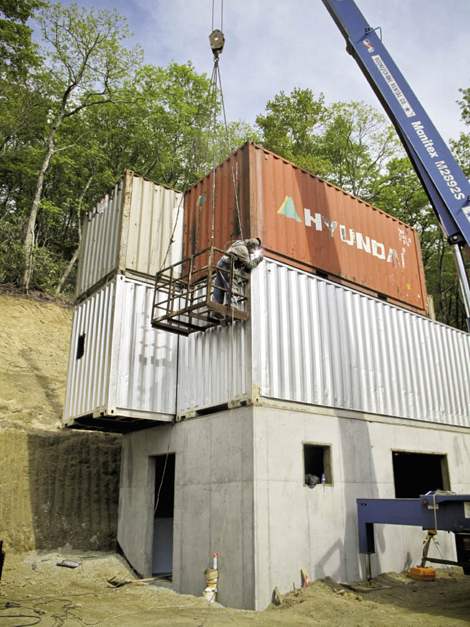 In port cities rimming the united states, retired shipping containers are accumulating by the hundreds of thousands. It isn't difficult to imagine them filled with myriad goods—from refrigerators and sneakers to PlayStations and exotic foods. But it's much more challenging to envision what it would be like to make a home inside these enormous steel receptacles.
A new architectural movement has formed in the last decade to find a use for these stockpiled boxes, which are designed to withstand huge payloads of cargo and the extreme conditions of transoceanic and highway travel. DwellBox, a company in Boone, is working to get in on the ground floor as the first company in North Carolina using these containers to construct affordable, eco-friendly houses.
Ethan Anderson, Casey Pond, and Jeffrey Scott founded DwellBox in 2008. The company buys used containers from shipping companies and employs them as frames for new houses, providing a sturdier, more durable alternative to conventional wood frames. "We think of them as adult LEGOs," says Anderson. "They're just big building blocks, and we can configure them any way you want, except round. We don't do round."
The idea was hatched while Pond was working with ReStore, a division of retail outlets run by Habitat for Humanity that sells used construction materials and hardware. All three men have run real estate companies, and began examining the possibilities of using recycled materials in the design of structures. "We didn't initially set out to do it as a business," says Pond, "but rather an exercise in new building techniques."
The experiment took the form of a 320-square-foot garage apartment, erected on a plot of land Anderson owns near the campus of Appalachian State University. The idea was to "employ the adaptive reuse of containers to create jobs and offer affordable housing solutions," says Pond. The price of a box—$1,000 to $4,000 depending on the condition—and minimal amount of time required to build these dwellings drastically reduce the cost per square foot.
The concept is already in practice in other parts of the United States and Europe. Dozens of shipping container structures, or intermodal steel building units (ISBUs), have been permitted for occupancy stateside (mainly on the West Coast). In England, they've been developed into condos. But the idea was unprecedented in North Carolina, and there were no existing rules about containers in the city's code. "Boone's building environment and inspectors are very tough," says Pond. "So we knew that if we could build in Boone, we could prove that construction with containers was legitimate and justified."
After two years of planning and research, Anderson, Pond, and Scott were prepared to make their case to local construction authorities. The trio set to work collaborating with inspectors, appraisers, lenders, and insurance agents. At first, the design was met with resistance. "We went to the inspector and showed him our plans before asking for a permit. He looked at it and immediately said 'you can't do it,'" recalls Anderson.
But DwellBox made a compelling argument. Along with functionality, promoters of ISBUs point to a number of eco-smart aspects that make them attractive building vessels. The reuse of materials and elimination of structural redundancy means less waste. And a steel exterior requires a higher quality of insulation, making for a tighter building envelope and more efficiency in heating and cooling. Their load-bearing capacity far surpasses what is required by code, and the durable shell affords a higher resistance to fire, termites, and mold. DwellBox received approval from the state and broke ground on its first project in September 2008.
Even with some delays, construction took less than 90 days, and the dwelling wound up costing about half that of a stick-built home, according to Anderson. The finished product used one box—40 feet long, eight feet wide, nine feet high—cut in half and stacked vertically to make a first level garage with an upstairs apartment and exterior staircase. Though containers can be used as a frame and then concealed with siding or brick, the garage apartment retained its corrugated steel walls and boxy, rectangular frame. It's still recognizable as a container, and has a funky, minimalist aesthetic.
Boone resident Katherine Abrams commissioned the company's second residential project, a home comprised of six staggered containers that rise from a steep slope and jut out in multiple directions. Aside from the unique shape, the interior finishes render the home very similar to conventional houses, Abram says.
In 2009, the company received a $100,000 grant from the N.C. Green Business Fund to continue their work. And unexpectedly, aid organizations and governmental agencies contacted DwellBox regarding possible disaster relief applications of ISBUs, which could be used as rapid-deployment data and command centers to organize and launch aid efforts. The containers could also serve as temporary housing for disaster victims, in lieu of trailers, which have short shelf lives and the potential for toxicity problems.
While these plans are in the works, the owners of DwellBox know that education is still the key to moving forward. "We're trying to demystify and break down the barriers to be able to do this type of construction."
On the near horizon, the group will be completing a project with Caldwell Community College & Technical Institute on a mobile green-construction laboratory. The Finding Opportunities in Renewable and Sustainable Technologies (FOREST) Lab will be housed in a container that can accommodate lessons in solar panel and radiant heat installation, among other eco-technologies. It's just another way DwellBox is spreading knowledge.
---
J. Hansbrough is a freelance writer living in West Asheville.