Outdoor Gourmet
Outdoor Gourmet:
Go beyond fruits and vegetables at your local tailgate markets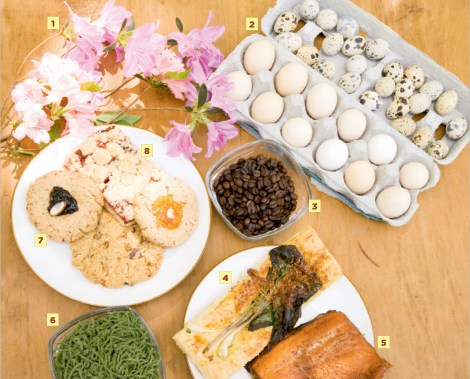 If your grocery shopping always involves air conditioning and fluorescent lighting, it's time for a change. Get outside and fill your basket with fresh produce at a local farmers market. And save some room for goodies that don't necessarily come from the garden, including these tasty finds at the North Asheville Tailgate Market.
1. Pretty Centerpiece: Bouquet of azaleas, Osada Bee Farm. $3
2. Which Came First?: A dozen Banna hen eggs and quail eggs, Maw's Kitchen. $2 Banna, $2.50 quail
3. Morning Calls: Birds of Paradise beans, Asheville Coffee Roasters. $12 for 1 lb. bag
4. Savory Bite: Ramp and Manchego cheese pastry, Farm & Sparrow wood-fired craft bakery. $3.50
5. Fish Tale: Smoked trout, Sunburst Trout Company. $8 for 4 oz.
6. Easy Dinner: Fresh organic spinach pasta, Pasta Mama. $4 for 1/2 lb.
7. Sweet Treat: Gluten-free almond cookies with organic blueberry & apricot jams, Night & Day Bakery. $2.50 each n 8. Snack Attack: Strawberry-rhubarb bar & Cowgirl cookie, Sweet Heart Bakery. $3 bar, $2 cookie