Out of the Woods
Out of the Woods:
Asheville artist Matt Tommey's sculptural baskets reflect nature's wild creativity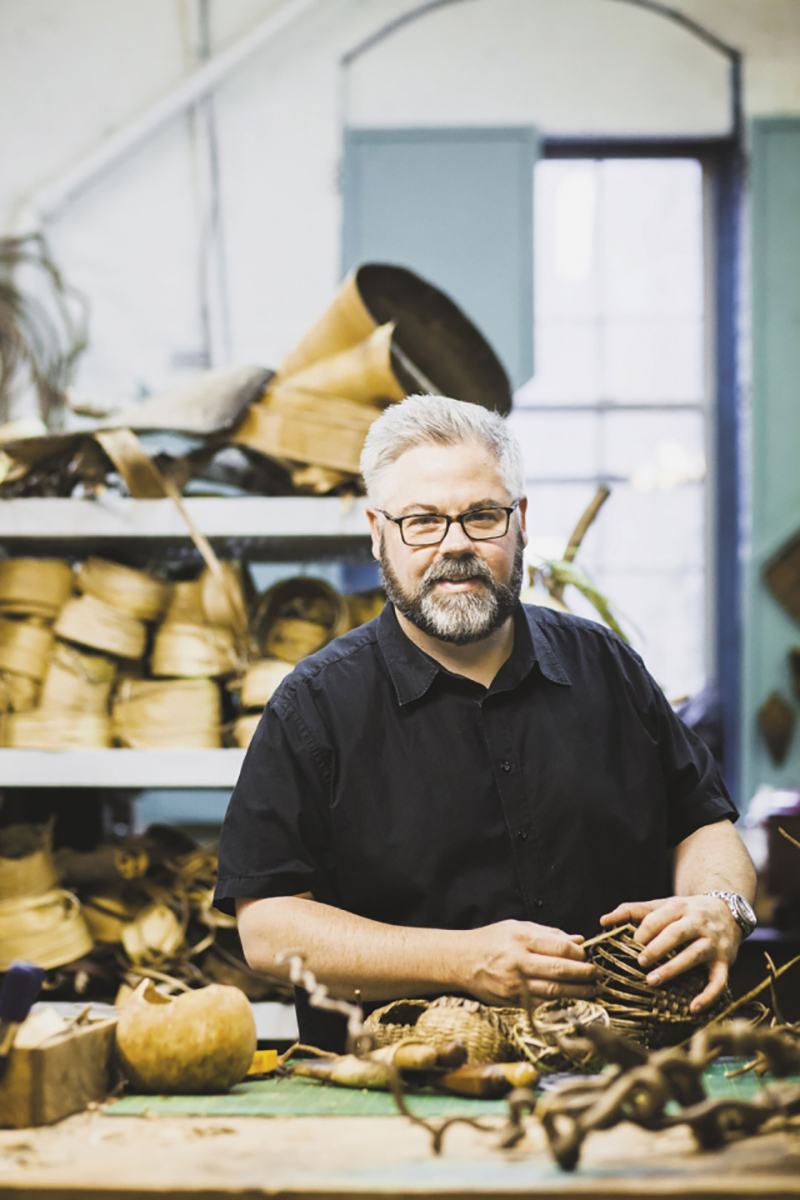 The woods play muse to Georgia-born artist Matt Tommey, who has called Asheville home since 2009. In the twist of a vine, he sees the "architectural skeleton" of a sculpture. In a sliver of bark, he sees color and texture that can be woven into the contemporary baskets that have become his trademark. For Tommey, the "trail of creativity" starts in the forest and leads into his River Arts District studio.
Tommey takes a self-limiting approach when it comes to materials, using only what's available nearby. Here in WNC, that means mimosa and poplar bark, and iris and cattails from the shores of the French Broad River. The vines he uses—kudzu, bittersweet, and honeysuckle—are invasives that many consider a nuisance, but in Tommey's hands, they become works of art.
While Tommey started out making functional baskets 22 years ago, his work is now purely sculptural. Leaving behind the limitation of function, his creativity soared. "Basketry is really a language. Once you've got the skills, you can use it to say whatever you want," he says. Twining—among the traditional techniques he uses and teaches—helps give his baskets shape, but it's just one component of the work. Tommey leaves some pieces natural, but for others he adds surface design, utilizing black walnut dye or encaustic wax. Many of his new works are mixed media, incorporating clay or copper wire. And he'll often combine several small baskets with natural elements to make wall hangings and spacious sculptures perfect for mantels.
About half of Tommey's work is now commissions, often for clients with homes that reflect what he calls "modern rustic" décor. He'll even harvest materials from the client's property to create it.
Basketry, by its nature, is not an art form for the impatient. It's more of a meditative art, in line with Tommey's beliefs on the intersection of faith and creativity. He's written several books on the topic (as well as one on marketing and branding for craft artisans) and he frequently speaks at conferences and other events. He also teaches basketry, both in his studio and at esteemed craft schools, including John C. Campbell Folk School. While he channels his creativity into the minute details of basketmaking, his entrepreneurial energy is seemingly boundless. Weaving art, spirit, and business together, the artist says he stays continually inspired.   
On View
To see more of Matt Tommey's baskets, go to www.matttommey.com.