Olympic Hopefuls
Olympic Hopefuls:
Meet Western North Carolina's 2021 Olympic hopefuls—Manteo Mitchell and Abbey Cooper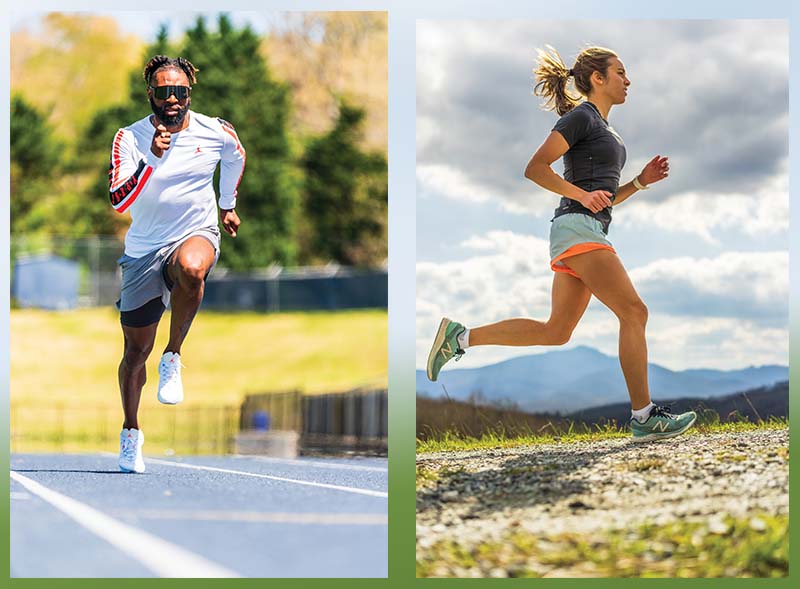 Only the best of the best athletes get to compete in the Olympics, which return to Tokyo this summer. To even qualify for the world's most prestigious sporting event is to be a winner. 
Manteo Mitchell
Olympic sprinter and 2012 silver medalist Manteo Mitchell has a one-of-a-kind scheduling conflict this summer.  Should he qualify for a spot on the US Olympic track and field team, he'll have to dash from the XXXII Olympic Games in Tokyo to Lake Placid, New York. That's where he'll battle for a spot on the US bobsled team for the chance to compete in the 2022 Winter Games in China.
A gold, silver, or bronze medal in bobsledding in '22 would distinguish Mitchell as the first Black American male to medal in both a winter and summer Olympic games.
"I want to make this work. I want to make history," he says. "I've done half of it, so now, I just need to go to Beijing and help the team go to the podium." 
But don't fret about Mitchell missing the tryout in New York: moving fast is where the fleet-footed sprinter excels. After becoming the most decorated athlete ever at Western Carolina University, he ran for Team USA in the 4x400m relay at the 2012 Summer Olympic Games. In London that year, he was given the first slot in the relay.
"There's a lot of pressure [as the first runner], but it's super dope," he says. "You have to put your team in a position to be successful."
Injuries from a car wreck prevented Mitchell from competing in 2016 in Rio, though his downtime didn't last long. He got a call last summer from Aron McGuire, the CEO of USA Bobsled, inviting him to give the sport a go. The US bobsled team often recruits dynamic athletes from other sports. Naturally, Mitchell is a brakeman—typically the most explosive athlete in the sleigh, to set the pace. His job is to push the sled at the start, jump in, and crank the brake at the end of the run. 
The 34-year-old father of one lives and trains in Asheville but grew up in Mooresboro, North Carolina, on "Mitchell Hill," a small, tight-knit community a few miles west of Shelby. A broken arm his high school senior year spun the promising football star into a remarkable track career, which really took off at Western Carolina under the guidance of his longtime coach Danny Williamson, who he still trains with today. 
An arm fracture, however, is not his most consequential injury. During the qualifying heat of the 4x400-meter relay at the London Olympics, Mitchell's fibula snapped halfway through the race. In spite of the crushing pain, he galloped ahead to pass the baton at world-class speed.
"Was it a good decision for my body? No. Was it a great decision for my team, my country, my family, my son?" The answer, he insists, is a resounding yes. His team won a silver medal, and his saga on the track and his determination have inspired thousands of fans and athletes. 
He's grateful for the accolades and the spotlight as a sports icon, but he reminds people that he's just Manteo Mitchell from Shelby. "I feel like anything that I touch or do always has a bigger meaning behind it," he says. "I had a dream of doing something, but other people can do it if they just apply themselves, have faith, focus, and finish anything that they start."
Mitchell set multiple track and field records while at Western Carolina University. In 2012, he helped the US Team take home a silver medal in the 4x400m race, and he hopes to help the team win again this year. He's also in training to try out for the US bobsled team, seeking to compete in the 2022 Winter Olympics.
Career Highlights 
7-time NCAA Championships Qualifier
32-time All Southern Conference
7-time NCAA-All Region
4-time NCAA Championships Competitor
5-time Southern Conference Team Champion
4-time Southern Conference MVP
Western Carolina University record holder in 200m (20.73s), 400m (46.00s), and 4x100m
Joe Hunt Award - Outstanding 
College Athlete Male
2012 IAAF World Indoor Championships 4x400m gold medalist
2012 4x400m Olympic silver medalist
Abbey Cooper
Abbey Cooper of Boone knows something about heartbreak and disappointment. That may be surprising to hear coming from an Olympic long-distance runner with a lengthy list of accomplishments.
But it's hard to overlook her most public misfortune. In the Rio 2016 Summer Olympics, Cooper stumbled on the heels of Nikki Hamblin of New Zealand in the qualifying round of the 5,000-meter run. Her first impulse was to aid Hamblin, but she was stunned by the overwhelming pain of her own injury, which ultimately required surgery. Cooper and Hamblin helped each other up and pushed painfully to the finish line. Cooper was hailed a hero for her decency and courage.
"It's not to say that I don't have a deep desire to go back and have a different experience at the Olympics, but I wouldn't change what happened in Rio," she says. "It created a platform for me to encourage young athletes. It's part of my story."
Cooper hopes to compete in the Olympics again this summer in Tokyo. She's confident about her odds, but pragmatic too. She narrowly missed qualifying in 2012, and in 2016, she'd sustained an injury two months prior to the trials and only snatched the last team slot after two runners stepped aside. "The whole experience was a total gift," she says. "But that's how it is for a lot of athletes. You just don't hear about it."
Her tumble in Brazil, she notes, often overshadows the substantial achievement of becoming an Olympian in the first place despite a litany of injuries and the psychological stress of performing at such a high level. In fact, her journey to become an elite athlete involved buckets of tears, fear, doubt, loneliness, and shame. 
After a decorated collegiate career at Dartmouth College, where she won seven NCAA titles, the Boston native launched a professional career in 2014. Yet early success as a runner whipped up turmoil from the mental strain of training and competition. For Cooper, achieving more success led to more anxiety and the realization she needed to ask for professional help. A bumpy journey indeed, but she's embraced her personal struggle, grown from it, and thrived.
In 2019, Cooper moved to Boone with her husband, a clinical sports psychologist at Appalachian State University. Though she trains in Johnson City, TN, and Arizona (for month-long high-altitude training stints), she adores the mountain town and in a short period of time has found a community. When she's not running, she uses her experience in Rio and her writing ability via her blog, Running with (HE)ART, to encourage and connect with other athletes.
"It doesn't get easier and I don't get less upset when bad things happen, but I've found the peace and freedom I need in order to compete well," Cooper says. And regardless of her performance this summer, she intends to continue to pour her heart into running and pursue a few more Olympic cycles.
Career Highlights 
7 NCAA titles (most for an Ivy League athlete)
First Ivy League athlete (Dartmouth College) to win an NCAA Cross Country National Championship (2013)
Honda Sports Award (2014 for best female cross country runner)
2016 Olympic Games track and field 5000m 
Rio 2016 Fair Play award from the International Fair Play Committee and International Olympic Committee
Qualifying events for Mitchell and Cooper take place in June. Stay tuned, as we'll be announcing their acceptance to participate in the 2021 Summer Olympic Games, July 23-August 8, with this story online and via our social media channels.