Olmsted's Great Final Design at Biltmore
Olmsted's Great Final Design at Biltmore:
How the famed landscaper became Vanderbilt's visionary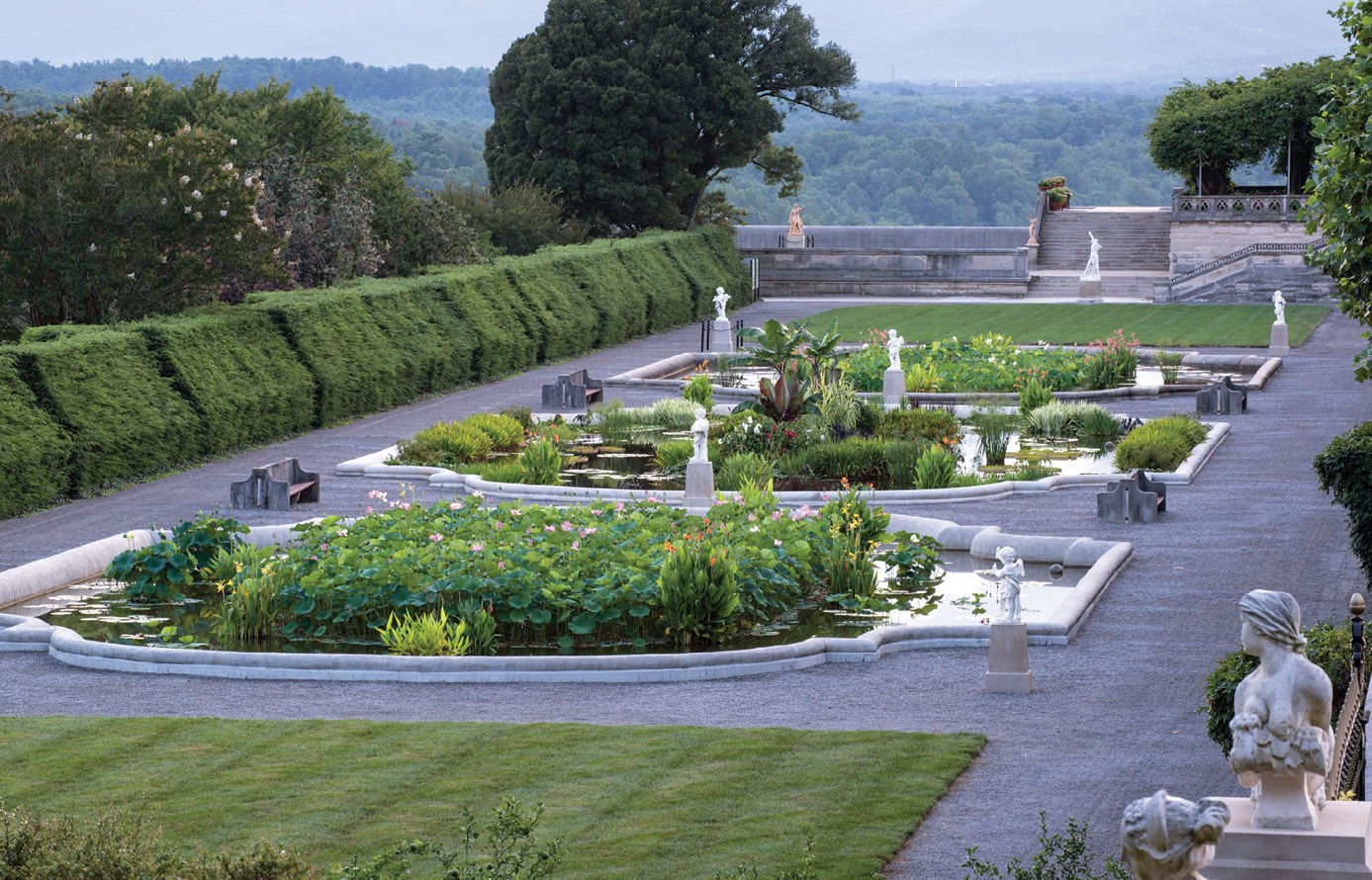 Today, upwards of 1.4 million people a year visit George Vanderbilt's Gilded Era Biltmore Estate in Asheville. Frederick Law Olmsted, the man who designed the place more than a century ago, would be happy to hear that but probably not surprised, according to Bill Alexander, Biltmore's landscape and forest historian.
"Olmsted saw Biltmore as the crowning jewel of his career," Alexander says. The historian is quick to quote a key passage from one of Olmsted's letters in 1890, when he was beginning the project: "This is to be a private work of very public interest in many ways. Of much greater public interest—utility, industrial, political, educational and otherwise, very possibly, than we can define to ourselves. I feel a good deal of ardor about it." By that time, earning Olmsted's enthusiasm for grand projects was no mean feat. Already accomplished and on his way to becoming the founding father of American landscape architecture, in 1858 Olmsted and a partner had designed New York City's Central Park, one of the highlights of a career that included the U.S. Capitol Grounds, San Francisco's Golden Gate Park, and myriad other American landmark spaces.
But Biltmore would top them all. "This is a place and [Vanderbilt] is a man that we must do our best for," Olmsted wrote to his business partners. "It is far and away the most distinguished private place, not only for America, but of the world, forming at this period. It will be critical and reviewed and referred to for its precedents and for its experience, years ahead, centuries ahead."
The Forest for the Trees
Visiting Biltmore's manicured and breathtaking grounds today, it's shocking to think of what the place looked like when Olmsted initially laid eyes on it. Vanderbilt, the scion of one of the country's wealthiest families, purchased a staggering 125,000 acres of land in and around Asheville. Much of it was thick with foliage and ruggedly beautiful, but the planned homesite was mostly deforested, flat, and scraggly.
"I was at my first visit greatly disappointed with its apparent barrenness and the miserable character of its woods," Olmsted informed a colleague in one letter. In another, he complained of the "extremely poor and intractable" soil and declared that the estate would have to be built "out of the whole cloth." According to Olmsted, he asked Vanderbilt, "What do you plan to do with all this land?" "Make a park of it, I suppose," was the reply.
Olmsted tried to steer Vanderbilt down a different path. "Such land in Europe would be made a forest, partly, if it belonged to a gentleman of large means, as a preserve for game, mainly with a view toward crops of timber," he argued. "That would be a suitable and dignified business for a man like you to engage in."
In essence, Olmsted made a case not only for exquisite landscaping to showcase what would become a 250-room château (to be designed by renowned architect Richard Morris Hunt, whom Olmsted often collaborated with), but for a kind of forest management never before seen in the United States. Vanderbilt was persuaded, and took Olmsted's advice to hire other specialists who would greatly impact the project: the pioneering foresters Gifford Pinchot and Carl A. Schenck. The efforts of those men to cultivate the nation's first model forest would ultimately earn Western North Carolina the title "Cradle of American Forestry."
Drive, Details, and Decline
Of course, Olmsted had much more to design at Biltmore than forests, and he threw himself into detailed plans for the estate's signature natural features. To begin with, there was the approach route—three miles of winding, slowly rising road from Biltmore Village to the mansion.
"I suggest the striking and pleasing impression of the Estate will be obtained if an approach can be made that shall have throughout a natural and comparatively wild and secluded character," he advised Vanderbilt, "all consistent with the sensation of passing through the remote depths of a natural forest." The drive would end with a great reveal as visitors suddenly arrived at "the trim, level, open, airy, spacious, thoroughly artificial court, and the Residence," Olmsted wrote. From such a natural passage, visitors would be greeted with the grandeur of the palatial home grounds, where Olmsted designed hundreds of acres of gardens, terraces, paths, water features, and a conservatory. Pressing past the homesite, Olmsted designed the Spring Garden, a more naturalistic area for cultivating native plants; what's now called the Azalea Garden; the 250-acre, serene Deer Park; a lake with a bridge and a boathouse; and a lagoon that reflects the mansion on its surface.
Elsewhere on the estate, Olmsted mapped out agricultural projects ranging from sheep herds and a substantial dairy to large patches of produce. He also envisioned a vast arboretum that fell by the wayside, in his and Vanderbilt's day, but was ultimately realized in the form of today's North Carolina Arboretum near Bent Creek.
Busy as he was, Olmsted made time to design other monumental landscapes between his frequent visits to Vanderbilt's estate. He departed to design the grounds of the 1893 Columbian Exhibition in Chicago, for example, where he overcame mountains of logistical hurdles to offer one of the greatest of American World's Fairs.
But the breakneck pace of Olmsted's work—he was now in his 60s and beset by mounting health problems—began to take a heavy toll. In 1895, as most of Biltmore's main features neared completion, Olmsted began to show the signs of dementia that would soon sideline him. He returned to his home in Massachusetts and began a steady decline while passing the Biltmore endeavor to his son, Frederick Law Olmsted Jr. In 1898, he was committed to a mental hospital, where he lived until his death in 1903.
In Olmsted's final years, his biographers note, he still showed flashes of lucidity from time to time. Perhaps, during one of those moments, he reflected on what he'd told his managers at Biltmore in a letter: "It is a great work of Peace we are engaged in and one of these days we will all be proud of our parts in it."
RESOURCES:
Photographs courtesy of Biltmore Estate.