Nordic Nirvana
Nordic Nirvana:
A reinvigorated search for Southern snow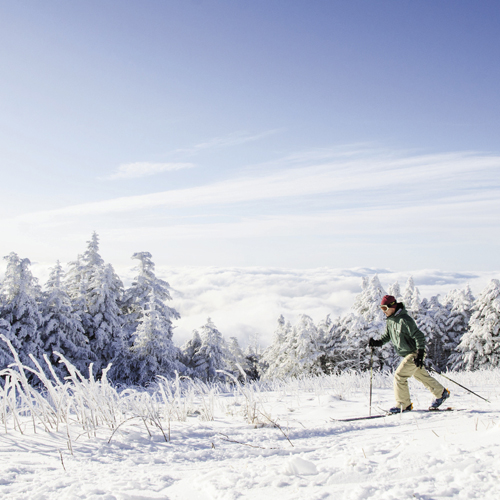 After a surge of interest in the late 1970s, cross-country ski culture in Western North Carolina ebbed. But history seems to be repeating itself, and snow sports are back. A new wave of discovery is taking place on North Carolina's highest peaks, especially at Roan Mountain. Perched on the Tennessee line west of Banner Elk and north of Burnsville, this 6,286-foot mountaintop's snowy balds and spruce-covered summits are as close to Nordic nirvana as you can get in the South.   
There's Roan Mountain, the town in Tennessee. Nearby is Roan Mountain State Park. Then there's the Roan Highlands massif on the state border, which claims five towering peaks stretching along a 20-mile glut of blue-tinged ridges upon ridges, traversed by the Appalachian Trail. Two of those major peaks are Roan Mountain itself, most of which lies in North Carolina. This entire area is a famous exemplar of Southern Appalachian botanical richness and biodiversity. Generations of explorers and scientists, including Asa Gray and André Michaux, have made pilgrimages to Roan's heights. And while its list of rare and endangered species is long, the views are even longer.
 
Roan may be most renowned for the rhododendron bloom that turns its meadows into a bountiful garden in late June, drawing a flood of visitors. From state highways that converge in the dramatic cleft of Carver's Gap, a paved U.S. Forest Service road crosses Roan's crest, offering easy access to the gardens and trails beyond. 
 
Come wintertime, when the crowds have thinned and snow blankets the mountain, the Carver's Gap parking area remains open via plowed state highways, and the Forest Service summit road closes, giving skiers, snowshoe hikers, and sledders access to mile after mile of snow-covered terrain. One encounter with this setting is all it takes to understand why Roan has become a kingpin of the winter experience in the South.
 
"The Roan," as it's often called, has long been known for snow. Before Cataloochee opened as the state's first downhill ski area in 1960, skiing had been a hot hobby in North Carolina. Lees-McRae College students inaugurated the sport on Beech Mountain in the 1930s. By 1951, a Roan Mountain Advisory Committee had proposed a ski slope and rope tow on Roan that was set to open the following year, but the plan never came to fruition.
 
No matter: The Forest Service road made striding-and-gliding available to the masses. Aided by the late '70s explosion of four-wheel-drive vehicles, Carver's Gap became a high-altitude hangout for cross-country skiers and winter mountaineers.
 
Of course, many locals already knew about Roan's snowy-South reputation. The mountain was a longtime annual challenge for white lightning-fueled good ol' boys who spun their wheels up the road. To avoid collisions between careening four-wheelers and the growing number of skiers, in the early 1980s, the Forest Service gated the summit road just above the parking lot at Carver's Gap. That closed the door to motorized vehicles, leaving the snow-covered roads safe for winter sports.
 
At Roan, easy access is crucial, but climate is key. Orographic lift, the dramatic rise of weather systems over mountains, generally accounts for the surprising snowfall enjoyed by peaks on the state line. Rising over 4,000 feet above surrounding valleys, Roan takes that to extremes, creating a world-class microclimate. Up here, snow starts earlier, lasts longer, and ends later. Rain in Boone often translates to snow on Roan. When Boone gets six inches of snow, Roan can get 16. It's been skiable in October and April.
 
By comparison, nearby Beech Mountain averages around 90 inches of snow a year at 5,505 feet, and Roan averages about 130, at almost 1,000 feet higher. That's more than Buffalo, New York, and Mount Mitchell, too, which averages 104 inches. More than one happy skier has left the grass at Tennessee's Roan Mountain State Park, nearly 3,500 feet below, and found a fat base and fresh snow on Roan's peaks. Add a forest blasted with the feathery build-up of hoarfrost, and Roan Mountain is a true winter wonderland.
Ski Central
Roan's status as a cross-country classic starts with a variety of great ski tours. The snowy, gated summit road from Carver's Gap climbs gradually uphill for a half-mile, then levels off across the crest. In good conditions, beginners can ski up and back with little difficulty. Just touring the roads and parking lots can offer 10 miles of skiing and seemingly endless, awe-inspiring panoramas.
 
The side trails are also a real plus. Halfway across the mountain's crest, the easy Rhododendron Gardens National Recreation Trail reaches a viewpoint overlooking a spectacular vista south to Mount Mitchell. Farther out the ridge, the intermediate-to-advanced, evergreen-forested Cloudland Trail is straight out of New England. It winds to another formal viewpoint, at Roan High Bluff (6,267 feet), this time looking north over Tennessee to Mount Rogers, Virginia's highest peak. Cloudland boasts a rousing run back down.
 
What's more, the stretch of the Appalachian Trail on Roan is one of the great Nordic ski tours in the East. The AT branches from the summit road just above Carver's Gap and rejoins it near the crest, forming a loop. Whether you ski up the trail and down the road (the best approach for intermediates) or vice versa (a must for telemark skiers and experts), this trail is an awesome atmospheric route through evergreens. The downhill ride, a roller coaster of wave-like drifts, is doable because this part of the AT was actually a road in the late 1800s. Carriage-loads of lucky tourists took the route to a summit hotel for the South's coolest summers. Today, a side trail reaches an enclosed cabin, which is the highest trail shelter on the AT. Winter campers are just a hundred feet from Roan's highest point, Roan High Knob, at 6,286 feet.
Wintery Mix
Not a skier? Roan tempts hikers too. Snowshoes are highly recommended, as snow on Roan's summit road and trails is often deep. Hikers without adequate footwear should avoid walking in ski tracks, which creates "postholes" that are dangers for skiers. Instead, by stomping out a footpath, hikers can preserve precious snow for skiers and have an easier walk, too.  
 
Luckily, the best hikes aren't on Roan's trails, but across Carver's Gap on Round Bald. The bald thrusts its meadow-covered crown against the sky like the gentle rounded end of an egg. Unlike the prohibitively deep snow on Roan, on the flank of Round Bald, wind and sun make the snow shallower, allowing an easy hike along the AT. At 5,826 feet, the summit views are spectacular (and only 0.6 mile from your car).
 
Round Bald is just the start for hikes. The AT undulates northward, across alpine-like meadows, all the way to Elk Park and U.S. 19 East. In full winter conditions—arctic winds, sub-zero cold, and whiteouts—traversing the entire Roan Highlands is a significant mountaineering challenge. Many hikers and campers just start from Carver's Gap, hike out a safe distance, then return. There's another access midway out the ridge, at Yellow Mountain Gap, west of Newland, near the AT's Overmountain Shelter.
 
Don't be surprised if you also see Nordic skiers on Round Bald, sticking to the deep snow areas, or hikers backpacking downhill skis or snowboards. All around the balds, and on Roan too, there are deeply drifted meadows and snow-packed forest glades where you can find Colorado-style backcountry bopping.
 
Best of all, you don't have to be a hard core outdoor adventurer to drive up to Carver's Gap, sled on the road just above the gate, hike up Round Bald, or play in the snow in the parking area. Whether or not you tele-ski down the AT, be prepared to revel in a snow-blasted winter experience that few associate with the South.  
Gear Up & Go
Carver's Gap can be reached via N.C. 261 from Bakersville. The gap has a few parking lots and a modern pit toilet. The North Carolina side is the sunnier, south-facing one, while the winding road up the Tennessee side has much more snow and can be dicey during or after storms. Both roads are plowed, but prepare for snowy, cold, windy conditions, for both yourself and your vehicle. Roan is a real mountain; it routinely surprises with colder temperatures and deeper snow than expected, so it's best to bring more gear than you think you'll need.
The High Country Ski Shop in Pineola offers rentals and sells a good selection of packages that include skis, boots, poles, and snowshoes. For skiing on Roan, choose the beefier backcountry setups. Remember: A good pair of adjustable trekking poles easily tames summer hiking and winter ski touring.
High Country Ski Shop; 3085 Linville Falls Hwy., Pineola; (828) 733-2008; www.pineolainn.com
For weather conditions, the High Country Nordic Association's Facebook page often cites first-hand reports.