Next Age Adornments
Next Age Adornments:
Boone artist Arthur Hash rethinks the way we see and wear jewelry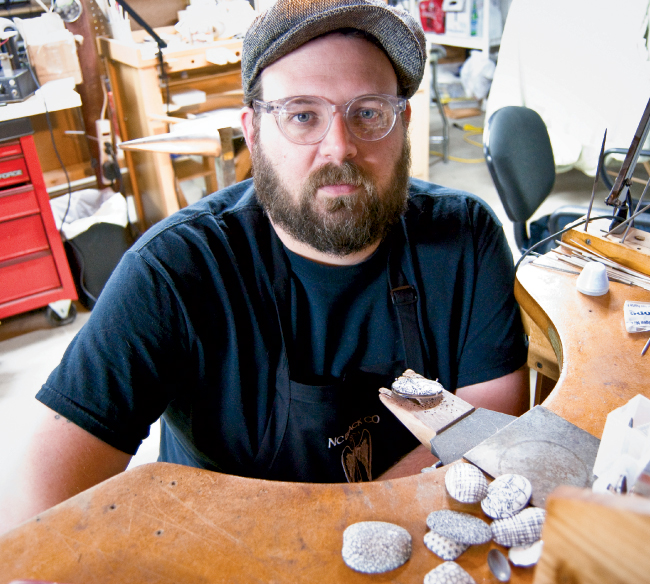 Apiece of art jewelry is not simply a decorative object; it's a means of personal expression. And while art jewelry, which exists at the nexus of art, craft, and design, isn't a huge field, Arthur Hash is positioned at its forefront.
Hash, who recently moved from New York to Boone to teach at Appalachian State University, earned his reputation for innovative approaches through experimentation at every level of the jewelry-making process. Trained as a metalsmith, he makes rings, brooches, bracelets, and necklaces from traditional materials such as copper, stainless steel, and silver. He's a master enameler. But he's also been known to make work from recycled paper, cast plastic, toilet paper, hot glue, and even a pig's ear. The inspiration for the forms he uses may be as unconventional as a coffee stain on a napkin, but it was his pioneering use of the 3-D printer in jewelry making that really got people talking.
Hash "was one of the first jewelers to incorporate the use of digital technologies into both the process and content of his work," says Marilyn Zapf, assistant director of the Center for Craft, Creativity and Design in Asheville, where Hash's work was recently included in the Ctrl + P exhibition on digital technology in craft. "He's a trailblazer in the field of contemporary craft and his work continues to push the boundaries of what jewelry and craft can be."
Hash started working with 3-D scanning and printing in 2005, as soon as the technology became available at the college where he was then teaching. "I didn't have a studio at the time, but I had a laptop and I was always at the computer anyway," he says. "The technology pairs well with jewelry." Hash combined CNC routing, rapid prototyping, and laser cutting to realize his designs as three-dimensional objects.
While his methods are breaking new ground, Hash says he faces the same questions that anyone working in art jewelry confronts: "Is it art?" and "Is it wearable?" Among his peers in the field, there's often "a disconnect with wearability," Hash says. But his own work is guided by the principal that "it's useless if it's not wearable, and if it's going to be wearable, it has to be worn comfortably." Those considerations drive him to constantly experiment. "Everything I make is like a problem to be solved with the resources I have in front of me," he says.
Although art jewelry tends to embrace change, Hash says that some are concerned that traditional arts will be replaced by modern technology. "Traditional methods aren't disappearing," he insists. "The new tools we have just allow us to be more creative."
RESOURCES:
Photograph courtesy of Arthur Hash