Newsflash - May/June 2018
Newsflash - May/June 2018:
The latest from throughout Western North Carolina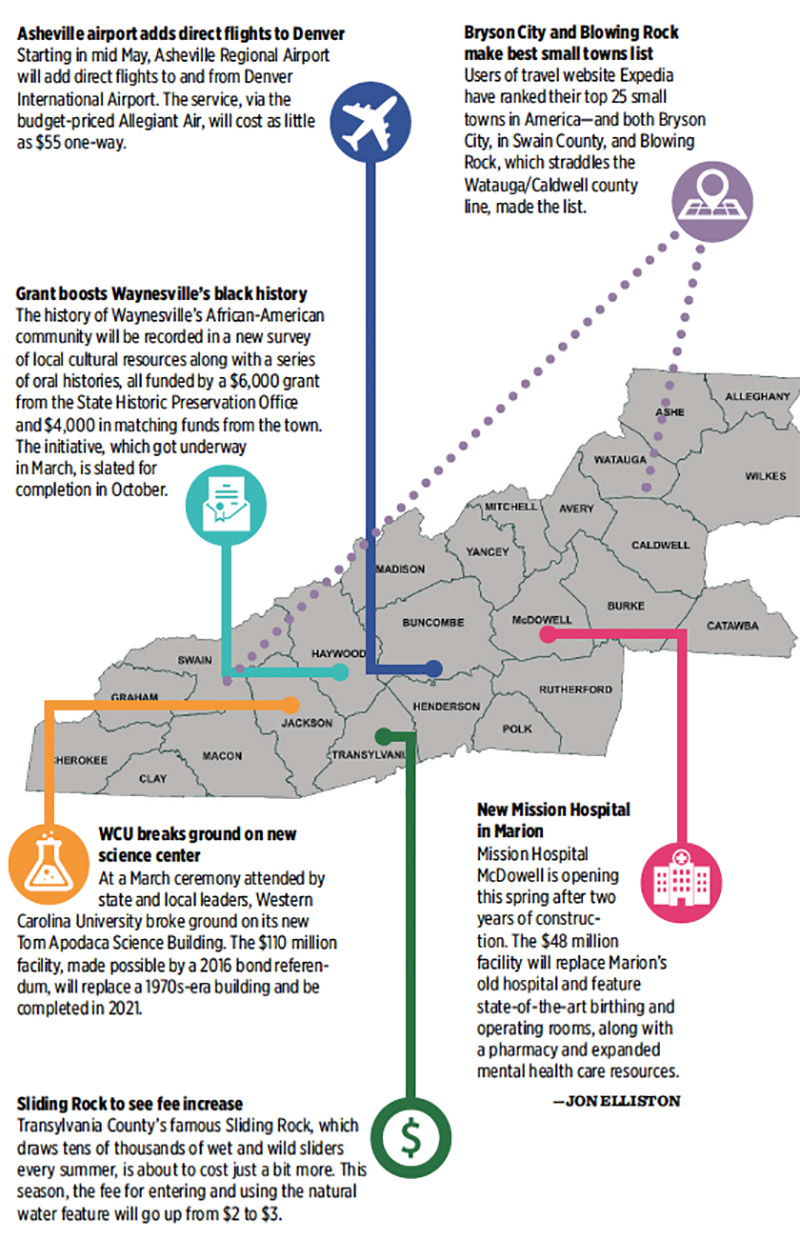 Asheville airport adds direct flights to Denver
Starting in mid May, Asheville Regional Airport will add direct flights to and from Denver International Airport. The service, via the budget-priced Allegiant Air, will cost as little as $55 one-way.
Grant boosts Waynesville's black history
The history of Waynesville's African-American community will be recorded in a new survey of local cultural resources along with a series of oral histories, all funded by a $6,000 grant from the State Historic Preservation Office and $4,000 in matching funds from the town. The initiative, which got underway in March, is slated for completion in October.
WCU breaks ground on new science center
At a March ceremony attended by state and local leaders, Western Carolina University broke ground on its new Tom Apodaca Science Building. The $110 million facility, made possible by a 2016 bond referendum, will replace a 1970s-era building and be completed in 2021.
Sliding Rock to see fee increase
Transylvania County's famous Sliding Rock, which draws tens of thousands of wet and wild sliders every summer, is about to cost just a bit more. This season, the fee for entering and using the natural water feature will go up from $2 to $3.
Bryson City and Blowing Rock make best small towns list
Users of travel website Expedia have ranked their top 25 small towns in America—and both Bryson City, in Swain County, and Blowing Rock, which straddles the Watauga/Caldwell county line, made the list.
New Mission Hospital in Marion
Mission Hospital McDowell is opening this spring after two years of construction. The $48 million facility will replace Marion's old hospital and feature state-of-the-art birthing and operating rooms, along with a pharmacy and expanded mental health care resources.