Newsflash - July/August 2019
Newsflash - July/August 2019 :
The latest from throughout Western North Carolina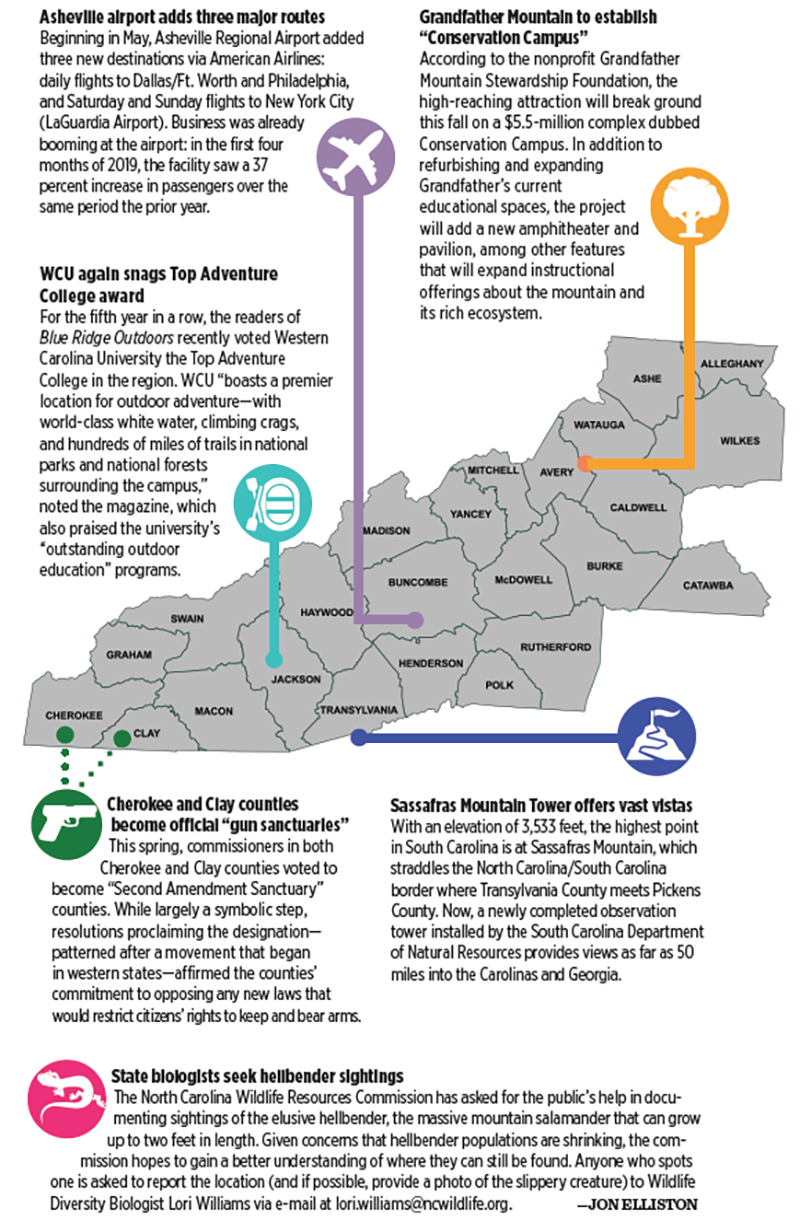 - Asheville airport adds three major routes Beginning in May, Asheville Regional Airport added three new destinations via American Airlines: daily flights to Dallas/Ft. Worth and Philadelphia, and Saturday and Sunday flights to New York City (LaGuardia Airport). Business was already booming at the airport: in the first four months of 2019, the facility saw a 37 percent increase in passengers over the same period the prior year.
- WCU again snags Top Adventure College award For the fifth year in a row, the readers of Blue Ridge Outdoors recently voted Western Carolina University the Top Adventure College in the region. WCU "boasts a premier location for outdoor adventure—with world-class white water, climbing crags, and hundreds of miles of trails in national parks and national forests surrounding the campus," noted the magazine, which also praised the university's "outstanding outdoor education" programs.
- Cherokee and Clay counties become official "gun sanctuaries" This spring, commissioners in both Cherokee and Clay counties voted to become "Second Amendment Sanctuary" counties. While largely a symbolic step, resolutions proclaiming the designation—patterned after a movement that began in western states—affirmed the counties' commitment to opposing any new laws that would restrict citizens' rights to keep and bear arms.
- Grandfather Mountain to establish "Conservation Campus" According to the nonprofit Grandfather Mountain Stewardship Foundation, the high-reaching attraction will break ground this fall on a $5.5-million complex dubbed Conservation Campus. In addition to refurbishing and expanding Grandfather's current educational spaces, the project will add a new amphitheater and pavilion, among other features that will expand instructional offerings about the mountain and its rich ecosystem.
- Sassafras Mountain Tower offers vast vistas With an elevation of 3,533 feet, the highest point in South Carolina is at Sassafras Mountain, which straddles the North Carolina/South Carolina border where Transylvania County meets Pickens County. Now, a newly completed observation tower installed by the South Carolina Department of Natural Resources provides views as far as 50 miles into the Carolinas and Georgia.
- State biologists seek hellbender sightings The North Carolina Wildlife Resources Commission has asked for the public's help in documenting sightings of the elusive hellbender, the massive mountain salamander that can grow up to two feet in length. Given concerns that hellbender populations are shrinking, the commission hopes to gain a better understanding of where they can still be found. Anyone who spots one is asked to report the location (and if possible, provide a photo of the slippery creature) to Wildlife Diversity Biologist Lori Williams via e-mail at lori.williams@ncwildlife.org.