Newsflash - Fall 2023
Newsflash - Fall 2023:
The latest from throughout Western North Carolina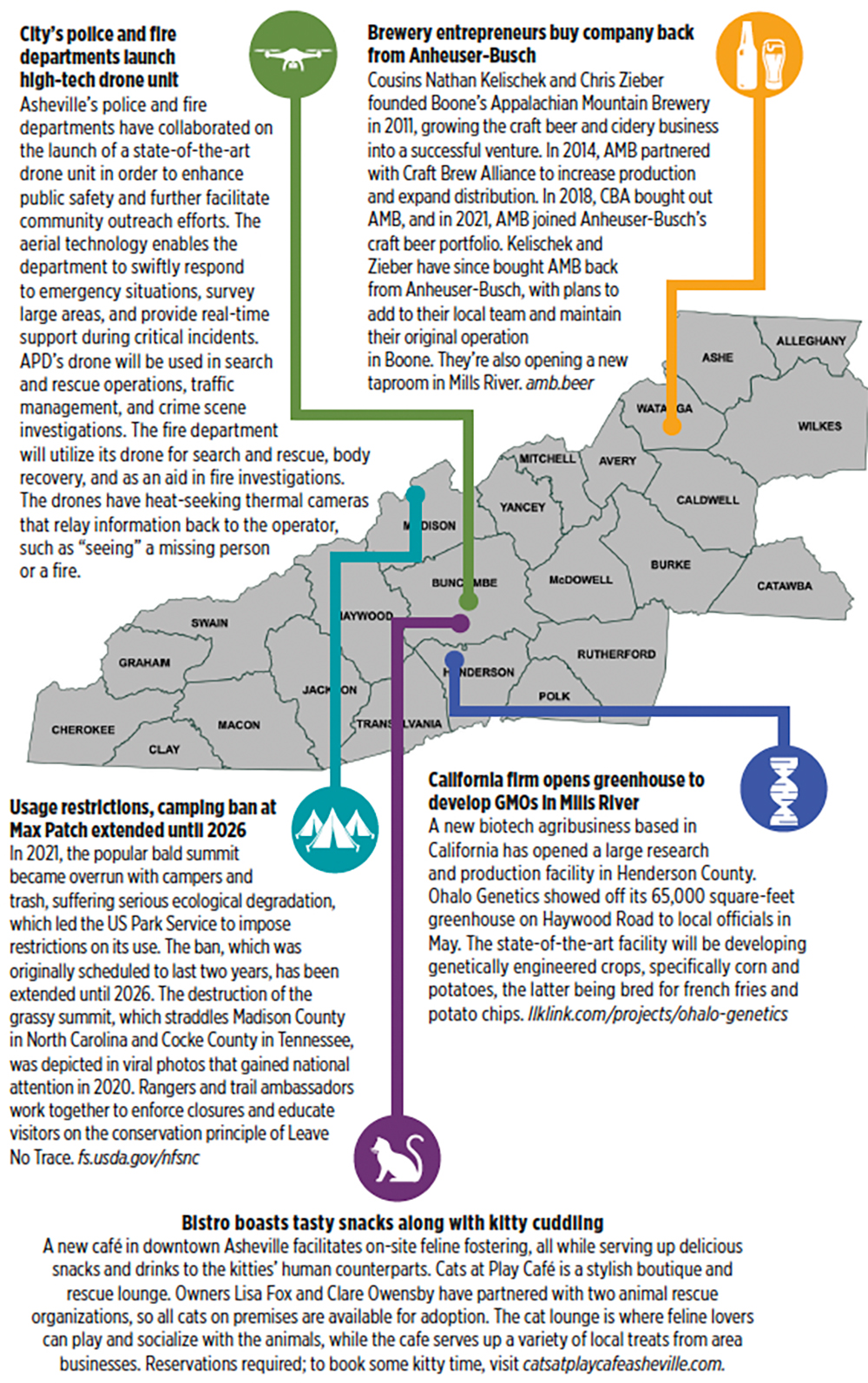 City's police and fire departments launch high-tech drone unit
Asheville's police and fire departments have collaborated on the launch of a state-of-the-art drone unit in order to enhance public safety and further facilitate community outreach efforts. The aerial technology enables the department to swiftly respond to emergency situations, survey large areas, and provide real-time support during critical incidents. APD's drone will be used in search and rescue operations, traffic management, and crime scene investigations. The fire department will utilize its drone for search and rescue, body recovery, and as an aid in fire investigations. The drones have heat-seeking thermal cameras that relay information back to the operator, such as "seeing" a missing person or a fire.
Brewery entrepreneurs buy company back from Anheuser-Busch
Cousins Nathan Kelischek and Chris Zieber founded Boone's Appalachian Mountain Brewery in 2011, growing the craft beer and cidery business into a successful venture. In 2014, AMB partnered with Craft Brew Alliance to increase production and expand distribution. In 2018, CBA bought out AMB, and in 2021, AMB joined Anheuser-Busch's craft beer portfolio. Kelischek and Zieber have since bought AMB back from Anheuser-Busch, with plans to add to their local team and maintain their original operation in Boone. They're also opening a new taproom in Mills River. amb.beer 
Usage restrictions, camping ban at Max Patch extended until 2026
In 2021, the popular bald summit became overrun with campers and trash, suffering serious ecological degradation, which led the US Park Service to impose restrictions on its use. The ban, which was originally scheduled to last two years, has been extended until 2026. The destruction of the grassy summit, which straddles Madison County in North Carolina and Cocke County in Tennessee, was depicted in viral photos that gained national attention in 2020. Rangers and trail ambassadors work together to enforce closures and educate visitors on the conservation principle of Leave No Trace. fs.usda.gov/nfsnc
California firm opens greenhouse to develop GMOs in Mills River
A new biotech agribusiness based in California has opened a large research and production facility in Henderson County. Ohalo Genetics showed off its 65,000 square-feet greenhouse on Haywood Road to local officials in May. The state-of-the-art facility will be developing genetically engineered crops, specifically corn and potatoes, the latter being bred for french fries and potato chips. llklink.com/projects/ohalo-genetics
Bistro boasts tasty snacks along with kitty cuddling 
A new café in downtown Asheville facilitates on-site feline fostering, all while serving up delicious snacks and drinks to the kitties' human counterparts. Cats at Play Café is a stylish boutique and rescue lounge. Owners Lisa Fox and Clare Owensby have partnered with two animal rescue organizations, so all cats on premises are available for adoption. The cat lounge is where feline lovers can play and socialize with the animals, while the cafe serves up a variety of local treats from area businesses. Reservations required; to book some kitty time, visit catsatplaycafeasheville.com.