News Flash - Spring 2023
News Flash - Spring 2023:
The latest from throughout Western North Carolina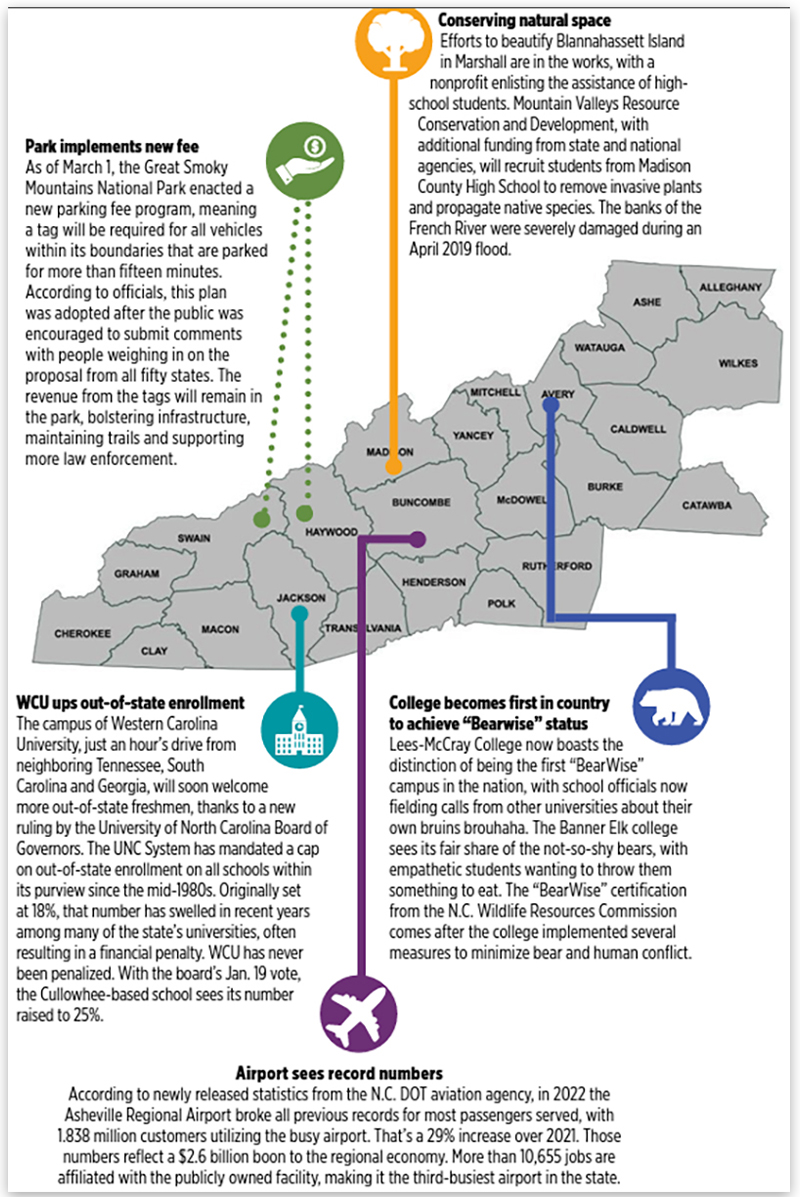 - Conserving natural space
Efforts to beautify Blannahassett Island in Marshall are in the works, with a nonprofit enlisting the assistance of high-school students. Mountain Valleys Resource Conservation and Development, with additional funding from state and national agencies, will recruit students from Madison County High School to remove invasive plants and propagate native species. The banks of the French River were severely damaged during an April 2019 flood.
- Park implements new fee
As of March 1, the Great Smoky Mountains National Park enacted a new parking fee program, meaning a tag will be required for all vehicles within its boundaries that are parked for more than fifteen minutes. According to officials, this plan was adopted after the public was encouraged to submit comments with people weighing in on the proposal from all fifty states. The revenue from the tags will remain in the park, bolstering infrastructure, maintaining trails and supporting more law enforcement. 
- WCU ups out-of-state enrollment
The campus of Western Carolina University, just an hour's drive from neighboring Tennessee, South Carolina and Georgia, will soon welcome more out-of-state freshmen, thanks to a new ruling by the University of North Carolina Board of Governors. The UNC System has mandated a cap on out-of-state enrollment on all schools within its purview since the mid-1980s. Originally set at 18%, that number has swelled in recent years among many of the state's universities, often resulting in a financial penalty. WCU has never been penalized. With the board's Jan. 19 vote, the Cullowhee-based school sees its number raised to 25%. 
- College becomes first in country to achieve "Bearwise" status
Lees-McCray College now boasts the distinction of being the first "BearWise" campus in the nation, with school officials now fielding calls from other universities about their own bruins brouhaha. The Banner Elk college sees its fair share of the not-so-shy bears, with empathetic students wanting to throw them something to eat. The "BearWise" certification from the N.C. Wildlife Resources Commission comes after the college implemented several measures to minimize bear and human conflict.
- Airport sees record numbers
According to newly released statistics from the N.C. DOT aviation agency, in 2022 the Asheville Regional Airport broke all previous records for most passengers served, with 1.838 million customers utilizing the busy airport. That's a 29% increase over 2021. Those numbers reflect a $2.6 billion boon to the regional economy. More than 10,655 jobs are affiliated with the publicly owned facility, making it the third-busiest airport in the state.