News Flash - January/February 2019
News Flash - January/February 2019:
The latest from throughout Western North Carolina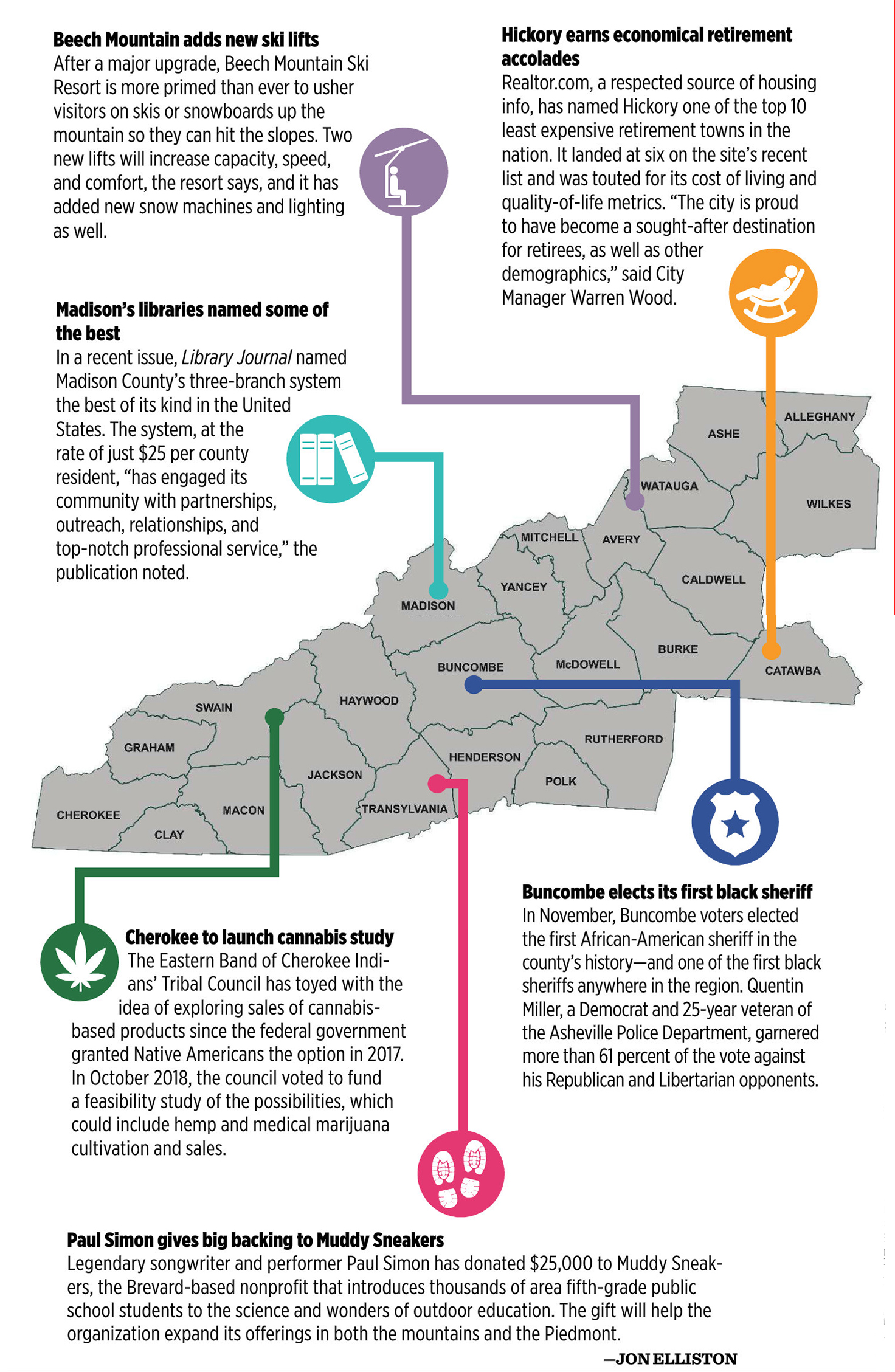 Beech Mountain adds new ski lifts
After a major upgrade, Beech Mountain Ski Resort is more primed than ever to usher visitors on skis or snowboards up the mountain so they can hit the slopes. Two new lifts will increase capacity, speed, and comfort, the resort says, and it has added new snow machines and lighting as well.
Hickory earns economical retirement accolades
Realtor.com, a respected source of housing info, has named Hickory one of the top 10 least expensive retirement towns in the nation. It landed at six on the site's recent list and was touted for its cost of living and quality-of-life metrics. "The city is proud to have become a sought-after destination for retirees, as well as other demographics," said City Manager Warren Wood.
Madison's libraries named some of the best
In a recent issue, Library Journal named Madison County's three-branch system the best of its kind in the United States. The system, at the rate of just $25 per county resident, "has engaged its community with partnerships, outreach, relationships, and top-notch professional service," the publication noted.
Cherokee to launch cannabis study
The Eastern Band of Cherokee Indians' Tribal Council has toyed with the idea of exploring sales of cannabis-based products since the federal government granted Native Americans the option in 2017. In October 2018, the council voted to fund a feasibility study of the possibilities, which could include hemp and medical marijuana cultivation and sales.
Buncombe elects its first black sheriff
In November, Buncombe voters elected the first African-American sheriff in the county's history—and one of the first black sheriffs anywhere in the region. Quentin Miller, a Democrat and 25-year veteran of the Asheville Police Department, garnered more than 61 percent of the vote against his Republican and Libertarian opponents.
Paul Simon gives big backing to Muddy Sneakers
Legendary songwriter and performer Paul Simon has donated $25,000 to Muddy Sneakers, the Brevard-based nonprofit that introduces thousands of area fifth-grade public school students to the science and wonders of outdoor education. The gift will help the organization expand its offerings in both the mountains and the Piedmont.