News Flash
News Flash:
The latest from throughout Western North Carolina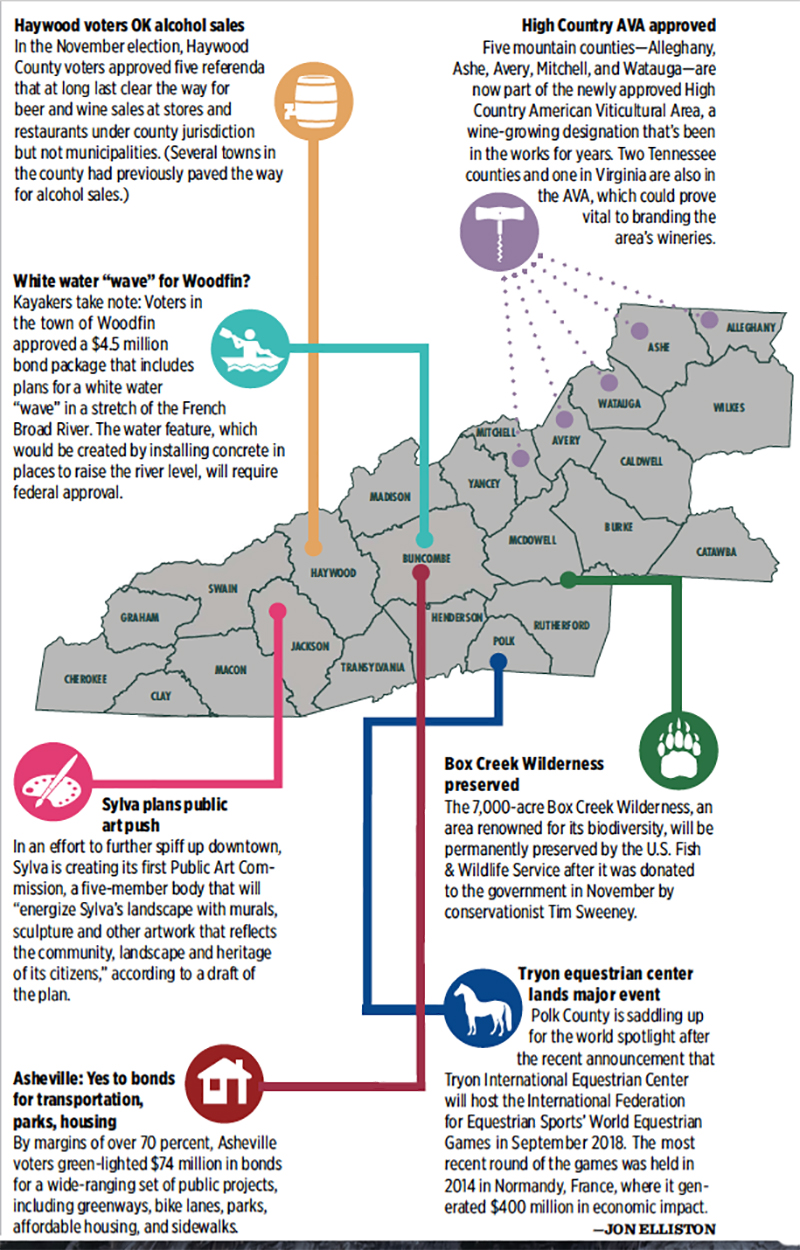 Haywood Voters OK Alcohol Sales
In the November election, Haywood County voters approved five referenda that at long last clear the way for beer and wine sales at stores and restaurants under county jurisdiction but not municipalities. (Several towns in the county had previously paved the way for alcohol sales.)
High Country AVA Approved
Five mountain counties—Alleghany, Ashe, Avery, Mitchell, and Watauga—are now part of the newly approved High Country American Viticultural Area, a wine-growing designation that's been in the works for years. Two Tennessee counties and one in Virginia are also in the AVA, which could prove vital to branding the area's wineries.
Box Creek Wilderness Preserved
The 7,000-acre Box Creek Wilderness, an area renowned for its biodiversity, will be permanently preserved by the U.S. Fish & Wildlife Service after it was donated to the government in November by conservationist Tim Sweeney.
Tryon Equestrian Center Lands Major Event
Polk County is saddling up for the world spotlight after the recent announcement that Tryon International Equestrian Center will host the International Federation for Equestrian Sports' World Equestrian Games in September 2018. The most recent round of the games was held in 2014 in Normandy, France, where it generated $400 million in economic impact.
White water "wave" for Woodfin?
Kayakers take note: Voters in the town of Woodfin
approved a $4.5 million bond package that includes plans for a white water "wave" in a stretch of the French Broad River. The water feature, which would be created by installing concrete in 
places to raise the river level, will require federal approval.
Sylva Plans Public Art Push
In an effort to further spiff up downtown, Sylva is creating its first Public Art Commission, a five-member body that will "energize Sylva's landscape with murals, sculpture and other artwork that reflects the community, landscape and heritage of its citizens," according to a draft of the plan.
Asheville: Yes to bonds for Transportation, Parks, Housing
By margins of over 70 percent, Asheville voters green-lighted $74 million in bonds for a wide-ranging set of public projects, including greenways, bike lanes, parks, affordable housing, and sidewalks.