New Life for Old Schools
New Life for Old Schools:
Throughout Western North Carolina sit dozens of public schools abandoned by time, consolidation, and changing demographics. In their heyday, they were community epicenters and veritable second homes for thousands of students. Today, some are boarded up, while others await imminent demolition and replacement by new state-of-the-art facilities. But there are also a handful of old schoolhouses tucked away in various corners of the mountains that have found new purpose as community centers, concert venues, historical beacons, and artists' studios. Here's a look at the past and present of eight of them.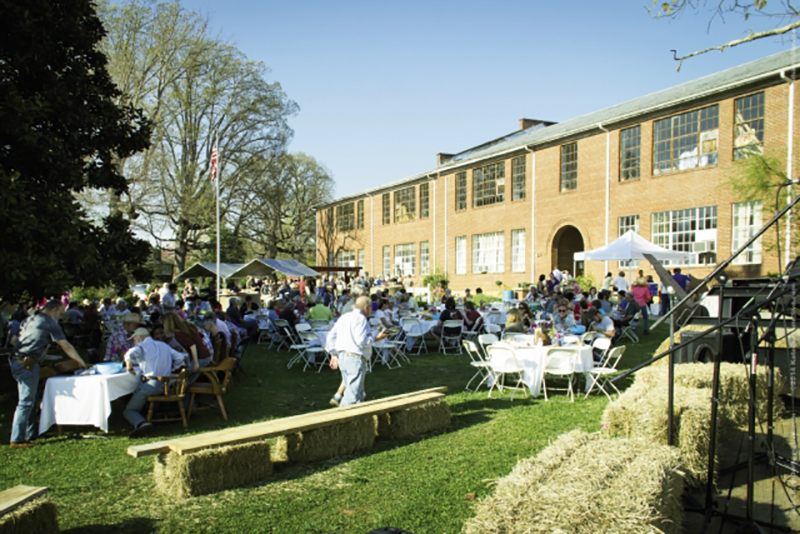 Marshall High Studios
In 2007, demolition loomed for the old Marshall High School in Madison County. The building was built in 1925 on Blannahassett Island, which rests in the middle of the French Broad River in downtown Marshall, and had fallen into disrepair since closing in the early 1970s.
 
That's when Rob Pulleyn decided to take a walk through the building. "I saw the old classrooms and the blackboards and immediately thought that they'd make great studios," says Pulleyn, the owner and a resident potter. He bought the building that year and began renovating the classrooms for use as artists' studios. 
 
The school now boasts an auditorium, gardens, and 26 classroom studios that house everything from painters and potters to a massage therapist and a Viking-couture designer. The island has river access and walking trails, and holds a weekly seasonal farmer's market.
 
The school also helped ignite a cultural and business revival in downtown Marshall. "It was a significant success in a town that hadn't many in recent years," says Pulleyn. That wouldn't have been possible without the right community. He attributes that to its locale—25 minutes from Asheville, yet far enough outside of the city for tranquility.
 
"Having an old school was just a piece of the puzzle," he adds, "but it really takes that vibe to make it work." 
Stecoah Valley Cultural Arts Center
In 1926, a few hundred residents of Stecoah, a hamlet in northern Graham County, came together to dedicate the newly finished Stecoah Union School with a group photo. The school was built by many of those residents, using native rock.
Today, that photo hangs in the Stecoah Valley Cultural Arts Center, the nonprofit that calls the old building home. The school was consolidated in 1994 and subsequently closed, despite community members' attempts to keep it open. It found new life in 1997, when the center began leasing and renovating the building.
 
SVCAC got its starts with an after school program that, much like the nonprofit itself, balanced academics with arts, culture, and Appalachian history. "Eighteen years later, we're still offering that very program," says Beth Fields, the center's executive director. Now, the organization serves close to 16,000 residents and visitors each year and has added art classes, traditional Appalachian music workshops, a theater program, a summer concert series, and a community kitchen and food incubator that rents by the hour, evening, or day. It also serves as a commissary site for several area food vendors.
 
"The school was the center of the community for decades," says Fields. Now, with nearly 20 years of volunteer experience under its belt, it is once again.
Historic Cowee School
For nearly 70 years, the Cowee School served as an elementary, middle, and high school before its doors closed in 2012. The school itself was a WPA project, constructed in 1943 on the former site of a Civilian Conservation Corps camp.
 
"Cowee, like many schools in our mountain communities, was a focal point for the area," says Stacy Guffey, Cowee's project director. "It was absolutely worth saving." The Cowee community got a jump on the project before the school's closure. In 2010, as termination loomed, community members, county commissioners, and the Land Trust for the Little Tennessee began planning a potential creative reuse. Together they founded the Macon County Heritage Center, the nonprofit that operates the county-owned facility.
 
The classrooms are now home to artists' studios, a pottery school, a center for textiles, and a genealogical research room, among other features. "It's a real mix of traditional mountain arts and crafts and historical information outlets," says Guffey. The center also supports programming dedicated to preserving and sharing the history and cultural import of the Cherokee and early homesteaders in Macon County.
 
"The community preserved a historic structure," he says. "Now we're doing our best to preserve the position it holds for this community."
Mill Spring Agricultural Center
"Polk County has always been focused on agriculture," says Patrick McLenden, the program director of the Mill Spring Agricultural Center. "But we lacked a space for the center of that community."
 
In December 2009, the county's agrarian community found that home in the old Mill Spring High School, which was built in 1921 and operated for 71 years. It was completely abandoned between 1998 and 2009, when it was then donated to the Polk County Soil and Water Conservation District. With the help of several hundred community volunteers, the school underwent renovations and opened as Mill Spring Ag Center in 2010.
 
The classrooms now house a yoga studio, blacksmithing shop, artist studios, and a few small businesses. The center's programming, meanwhile, is tailored to both residents and farmers of all calibers, offering everything from workshops in farming basics to chicken swaps to homesteading demonstrations. It's also developing a certified kitchen to offer classes in cooking and food preparation.
 
For any number of reasons, whether problem-solving livestock illness, sharing tools, or selling produce, the ag center has become the meeting point once sought for Polk County's agriculture community. McLenden distills that down to one major element. "It makes connections," he says. "That's the bread and butter of this place."
French Broad Studios
French Broad Consolidated Public School first opened its doors in 1924 from atop its six-and-a-half-acre perch above the French Broad River in Alexander, north of Asheville. By 1930, nearly 260 were students attending kindergarten through 12th grade. In 1954, it transitioned into an elementary school, remaining as such until eventually consolidating and closing in 1987. 
The building lay vacant until 2007, when Asheville-based artists Nate Green and Jimmy O'Neal found the property listed in the classifieds by a Raleigh-based architecture firm. "I've always been sort of a dreamer, and it seemed like a great place to build an art community," says Green.
 
Green, O'Neal, and two financial partners purchased the building and began renovating the classrooms, a 300-seat auditorium, adjacent buildings, and the WPA-era baseball field, which has been used by a little league softball team in recent years. "It's been an evolutionary process," Green says, "slow and steady."
 
The school's 12 classrooms, auxiliary building, and gymnasium are now home to Green and O'Neal, a woodworker, several visual artists, ceramists, a videographer, recording studio, and the Asheville Butoh Dance Company. "The range is really interesting and unique," Green says. "It feels like a school in many ways."
Union Mills Learning Center
Union Mills High School opened in Rutherford County in 1946. As the area's population grew and shifted, so did the school's identity. It soon transitioned into a middle school. But the decades brought on a slow deterioration that ended with the school's total phasing out in 1999. 
 
In the lead up to the closure, community members and the county commissioners joined together to find a new, alternative purpose for the school. Union Mills Learning Center was thus founded as the arts-and-education-focused nonprofit community center that would oversee the facility's conversion. 
 
Since 2000, the center has partnered with nearby community colleges and schools to host satellite courses in computer programming and business skills, as well as reading programs for elementary students. 
 
UMLC also hosts a variety of arts programs, including the Music at the Mills Bluegrass & Arts Festival, a weekend-long event complete with workshops and jam sessions. This spring's festival saw performers like David Holt and Darin & Brooke Aldridge take the stage. The festival is an extension of the center's regular Friday night free concert series, which makes use of the school's 350-seat auditorium.
Pigeon Community Multicultural 
Development Center
When Pigeon Street Elementary opened in 1958, it was the only black elementary school in all of Waynesville—a segregated remnant in the post-Brown vs. Board of Education era. That lasted until 1965, when the school closed and began slipping into a state of disrepair.
But in the late 1990s, a push by local residents to create a new center for neighborhood kids and adults revived the space. The old school became home for that community and the newly chartered Pigeon Community Multicultural Development Center in 2001.
 
"For years, the school was the hub of the black community in Waynesville," says Lin Forney, director of the PCMDC. "It was that same community that helped step in to save it." 
 
Since 2001, the nonprofit has offered an array of youth-oriented programs, including after school classes, reading and math tutoring, ESL instruction, gardening workshops, and summer enrichment programs. The summer offerings serve between 40 to 70 students each year and are entirely volunteer run. The center has begun incorporating field trips, including a recent foray to the Center for Civil and Human Rights in Atlanta. PCMDC also hosts a monthly dinner social for senior citizens as well as Changemakers for Racial Understanding, a monthly discussion group that bolsters meaningful dialog on race relations in WNC. In the years ahead, the center is looking to expand these kinds of programs and aiming to get the building listed on the National Register of Historic Places. 
 
"We want to open up programming to everyone," says Forney. "As we see it, all of Haywood County is our community."