New Cubs in Town
New Cubs in Town:
Red pandas take up residence at the WNC Nature Center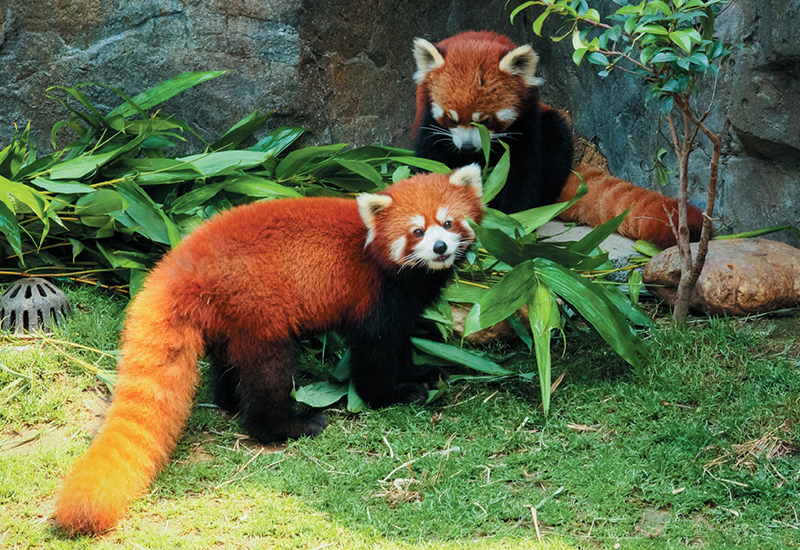 An unbearable amount of cuteness has arrived at the Western North Carolina Nature Center in Asheville, where two red pandas with bushy tails and adorable faces will make their public debut on Valentine's Day. These bamboo-eating "red bear-cats," as they're sometimes called, have short front legs and a tendency to waddle, similar to a raccoon. Once found throughout southwestern China and the eastern Himalayas, this endangered species has dwindled in number to about 10,000 in the wild, nature conservationists estimate.
The pair of red pandas came to Asheville in November from Zoo Knoxville, which runs a world-renowned red panda conservation program. They live in a special habitat in an area the center has designed to illustrate what the Southern Appalachians were like in prehistoric times.
The Nature Center focuses on animals that are native to the region, and, believe it or not, red pandas once were. About five million years ago, their relative, the Bristol's Panda, lived in these mountains, munching on river cane in an environment akin to that of Asia today.
"They're going to thrive here," says Nature Center Director Chris Gentile. "They're so fluffy and furry; they keep that teddy bear look their whole lives. They have to be at the top of the cuteness list."
Wild Encounters
WNC Nature Center
75 Gashes Creek Rd., Asheville
(828) 259-8080
wildwnc.org