The New Americans
The New Americans:
At an annual ceremony at the Carl Sandburg Home, immigrants from around the world officially become U.S. citizens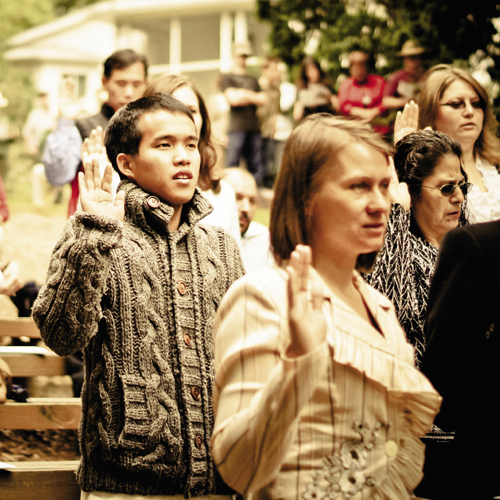 Carl Sandburg was born in obscurity in Illinois in 1878, the son of impoverished Swedish immigrants who'd come to the United States seeking the promise of freedom and prosperity. By the time he passed away in 1967, he was renowned as one of America's greatest folklorists and writers, and his longtime home in Flat Rock was promptly named a National Historic Site.
For the past five years, the Carl Sandburg Home has hosted one of the few naturalization ceremonies for new U.S. citizens in Western North Carolina. The annual event, held in mid September, has become a unique tradition in its own right.
Last year's ceremony was equal parts quaint and compelling. A relatively small gathering, it brought to Sandburg's mountain haven a global cast of participants: 24 individuals from 14 countries, including Canada, China, Ecuador, India, Indonesia, Mexico, Moldova, Poland, Russia, South Korea, Sudan, United Kingdom, Ukraine, and Vietnam. Each had completed the sometimes arduous process of becoming a U.S. citizen.
Following some brief but rousing remarks by an immigration official and a rendition of the national anthem, Ginger Cox, the facility's education programs coordinator, told the citizens-in-waiting that Sandburg long embraced the mosaic of the U.S. population, native and foreign-born. Sandburg "grew up learning from, and writing about, the mix of cultures he was surrounded by," she noted. "From these experiences, he spent a lifetime defining what it meant to be an American. Carl Sandburg would have been proud to know that on this day, in his home place, in his beloved America, you are becoming citizens of the United States."
After taking oaths of allegiance to the nation and its flag, the new citizens began to slowly file away. They shared a few happy tears and hugs with family members, stopped by a table where they could register to vote, and fielded a small barrage of questions from local reporters. WNC asked a few of them to share what it meant to become an American.
Naturalization Ceremony: September 17; 10 a.m.; free; Carl Sandburg Home, 81 Carl Sandburg Lane, Flat Rock; (828) 693-4178; nps.gov/carl