Never Blue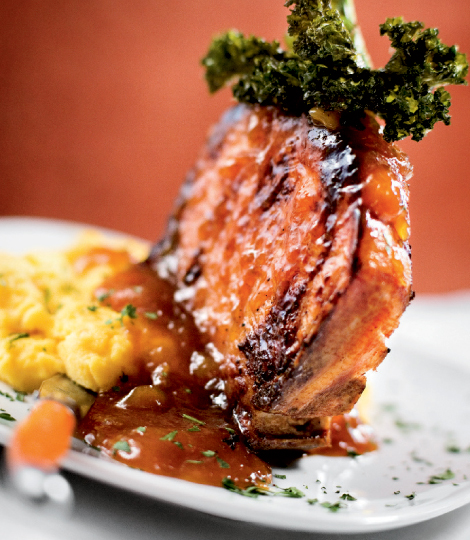 Never Blue knows how to put on a party. the walls alone—one carpeted and adorned with local artwork, another painted tangerine, and the one behind the bar a glowing teal—create a brilliantly festive atmosphere.
Backing up that notion is the substantial cocktail list that reads like a mixologist's little black book.
The mosaic bar, tiled to create the image of a koi pond, seemed like a great place to park for the evening and enjoy a luscious cocktail like the Fuzzy Handcuffs or Double Bubble, but it was a full house on a weekday. The covered courtyard—a converted garage bay from the building's former stint as a car dealership—beckoned with a view of passing pedestrians on Main Street.
In this Hendersonville eatery, Johnson & Wales-educated Jesse Roque combines a flair for the exotic, a love of "small bites," and the creativity of cocktails made sweet with prickly pear nectar, pomegranate juice, mango, and other tropical essences. Her husband, Edson, shares the cooking duties. The busy couple's latest project is Blue Gypsy Watering Hole in Saluda, serving low-Mex eats with a Cajun twist and a variety of house-made sangrias.
At Never Blue, Roque's dishes show multiple ethnic influences, from Spanish and Cuban to Asian and English. Accompanied with tangy lemon-caper tarter sauce and lime-ginger coleslaw, the fish and chips have the tender interior and crispy batter exterior one might expect at a traditional pub. The taco Cubano marries mojo-marinated chicken with caramelized Vidalia onions doused in a refreshing cilantro-lime crema on a soft flour tortilla. And the regulars rave about the pot roast served with a cabernet pan-gravy.
Salads, sandwiches, and a litany of vegetarian plates allow diners to take the lighter route. The dishes can be ordered as entrées or as tapas for sharing. Our table was littered with small plates by the time we were finished. The billy bread, puréed artichokes and goat cheese on toast with arugula, and the ceviche were declared favorites.
Never Blue provides the jovial atmosphere and a panoply of cuisines that are hallmarks of a great party. The best part is, you're always on the guest list.
Never Blue
119 S. Main St., Hendersonville
(828) 693-4646
www.theneverblue.com
$$