Natural Instincts
Natural Instincts:
Seven community leaders who found their inspiration to do good at summer camp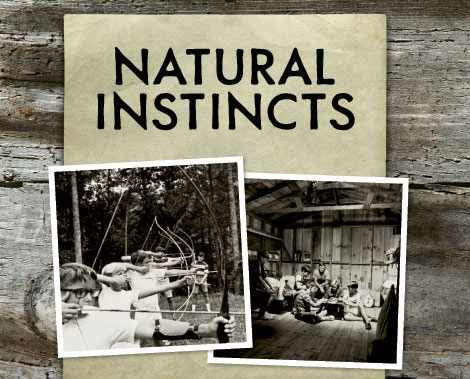 For generations, Western North Carolina has hosted dozens of summer camps. For thousands of kids each season, the initial pangs of nervousness and homesickness as parents drive away are replaced by newfound camaraderie and adventure. Somehow the world opens up a little wider. Maybe it's because summer camps often give young people—campers and counselors alike—their first glimpse of the wilderness. For seven WNC community leaders, the experience was life-changing. What they learned during those carefree summer days in the woods and on the water influenced their decisions to return here to live as adults. They brought with them a love for the landscape and a passion for conservation, education, adventure, and community service—values they experienced at camp. And today, they continue to spread those ideals.
---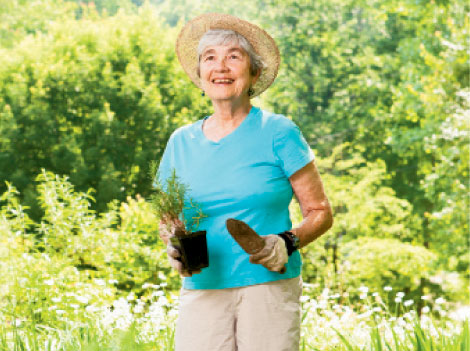 Aurelia Turpin Kennedy
Outdoor Adventure Entrepreneur Cofounder, Nantahala Outdoor Center, Bryson City Urelia Turpin was 18 when she was hired to work at Camp Merrie-Woode for girls in Sapphire. The Atlanta sorority girl found her summers at camp full of challenges and experiences she'd never imagined herself accomplishing. As a counselor in the 1950s, she taught canoeing and led trips on the Green River, where the camp had a white-water outpost. On Sundays, camp owner Fritz Orr led "beeline hikes" for campers and staff by bushwhacking through the woods. "I loved it," says Aurelia. "Fritz also told amazing stories of his adventures traveling around the world, and they just stirred my blood. Little did I know that I would have a life full of exciting adventures, too." The next summer, Orr invited Aurelia to be part of a group that canoed the Nantahala River, which was rarely paddled at the time. At 19, she became the second woman to run the Nantahala Falls. The accomplishment was one of the first of what would become a lifetime spent pioneering white-water sports in that locale. In September of that same year, she married fellow paddling enthusiast Payson Kennedy. Eighteen years later, the couple moved their four children to the Nantahala Gorge and founded the Nantahala Outdoor Center. NOC became an early front runner in the white-water industry, introducing millions to paddling and the outdoors through canoeing, kayaking, rafting, and international adventure travel programs. In 1989, NOC was designated a U.S. Canoe and Kayak Team Center of Excellence, and today, it's Swain County's largest private employer. A member of the company's founding board of directors, Aurelia taught kayaking and hiking classes; led excursions to Guatemala and Nepal; and oversaw many of the center's operations. In between, she also found time to hike the entire Appalachian Trail with friends. Now retired, Aurelia still lives in the Nantahala Gorge, and the outdoors are still a large part of her life. She raced in the 2008 Open Canoe Nationals on the Nantahala with her husband, and last fall spent her 75th birthday bicycling 10,000-foot mountain passes in Colorado. It's been almost 40 years since she and Payson founded NOC, and she still traces the roots of her life to her experience at Merrie-Woode. "I developed a passion for adventures in the outdoors while I was there. I shared that with Payson, and it's why we came up here—we thought living and working on the river would be a meaningful life."
---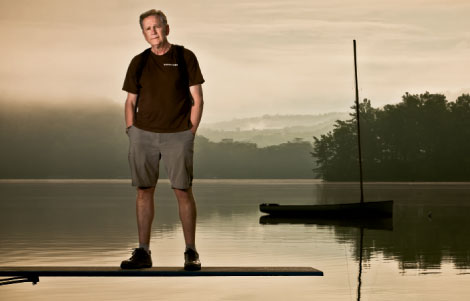 Gary Eblen
Community Outreach Coordinator, Diamond Brand Outdoors, Arden Rowing up in Frankfurt, Kentucky, Gary Eblen didn't know much about summer camps, or Western North Carolina, when he took a job as a tennis instructor at Camp Mondamin in Tuxedo in the summer of 1969. "My first thought was, what kind of parent would send their kids away for eight weeks? But then I saw what happened in those eight weeks," he says. As a counselor, he mastered the same skills as the campers, and was soon leading rock climbing and backpacking trips. "I had as much fun as they did. It more than fulfilled any dream I might have had. I went back to the University of Kentucky and changed my major to elementary education." Eblen worked summers and then year-round at Mondamin for nearly a decade. He left a few times, but in 1983, he moved back to Asheville for good. Once the store manager at Diamond Brand Outdoors, an independent outfitter in Arden, he now serves as its Community Outreach Coordinator. Technically he works in retail, but he specializes in making the shop a larger resource. He organizes regular evening outdoors education forums, and uses his connections with customers to generate awareness of local outdoor enthusiast groups. "I tell people all the time that there are a lot of different ways to enjoy being in nature," says Eblen, "and there are just as many organizations that can use your involvement." Eblen currently works with or is a member of more than a dozen organizations related to children and/or the outdoors, and has served on the boards of no fewer than seven of them. One is Muddy Sneakers, a program that trains elementary school teachers in four counties about integrating the outdoors into conventional school curriculums. He sees these activities as an extension of the camp community he came to know and appreciate at Mondamin, and a lesson he learned there very early: "You have a responsibility to do well, but you also have a responsibility to help others do their best. That concept never wore off," he says.
---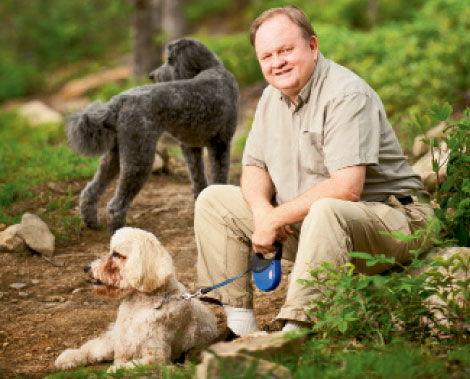 Chuck McGrady
Environmental Activist and Public Servant Henderson County Commissioner When people ask the former national president of the Sierra Club, Chuck McGrady, how he came to be an environmental leader, he tells them, "it's about having spent way too much time outdoors in Western North Carolina on rocks, lakes, and rivers." Born in Baltimore, he was six years old when he attended his first five-week session at Camp Sequoyah in Buncombe County in 1959. A camper for a dozen years, he became a counselor there (and at two other camps after Sequoyah closed in 1978) before attending law school and settling in Atlanta. But, says McGrady, "I always felt a strong emotional attachment to Western North Carolina." In 1992, he left his law practice behind and moved his family to Henderson County. For 16 years, he was the owner and director of Falling Creek Camp for Boys in Tuxedo, where he was once a counselor. He views these businesses as a hidden asset for the region. "Most people are clueless about how summer camps impact the landscape," he says. Each one preserves acres of local wilderness that are only used a few weeks out of the year. As President of the Carolina Mountain Land Conservancy, he was instrumental in the 1999 acquisition and establishment of DuPont State Forest. Currently serving his second term as Henderson County commissioner, he is known for working on environmental issues such as land-use planning, transportation, water, and what he calls kids' issues. He serves on more than two dozen regional boards, from the Solid Waste Advisory Committee to the Department of Social Services. "The things I learned at camp have become my life's work," says McGrady, "protecting special places and working with kids." For him, the two go hand in hand. His experiences at Sequoyah and his professional career proved what John Muir, early environmentalist and champion of Yosemite National Park, knew to be true: "He believed that if he could show people these places, they would try to protect them."
---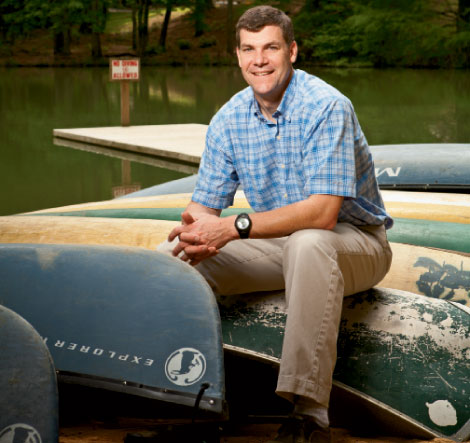 Yates & Marisa Pharr
Camp Owners and Directors Falling Creek Camp for Boys, Tuxedo Hinking back on it, Yates Pharr wonders which had a greater effect on him: attending the camp he now owns, or leading the white-water program as a counselor there. Then again, summers spent at camp were practically in his DNA. "My great-uncle was the director of Camp Arrowhead; my dad was a camper and counselor at Camp Mondamin and my mother went to Camp Green Cove," he says. After college, a successful career in commercial real estate brought him back to his hometown of Charlotte and then to Asheville, where he took a job with Biltmore Farms. But in 2005 when Falling Creek Camp came up for sale, he pursued his wish to own a camp. His wife, Marisa, a certified recreational Therapist who worked as the aquatics director at Falling Creek for a year during college, is also his business partner. For their daughters, ages 13, 11, and nine, Falling Creek Camp is home. Each summer, more than 800 boys come to Falling Creek, where more than 125 counselors—mostly college students—introduce the youngsters to outdoor life through activities ranging from archery to white-water kayaking. And for Yates, one of the most satisfying aspects of his job is watching the staff hone skills he knows will serve them for a lifetime. Just as he and Marisa did, counselors design and lead adventure programs, run the logistics, work with and sometimes supervise their peers, and meet emergencies when they arise. "It's experience that's hard to get at home or at school—a kind of adjunct to the formal college education," he says. "If you can be a camp counselor, you can handle a lot of things."