Natural Essences
Natural Essences:
Environmental themes, materials, and visions on display in local exhibitions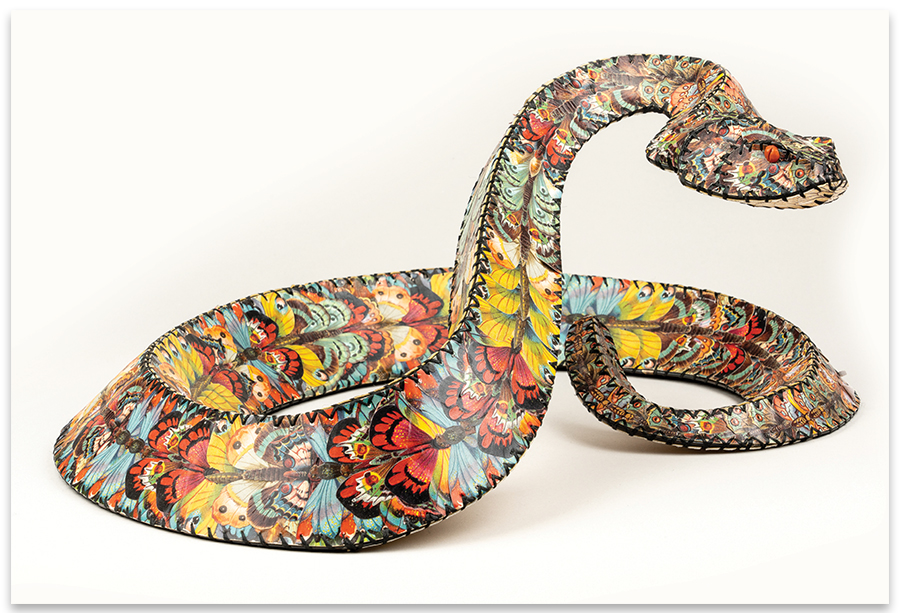 Gaudy Sphinx by Anne Lemanski, a nationally-recognized WNC artist. Made from copper wiring, sinew thread, and paper, this eye-catching mimicry is on display in Asheville.
Stoney Lamar's Spider Rock (left) and Richard Jolley's Yellow Dove & Thistle (right) capture the collection's intention to represent the natural world with natural materials.
Natural Collector: Gifts of Fleur S. Bresler
Asheville Art Museum
October 19, 2022–April 24, 2023
Contemporary craft collector Fleur S. Bresler's interest in natural themes and aesthetics rendered in wood-based mediums will be on display at the Asheville Art Museum this winter through the New Year. A culmination of donations by Bresler to the museum over the course of many years, the exhibition is comprised of art pieces contstructed, largely, with the natural objects and materials they represent. The displayed selection illustrates Bresler's eye, one with an "intuitive ability to identify themes and ideas that speak to one another."
Among the works exhibited are pieces from first- generation American woodturners Rude Osolnik and Ed Moulthrop, and artists in their lineage such as Philip Moulthrop, John Jordan, and Western North Carolina local Stoney Lamar. Among the work is a multimedia installment by Michael Sherrill, animal sculptures fashioned from mixed paper, and beadwork by Joyce J. Scott and Jack and Linda Fifield. "Natural Collector" is organized by the Asheville Art Museum and curated by Whitney Richardson, associate museum curator. ashevilleart.org
Trash sourced from the Watauga River is the medium in Tom Hansell's latest exhibition.
Trash Trout Picture Show
Blowing Rock Art & History Museum
December 6, 2022–February 2, 2023
Filmmaker and visual artist Tom Hansell has collaborated with water protectors in Western North Carolina to transform trash from rivers and streams into works of art. Hansell teamed up with the Watauga Riverkeeper to collect plastic bags and other refuse from a passive stormwater debris collector nicknamed the "Trash Trout." Over fifty local residents joined Hansell in collecting trash from the river to adhere to film strips and create a film. Hansell also collaborated with the New River Conservancy on river cleanups, then turned plastic bags from the cleanups into a series of sculptures.
These images and sculptures will be displayed alongside photographs documenting microplastic pollution in local waterways. The opening reception will include a performance of the "Trash Trout Motion Picture Show," during which local musicians and dancers Trevor McKenzie and Julie Shepherd-Powell will perform a live soundtrack as the film is projected. blowingrockmuseum.org