Musical Riddle
Musical Riddle:
Uncovering a WNC influence behind country music's First Family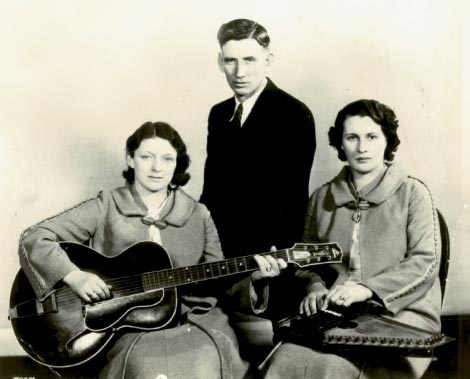 The carter family left a lasting impression on bluegrass, country, and Southern gospel music. In fact, the Virginia-based family was the first vocal group to reach country music stardom, a stature they wouldn't have likely attained without the help of one of Western North Carolina's own.
Born in 1905 in the Silvers Gap community near Burnsville, Lesley "Esley" Riddle came into a world that offered few career options for African-Americans. Losing a leg in his teens and two of his fingers in a shotgun accident only complicated matters.
Despite these obstacles, Riddle taught himself to play guitar, joining a fellowship of musical legends, such as Brownie McGhee, Blind Lemon Jefferson, and John Henry Lyons, who played Piedmont Blues. This distinctive style of fingerpicking blends African-rhythm blues with elements of honky-tonk, ragtime, and gospel.
While living in Kingsport, Tennessee, in 1926, Riddle caught the attention of Alvin Pleasant "A.P." Carter, founding member of The Carter Family band. Riddle was good—really good—and A.P. took an immediate liking to him.
For the next five years, the two men collaborated, collecting music throughout Appalachia at people's houses, on street corners, in churches; wherever people were playing. Because Riddle could play anything after hearing it once, he captured the tunes while A.P. memorized the lyrics. With Riddle's help, The Carter Family produced such memorable songs as "Coal Miner Blues," "The Cannonball," and "I Know What It Means To Be Lonesome." Riddle taught his unique style of fingerpicking and slide guitar to Maybelle Carter—they both used a pocketknife for slide work—which became her hallmark.
Despite Riddle's talent, by the 1940s he had sold his guitar, moved to Rochester, New York, and slipped into obscurity explains Larry Howell. He's a member of Burnsville's Traditional Voices Group that also produces RiddleFest, an annual gathering that promotes the musician's work and Piedmont Blues.
It's largely through the efforts of folk musician Mike Seeger that Riddle's importance to country music is recognized. In the mid-1960s, Seeger tracked down Riddle and encouraged him to play again. Riddle began appearing at folk festivals and eventually recorded a collection of songs that was posthumously released in 1993 on the album Step by Step.
"Riddle was as good as any of the people who became famous," says Howell. "Under different circumstances he would have been the star." Riddle died in 1979 and is buried in Burnsville. "He never made a living at music, but with one leg and eight fingers, he changed the sound forever."
—Suzannah Smith Miles