Moving Pictures
Moving Pictures:
Local filmmakers sound off on what it takes to chase the silver screen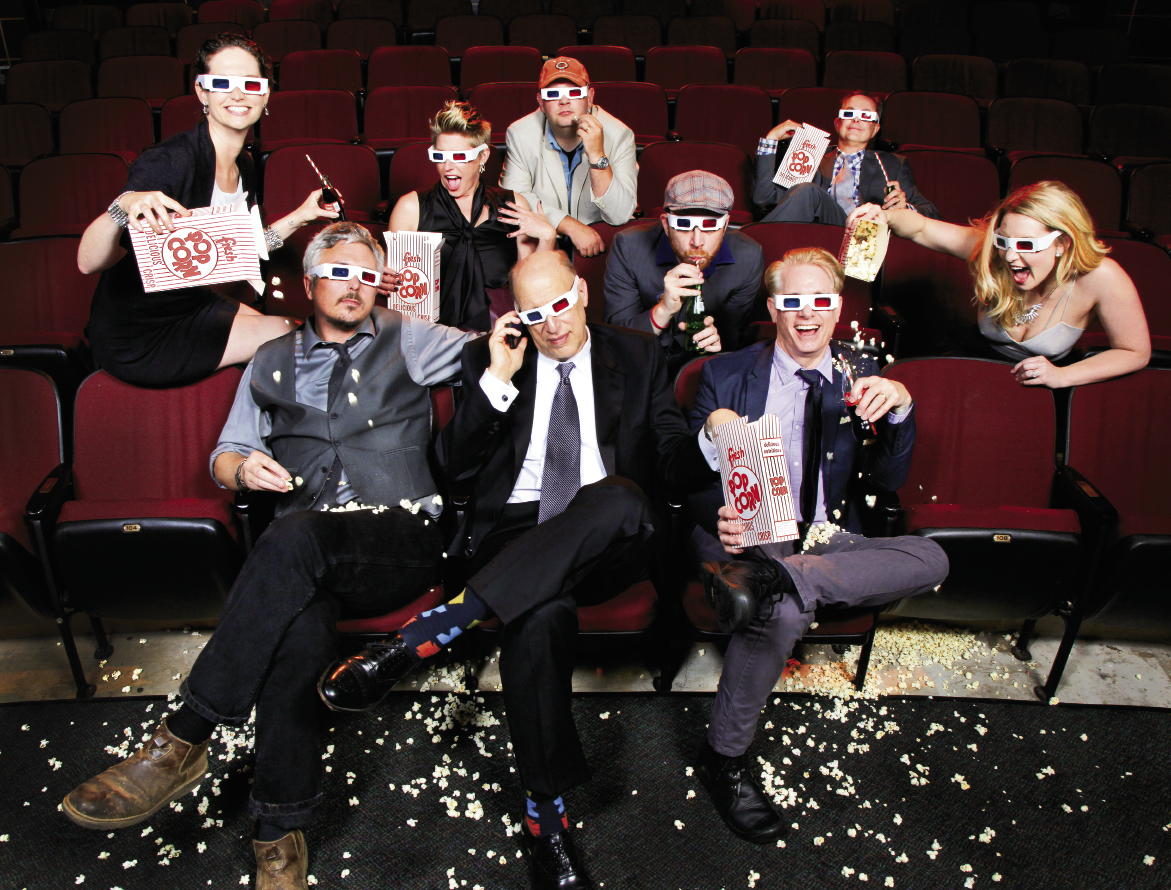 Moviemaking in Western North Carolina takes equal parts passion, persistence, and problem-solving. As a profession, it's also something of a moving target, according to a panel of area filmmakers we convened to explore the ins and outs of their art and work. In some ways, they said, the local landscape offers promising possibilities for filmmaking, but it's also fraught with financial and logistical barriers.

True, WNC has seen its share of big-budget movie productions, from Dirty Dancing to Last of the Mohicans to Masterminds, a comedy starring Kristin Wig, Owen Wilson, and Zach Galifianakis that's slated for release this August. But last year, North Carolina's legislature ended the state's program of offering tax incentives to major films, replacing it with a limited amount of grant funds. That move, industry insiders say, is already hobbling North Carolina's efforts to land more movies, with production companies increasingly looking to states like Georgia that still offer such incentives. As the productions head out of state, so does much of the professional support staff—aka crew—that filmmakers count on.

All is not lost, though. WNC has long been an active hub of independent filmmakers, the kind who keep doing their thing regardless of how the winds of change blow through Hollywood and Raleigh. Our panel of writers, producers, directors, instructors, and promoters—a veritable WNC Film Forum—met recently to discuss the pros and cons of moviemaking here, and why they can't seem to stop.
---
On the benefits of filmmaking here
 
Erin Derham: "The people who are here who are working professionally aren't just L.A.-quality, they're beyond that, because they're working their butts off to stay in Asheville and have that kind of success."

James Suttles: "The best part to me is the natural area. Location-wise, it's really hard to find the level of diversity that we have here."

Katie Damien: "A major plus is how open all the businesses and people in this area are to you doing a movie. They just get so excited that you're doing something that they'll help. With our 'buy local, support local' mentality, people are just very supportive of filmmakers."

Rod Murphy: "The best part is the odd people. If you're doing documentaries, there's no shortage of interesting, quirky people here; you've got the pick of the litter."

Paul Bonesteel: "There's a very open and artistic community that watches independent films here, and the community supports you, and the local media is pretty kind to the filmmaker who is doing something that has some relevance to the region."
 
---
On the challenges of filmmaking here

Katie Damien: "The worst part, of course, is trying to find funding."

Brad Hoover: "That's not unique to Asheville, though—that's universal."

Paul Schattel: "There is money here in town, and some of us have found that money; I have not. So much of the money is real estate money or software development money. But if you want to talk movies, investors are pretty uneducated about them and not in that zone. They're just not film people."

Katie Damien: "For My Toxic Backyard [her recent documentary], mainly it was self-funded. I had a Kickstarter campaign, which really helped me get to the finish line, and I got a grant. But mostly it was out of my own pocket."

Paul Schattel: "My recent attempt at crowd funding went horribly. It was a month of begging and genuflecting. Some people can do it really well; I can't. The whole thing was an exercise in humiliation, and I'll never do it again."

Rod Murphy: "I've gotten grants, I had an investor, and I had an absolutely insane donor give me a bunch of money once. In retrospect, I would rather have taken out 12 credit cards than deal with the mental anguish that came with that."

Paul Bonesteel: "There's so much competition, not just for funds, but for broadcast opportunities. It's intimidating, just how many stories are being told with more money, with people already aligned with relationships that will get that story on the air. It can be very dissuasive to a young filmmaker, or even someone who's been doing this for a while. That's the hardest part: Motivating yourself to stay in the game."

Jack Sholder: "The worst thing is the lack of crew and infrastructure here."

Brad Hoover: "I slightly disagree: There is crew here, but they all have full-time jobs, so they're not always available when you need them. And that's the deal here: If you want to work in film in Western North Carolina, you pretty much have to have a full-time job that compliments or supports that."
---
On the impact of the state ending film incentives

Becky Seymour: "I'm just going to be honest: I was really pissed when they did this. To me, it was like, "What were they thinking?" I get it that, in politics, everybody has got their game, got their agenda. I feel like this grant program they replaced the incentives with is kind of a joke, and that the money goes really fast. So everybody's going to Georgia and elsewhere, with other states taking advantage because the film business is leaving North Carolina."
 
Jack Sholder: "Having worked in the commercial film world in Hollywood for a number of years, I can tell you that having the incentives is absolutely crucial. If you are a producer and you want to take your film to North Carolina, where they have no incentives, your company won't let you do it. So basically, they've killed off the film industry here, and it was doing really well. You can still have a film culture here—it's just a different kind of film culture, a smaller one of people working in the indy film industry."
 
Erin Derham: "I was getting a ton of work in Charlotte, which was helping me fund my documentaries, and now it is zero. I occasionally do a voice-over, but no crew work anymore. And many of my top crew people I used to work with, they've gone to Atlanta. They just left."
 
James Suttles: "Films come in, and you have work for three months or six months, so that's considered a temporary job. So it's not like bringing in a factory with long-term manufacturing jobs, and that's why [the legislature] doesn't see it as the same. That's the issue. Part of it is, we've never done a good job of explaining what that money does for the state. What needed to happen, and what could still happen, is for film communities, like the one in Asheville, to organize and present that information."
 
---
Given the challenges of filmmaking in WNC, why do you keep doing it?

James Suttles: "When I was 12, I was an extra in a kids' film, Heavy Weights, that was shot in Hendersonville, and right then, I fell in love with filmmaking. After that, I had no other trade I could offer this world."

Rod Murphy: "I think I'd do it whether or not I was working at UPS or anywhere else. I like making stuff, creating things, no matter what or where."
 
Paul Bonesteel: "Same answer for me. I love making things and showing them, and having that moment when the lights go down and you have everyone's focus, if not necessarily their attention. You have the opportunity to tell a story, and you have to earn that."
 
Brad Hoover: "For me, filmmaking is not necessarily associated with place. I've lived here for 10 years, but I could be back in Seattle or L.A., and I'd still be a filmmaker. ... It's profoundly addicting."
 
Paul Schattel: "Like everyone else, I'm compelled to tell my stories. And I love Asheville, the South, the mountains, and the small-town feel. I do admit to some frustration with knocking up against some of the limitations of this town."
 
Erin Derham: "When it comes to making films, I feel like I don't have a choice. Once you do it, it's really hard to be OK with another career. Why do it here? My life would be a thousand times easier if I lived in L.A., or even Atlanta. It's something I think about every day: How can I stay here? And the answer is to bring in bigger projects. I want to live in Asheville and do big-budget films, and I'm going to do it."

Katie Damien: "Filmmaking becomes part of who you are. Regardless of where you live, it's what you're going to do."
 
---

On location
Panelists picked their favorite films shot in WNC
 
All the Real Girls (2003)
Director David Gordon Green's low-budget but highly regarded small-town drama was filmed mostly in and around Asheville and Marshall, and it starred Asheville native Paul Schneider to boot.

Being There (1979)
This late-in-life milestone for Peter Sellers, who was joined by Shirley MacLaine and other stars, had many of its most beatific moments at the Biltmore Estate.

Deliverance (1972)
One of the most unsettling yet engaging hit movies of the early 1970s, Deliverance was largely shot in Georgia and South Carolina but had some key scenes in Sylva.

Last of the Mohicans (1992)
In this Colonial-era romance/war flick starring Daniel Day-Lewis and Madeleine Stowe, Chimney Rock made for a stunning backdrop.

Nell (1994)
Jodi Foster and Liam Neeson gave acclaimed performances in this tale of a woman raised in the wild that was mostly filmed at Fontana Lake.

Songcatcher (2000)
Western North Carolina provided the perfect backdrop for this saga of an early 20th-century academic who collected mountain ballads and witnessed Appalachia's tensions with the outside world.

Thunder Road (1958)
Mountain roads provided the perfect backdrop for Robert Mitchum's dramatic portrayal of a moonshine runner grappling with the law and the lawless.

Where the Lilies Bloom (1974)
While it's little known today, this saga about Appalachian children facing father-less turmoil was filmed in Watauga County and merits a new look. It's available for free on YouTube.

Winter People (1989)
Shot for the most part in Avery and Buncombe counties, with a soundtrack by Earl Scruggs, this 1930s melodrama about forbidden love is driven by Kurt Russell and Kelly McGillis' performances.