Model of Fashion
Model of Fashion:
Suzanne Q Evon's evolution from glamour girl to luxe jeweler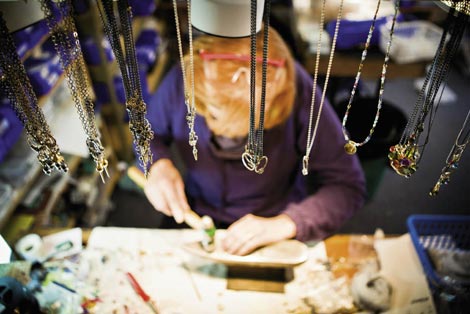 For two decades, Suzanne Q Evon—or Q, as she's known—lived off her wholesome good looks and nearly six-foot frame. She was a top commercial model in New York City, but jetted around the world for photo shoots.
When that career drew to a close around age 40, Q began to pursue her passion for creating metal jewelry. Today, blissfully ensconced in rural Weaverville, she crafts hundreds of designs for gallery sales across the country and anonymous wholesale production under brand names, including Banana Republic, J. Jill, Sundance catalog, and even QVC. She jokes she's "the biggest name you've never heard of."
Her designs are multimetallic, with a modern, jingly-jangly, touchable friendliness refined by old-world fabrication techniques. For her newest collection, called D.I.G., locally sourced copper, bronze, steel, and other metals are cut down, annealed, forged, and oxidized into sleek designs with gold or diamond accents. The collection premieres at New York City's Grand Central Terminal Holiday Fair this season.
"I care about what looks good on the body," Q explains. "I care about design, not what's in fashion. I build, create components, and put them together. I build body architecture."
Q's interest in jewelry began at a young age. "I was the kid who went to garage sales and bought beads to cut up," she says. During her modeling years, she lived near the Parsons School of Design, where she took classes. After moving to the Asheville area, she found a mentor in master metalsmith Bill Churlik of Earthspeak Arts. "My creativity has always exceeded my skill," she says. That changed after studying with Churlik.
Beginning with wax carving, an ancient method of creating detailed patterns, Q adds layer upon layer of technique in various metals, processes such as casting, acid etching, granulation, and reticulation (veined or overlapping layers). The results appear in regional shops including Bellagio Art to Wear, Woolworth Walk, and Allanstand Craft Shop in Asheville, Miya Gallery in Weaverville, and Parkway Craft Center near Blowing Rock.
Despite her love of accessories, Q keeps her own adornments to a minimum, usually just a simple pair of earrings, a necklace or bracelet, and her thin, gold wedding band with tiny diamonds. For her, the process of creating jewelry ranks first in fashion importance; being chic simply means answering, "What makes you feel good? Do you love it?"