Midmod Love
Midmod Love:
Finding, fixing, and fabricating mid-century furniture brought Atomic Furnishing & Design's owners together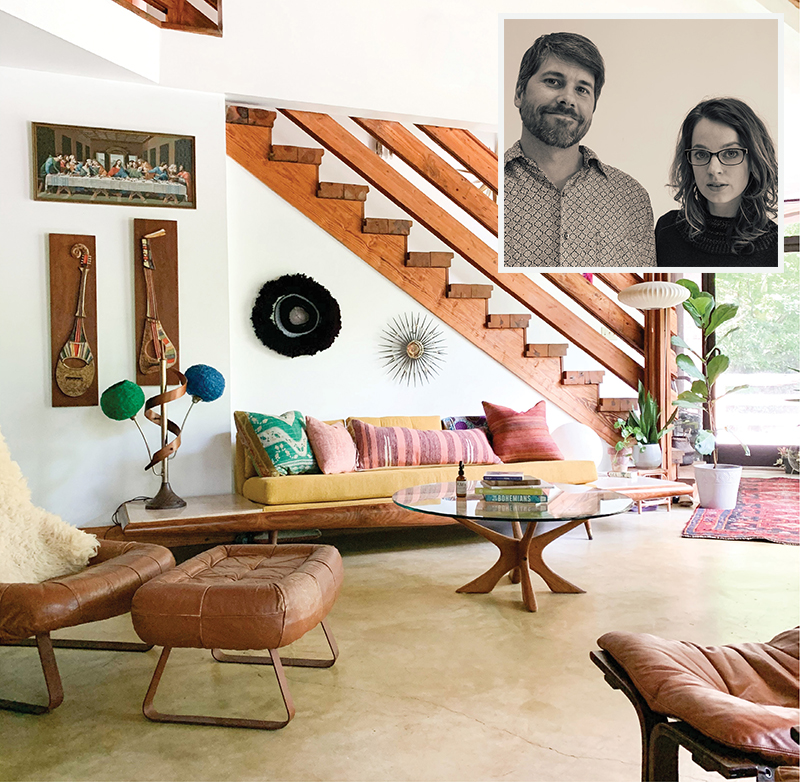 The now-timeless mid-century modern style finds new life via Atomic Furnishing & Design; (inset) Todd and Megan Walsh.
The simple, tufted bench in the Craigslist ad caught her eye—walnut legs, clean mid-century lines, and a steal at $40. When Megan de Camara went to claim it from the seller near Hendersonville, she found not only a bargain, but also a kindred spirit in Todd Walsh, who'd recently relocated to the mountains from St. Petersburg, Florida, where he worked as a picker (one who sources second-hand furniture for resale). At the time, de Camara, a Boone native, was working at Asheville's ScreenDoor, learning about the interiors and vintage furniture business from vendors and working on a small interiors venture of her own. Ongoing conversations about fantastic furniture and where to find it led to a professional partnership between the two. Though it was a long car ride back from Charlotte during a snowstorm that led to a realization that they wanted to share their life together as well. Now married with a two-year-old son, the romance continues—with each other and with the world of mid-century furniture through their Asheville-based business Atomic Furnishing & Design.
Located on Swannanoa River Road, Atomic's 12,000-square-foot showroom reflects the couple's love of the timeless design principals that define mid-century furnishings: sleek lines and organic shapes, bold colors, and quality construction. Most of the diamonds-in-the-rough they find need to be refurbished; Megan handles upholstery, Todd the refinishing. They also make their own line of mid-century-inspired sofas with boomerang legs in the workshop near their home as time allows.
When the couple opened their first storefront in Woodfin in 2014, it was easier to score rare pieces like the one that brought them together or the $40 Jens Risom bench they were able to resell for $1,000. In recent years, though, interest in authentic mid-century furniture has skyrocketed, due not only to the style but the quality. "People are sick of their furniture breaking," Megan says of the often poorly made contemporary knockoffs, which may mimic the style but fall short on craftsmanship.
The couple tries to keep their price points reasonable so that young people can invest in well-made furniture that will last. Of the enduring appeal of mid-century, Todd says, "It's easily adaptable. You can put it with anything. It's easy on the eyes." While "our parents' generation hated it," he adds, it now has a nostalgic appeal for that generation, and it also works well with the lifestyle of young collectors.
Plans for the future include expanding Atomic's furniture line in fresh, unexpected colors. Having weathered a pandemic shutdown over the last year, their vast showroom has proved an ideal place for social distancing, and they're well positioned to bounce back with style.
Atomic Furnishing & Design
124 Swannanoa River Rd.
Asheville
(828) 774-5441
atomicfurnishings.com