A Matter of Taste
A Matter of Taste:
Pick your flavor at Boone's olive oil and vinegar gallery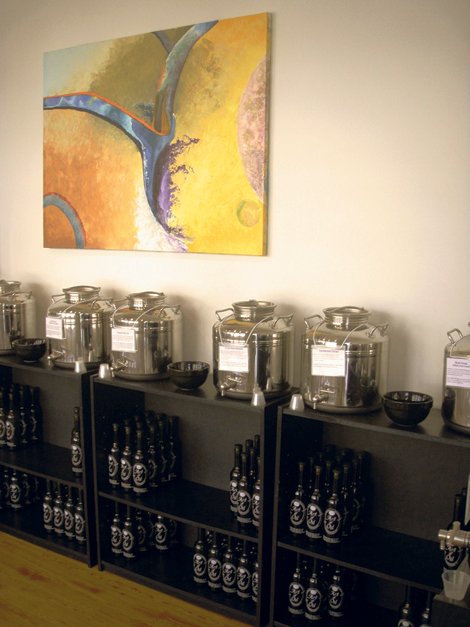 People have balsamic vinegar wars between the blueberry and strawberry flavors and debate which is better," laughs Meredith Whitfield, co-owner of Art of Oil. The tasting gallery in Boone, owned by Whitfield and her husband, Davis, features more than 40 flavorful olive oils and aged balsamic vinegars from around the world.
Stainless steel containers equipped with taps are self-serve stations that invite customers to sample the choices, including honey-ginger white balsamic, and Tuscan herb and Persian lime extra-virgin olive oils. And Meredith has a tasting tip: "You should smell them and roll them over your tongue like wine." While it may be tough to narrow your selection, you'll be hard pressed not to take home a bottle (or several).
After stumbling upon a tasting gallery in Denver a year and a half ago, the couple decided that a similar business could flourish in Boone. "We just fell in love with everything in that store," Meredith says. "If I could have stuffed it all in a suitcase and brought it back, I would have." Now they can enjoy a multitude of flavors any time they like.
ART OF OIL
BOONE
222 Howard St.
(828) 355-9313
www.theartofoil.com
—Steven Hall