Mast Appeal
Mast Appeal:
The couple who made Mast General a nostalgic icon reflect on the Valle Crucis store that inspired it all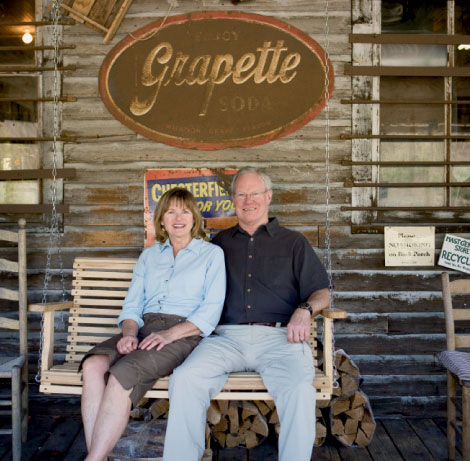 When John Cooper opened the front door of Valle Crucis' Mast General Store in 1980, he walked into a virtual time capsule. The last owners had closed shop for the winter in 1977 with the intention of reopening in the spring. But their plans went astray, and the store, known as the place that sold everything from "cradles to caskets," sat exactly as it had been the day it closed, with merchandise tagged for sale and food in the coolers.
As John brushed off the layers of dust coating the stocked shelves, he wondered if leaving a successful career in Winter Park, Florida, was a bright idea. He didn't imagine that this country mercantile would serve as the archetype for a family of stores in the Southeast, including Waynesville, Hendersonville, Asheville, Blowing Rock, Greenville, South Carolina, and Knoxville, Tennessee.
Henry Taylor opened the store in 1883, and later partnered with the Mast family, calling it Taylor and Mast General Store. In 1913, W.W. Mast bought out Taylor and for the next 60 years, it remained a family business. It carried such a wide array of items that the store's slogan became, "If you can't buy it here, you don't need it."
The market sparked John's imagination during an earlier visit to the area. He envisioned his parents, who both grew up in small towns in the Virginias, shopping at a place just like this. His wife's family roots were also in the Southeast. Faye's mother was from Georgia and her dad hailed from Catawba County. "I would have been a fifth-generation North Carolinian if my father hadn't been confused and gone to Florida to have his family," she says with a laugh.
John raved about the place to the owners of the bed-and-breakfast where he was staying. So when the word got around the community that the whitewash clapboard building and all its contents were for sale, they called John.
But the Coopers didn't buy immediately. John introduced Faye and their two children to Mast gradually during subsequent trips. Eventually, like John, Faye fell in love with the place. The rambling building is a familiar sight for those traveling the winding, two-lane Highway 194. Faye says every time they visited, the building seemed be missing another windowpane, and they couldn't resist the idea any longer. "I knew somebody should save it, I just didn't know it would be us," she says.
The Simple Life
The Coopers didn't have much time to second-guess their purchase. They began tossing out dated items and cleaning. After six weeks of restocking, painting, and rearranging, they were ready to reopen. The new shopkeepers still had to wipe down items at the checkout. "I told the customers that we didn't charge for the dust," jokes Faye.
Even today, the store holds on to its past. "I think how wonderful it is that it's preserved and people can walk in and see it," she continues. "Fifty years ago, you'd walk in and have the same smells, the same creaks, and the same posters on the walls."
As they talk, John and Faye rock in display chairs on the second floor of the shop. This space, now filled with braided rugs, Fiesta ware, and other housewares, served as their living quarters for four years. "Our bedrooms were in the attic," says John. "It was hot in the summer and cold in the winter. We had only one window, so we joked that our children were growing up like mushrooms."
The children walked to Valle Crucis Elementary, and then helped out after school. "We didn't have to drive to work or school. We had groceries down below. It worked very well for us to start the business that way." The kids learned quickly how to run the cash registers, pump gas, and other tasks.
"We enjoyed being so accessible to our children," Faye says. "We worked hard all day long, and we divided up the chores and preparing meals. It was very much a team that put it all together."
Model Enterprise
While the store is filled with new merchandise, there are nostalgic replica toys for sale, rocking chairs, a pot-bellied stove, sodas in drink boxes, and a table set up with a checkerboard and Nehi bottle caps as pieces where anyone can sit down for a game.
Mast continues to serve as a focal point of this small community. Neighbors even stop in to pick up their mail. When the Coopers bought the building, they petitioned the U.S. Postal Service to resurrect the Valle Crucis zip code and allow them to operate the mail. The Postal Service pays the store $1 a year for handling the administration and delivery of letters here.
Over the years, the Coopers have taken the concept of the country shop and replicated it. "It wasn't our vision to have other stores," says John. "We say to ourselves that we are opportunity driven, but we've been conservative in how we've grown."
They cringe at the word "chain" and don't want people to see their stores as "cookie cutter" outlets, emphasizing that each has its own personality. Much of the character can be credited to the company's record of carefully selecting downtown historic structures in need of revitalization, from their second location, which opened in 1988 in Boone's old Hunt's Department store, to the latest emporium in Knoxville, housed in the former Knox Dry Goods Store.
Family Matters
Though John and Faye are still active in the business, their daughter and son-in-law now lead the company. Their son tragically died in a car wreck in 1989 when he was a senior at Western Carolina University.
"Our daughter, Lisa, is in charge of merchandising. She's better at it than we ever were," says John. Lisa's husband, Fred Martin, began working for the Coopers in 1984 and now serves as a vice president. John spends most of his time working on public relations and marketing.
And even though they don't share tight quarters like they used to, the Coopers and their daughter's family live within a mile of each other in Valle Crucis, a convenience which gives them the opportunity to spend lots of time with their three grandchildren. "We're blessed," says Faye. "If Lisa and Fred have to go on a buying trip, we're here to watch after the grandchildren."
Even in this way, they have followed in the footsteps of the Masts, who passed the store down from generation to generation.
In the beginning, "we considered having a partnership and letting someone else run it for us," Faye explains. "But as we found out more about how the Mast family ran it, we felt that's the way it should continue." And so it has.
RESOURCES:
Photograph (B&W of John and Faye Cooper, and store) courtesy of Mast general Store