Mars Hill
Mars Hill :
History lessons and a British pub await in this little college town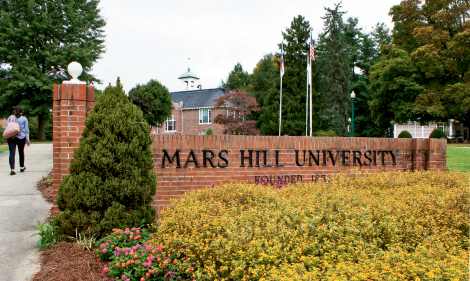 Among the handsome brick buildings on the Mars Hill University Campus, Montague Hall stands out for its stone architecture. The 1918 building is home to the recently relaunched Rural Life Museum and its debut exhibition "Interwoven: Coverlets, Ballads, and America's Discovery of Madison County Folklife."

Tapping into the wellspring of the county's craft tradition, this fascinating collection weaves together stories of the women who formed Allanstand Cottage Industries, the precursor of the Southern Highland Craft Guild. Coverlets, looms, Saxony spinning wheels, and photos depict how these hardy craftswomen raised sheep, grew flax, dyed wool and fibers, spun, and weaved—all while singing old folk ballads. 100 Athletic St.; Tuesday-Sunday, 1-5 p.m.; (828) 689-1400; www.mhc.edu
Eat Grab a bite at Cork and Crown, the town's own British-style pub. With its campy British memorabilia, it has a rec room ambience just right for playing a game of darts while sipping a pint of local beer.

The menu boasts classic pub food crafted with Appalachian style. Go with the popular fish and chips, or try the shepherd's pie. Just so you don't forget you're in the South, there's buttermilk fried chicken. Top it off with a slice of cheesecake from neighborhood bakery, Crumbs and Cream. 37 S. Main St.; (828) 680-1200; www.corkandcrownpub.com
Shop While away the afternoon at Fiddlestix Antiques, a former roller rink now home to 5,000 square feet of what owner Linda Scoggin calls "eclectibles"—all things quaint and quirky, fun and funky, vintage and contemporary.

Start in the Artist Stroll section, where standouts include Tony Dill's intricate carvings of native birds and whimsical mother/daughter apron sets by Janine Pressley. Stroll past the antler chandeliers and rustic furniture to Vintage Fab, a wacky array of tin toys, lace-hemmed slips, and '50s hats and beaded purses. 37 Library St.; (828) 689-4532; www.myfiddlestix.com