Mamie Thompson Gumbs
Mamie Thompson Gumbs:
Mamie Thompson Gumbs shines a light on the black experience at her Forest City museum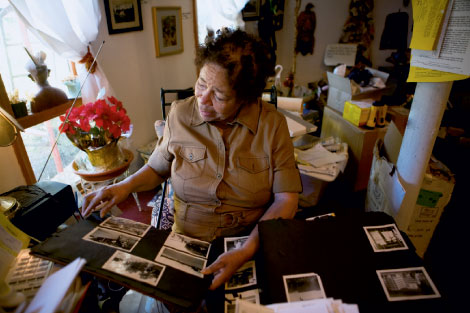 Update [11:14 p.m. 3/26/09]: Mamie Etta Gumbs is at Spartanburg Regional hospital after a fire at the MaimyEtta Black Fine Arts Museum and Historical Society broke out on March 19.
Update [5/27/09]: A fire destroyed the MaimyEtta Black Fine Arts Museum and Historical Society on March 19.
Please check back for updates throughout the day.
They are all smiles, these high school graduates, in a photograph taken more than a half-century ago. Behind them looms the worn, clapboard Grahamtown Colored School. A teacher is with them. The principal, too. All of them are standing, except for one student who is kneeling in front, a devastatingly pretty girl wearing a pale cardigan. "You know who that is, don't you?" asks Mamie Thompson Gumbs. Impatient for an answer, she taps a finger against her chest. "It's me," she says.
Today, the girl is 78 and back home in Forest City after most of a lifetime spent away. There are other school-days pictures in the room, as well as binders full of childhood photographs, programs from relatives' funerals, and sheet music of beloved hymns. Others may have no time for sentimentality, but the past is ever-present with Gumbs, founder and director of the MaimyEtta Black Fine Arts Museum and Historical Society. "Everybody asked 'Why did you keep all this stuff?'" she chuckles. "But I had an idea in my mind all the time that I would be coming back to North Carolina."
Since opening in 1995, the museum has served a dual purpose, as a showcase of the black experience in America and a gallery of African art from around the world, wherever blacks have laid a hand to brush, knife to wood, thread to loom. Too many people these days, Gumbs believes, are either ignorant of or indifferent to the struggle of the African people, unaware of the richness of their arts and the scope of their contribution to the world.
A Better Life
Born in 1929, Gumbs grew up in the largely black Grahamtown section of Forest City, in a house that still stands just down the road from the museum. Her father's side of the family, the Thompsons, moved here from the South Carolina Lowcountry in the 1930s for the promise of better opportunities. Her paternal grandfather, Willie Thompson, sharecropped on the land of a local white farmer, working the fields by day and traveling from house to house, teaching the art of shape-note singing by night.
The community Gumbs remembers was an intimate place. "Everybody was everybody's mother in these neighborhoods," she says. "You couldn't do anything without someone noticing. You might think you got away with something, and then you'd look out in the evening and here would be the neighbor kid's mother walking up to your house to talk with your parents."
Despite the close-knit community, the inequalities of the pre-Civil Rights South were keenly felt, not least of all in a school system that was separate, but considerably less than equal. By the time she and her Grahamtown classmates posed for that photo in 1956, Gumbs already suspected what so many young blacks knew at the time: That opportunity lay outside the South. "I told myself, 'When I get out of here, I'm going to do better than this,'" she recalls.
The way "out" took her east, to Charlotte, where she studied nursing at the Good Samaritan hospital (now closed, it was the first private hospital in the country established to treat blacks exclusively). From Charlotte she moved to Washington, D.C., to study education at Howard University. Once she earned her degree, she moved to New York City, where she taught nursing at the city's venerable Bellevue Hospital.
It was in New York that she met her husband, Earl, whose family had moved to Staten Island from St. Martin in the Caribbean just before he was born. In time, Gumbs took a job with the New York City schools, teaching elementary and then middle school social studies in one of Manhattan's roughest districts—a career that would last 31 years. Earl practiced medicine for nearly 45 years.
The couple enjoyed a cosmopolitan travel schedule. Along with repeat trips to Brazil and the Caribbean, they found time to visit to a number of African countries, returning with souvenirs from each destination. "In all the places we traveled, I would get something—a piece of art, a piece of history—something to remind of us of that place and its culture," Gumbs says.
"Her love of travel comes, I think, from her desire to see life as it is instead of letting someone interpret it for her," says Etta Gumbs, the couples' only child, who lives in New York and works as an attorney for Citigroup. "My father," she adds, "was the same way."
Cultural Homecoming
Occasionally, serendipity brought treasures the Gumbs' way. A patient from Nigeria took notice of Earl's interest in African art and mentioned that he owned a ceremonial figure made of beaten brass, one of the first examples of his people's work in metals, and one that he was willing to part with—for a price. Earl called Mamie with the news. A deal was worked out, and today the metal warrior glowers from inside a plastic case at the museum.
After retirement, with their daughter graduated from Georgetown University's school of law and off to practice in Manhattan, Gumbs had a choice to make. "I said, 'gee whiz, what am I going to do?' I decided to invest in myself—I went back to school." In 1994, she earned a master's degree in museum studies from New York University. In 2003, she followed up with a doctorate in Biblical studies.
The Gumbs returned to Forest City in 1995 to be near her family, and converted the brick apartment building they had built here in the late 1970s into the museum. And though Earl died four years ago, the couples' lifetime of acquisition remains on display, with tags explaining each item's provenance and cultural importance. There is a kora, a harp-like instrument made from a calabash—the traditional accompaniment of the griots, a hereditary line of musicians and storytellers central to the cultures of West Africa. From Nigeria, there are Yoruba carvings made of horn, as well as much larger statues of ebony and teak. There are works, too, whose origins lie much closer to home, including art by celebrated Georgia-born painter David Driskell and the late Romare Bearden.
A historic purpose is at work here, as well. The museum walls are covered with pictures of famous abolitionists and black leaders, as well as maps illustrating the slave trade from its origins in the 16th century to its final days in the 19th. A back room serves as a family archive of the Thompson and Lattimore (her mother's side) families, a collection near to Gumbs' heart.
Despite the satisfaction of running her own museum, Gumbs admits that "it's a big place, and a lot of work." Where most museums have interns, institutional support, and endowments, this one gets by on the dedication of one woman, her daughter, their family, and neighbors.
But by sharing the full scope of the black experience under one roof, Gumbs sees an opportunity, as the historian John Hope Franklin once described it, to "go beyond textbooks" and "into the bypaths and untrodden depths of the wilderness and travel and explore and tell the world the glories of our journey." The glories of that journey, Gumbs believes, are evident in the achievements of black people, in the arts, agriculture, science, law, and business. And she's taken it as her role in life to remind us of it.
"We have always been here," she says. "We were here first as slaves, as sharecroppers. We were here as planters, as preachers. We were here as housekeepers and butlers. And from those humble beginnings, we have achieved great things." Regardless of whether those achievements took place just around the corner or across the sea, Gumbs highlights them all in her unique way.
Of her curatorial style with visitors who happen by the museum, especially the young, Gumbs says, "It's simple, really. I try to pull whatever's in my heart out and give it to them."