Making Spirits Bright
Making Spirits Bright:
Toasty malt whiskey meets luscious vanilla and fig in this festive concoction from Chemist Spirits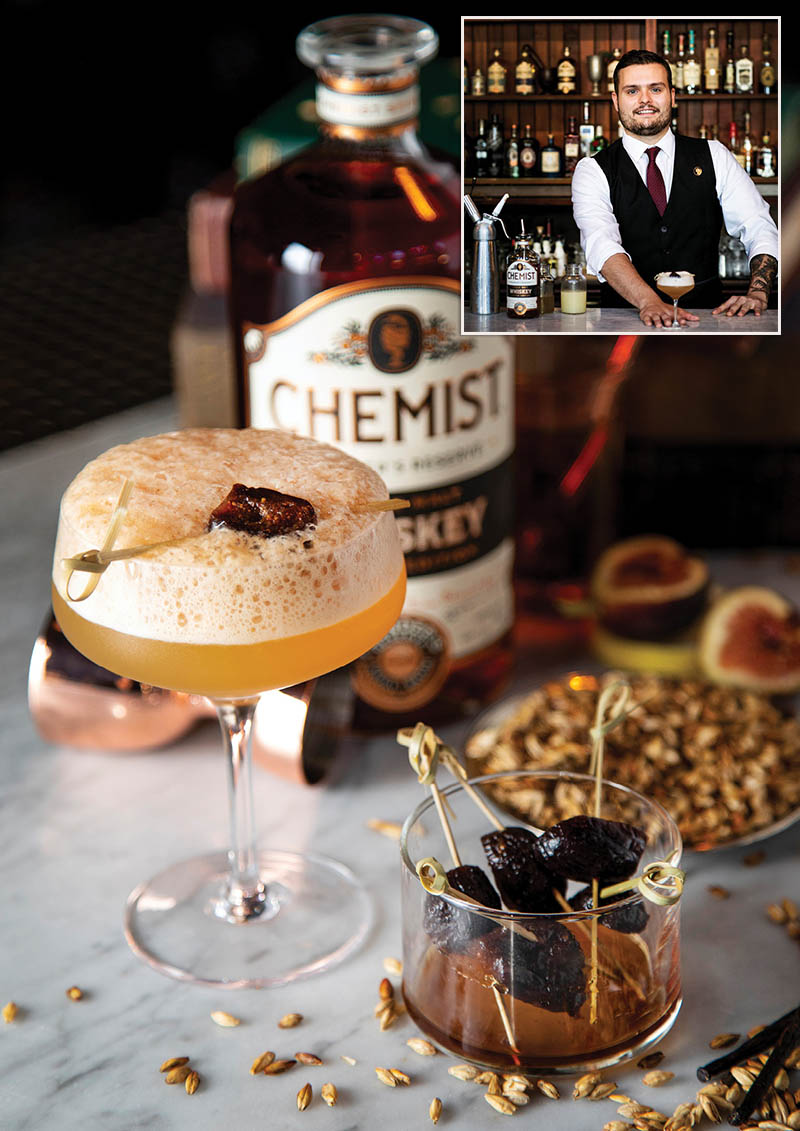 Complicated holiday gatherings of yore may be on hiatus this year, but nothing says you can't spend a convivial evening in, mixing a creative signature cocktail to toast the winter season. Chemist Spirits, the handsome South Slope distillery in downtown Asheville that burst onto the scene just over two years ago, concocted a unique beverage to try at home that offers the comforting earthy flavors of vanilla and fig, with a toasty malt whiskey finish.
"With the Founder's Reserve Whiskey Sourwood, topped with vanilla and fig foam, we wanted to warm your bones with our cask-strength Founder's Reserve Whiskey," says Chemist Spirits Marketing and Sales Director James Donaldson. "It showcases hints of vanilla and baking spice from our barrel aging process."
At Chemist's next-door bar, Antidote, the sourwood honey syrup used in this recipe comes from Chemist owner and founder Debbie Word's very own beehives, from which she harvests regularly throughout spring and summer. Figs also grow abundantly here in the mountains, although it is the dried fig and its concentrated essence that factors into this rich elixir.
Those components paired with the whiskey—a recent collaboration with local Riverbend Malt House—combine perfectly to create a warming, semisweet, luxurious winter beverage, says Donaldson.
Chemist Spirits is, of course, known for its bright, botanical gins—a wonderfully, counterintuitive winter beverage base—but the mixologists at Antidote assure that the whiskey's intense flavor paired with an engaging home-crafting experience is quite worthy of the slow-down of life this winter. 
Founder's Reserve Whiskey Sourwood with Vanilla & Fig Foam
(Yields 1 cocktail)
2 oz. Chemist Founder's Reserve Whiskey
3/4 oz. lemon juice
3/4 oz. Sourwood Honey Syrup
Vanilla & Fig Foam
Brandied fig
Combine whiskey, lemon, and syrup into a shaker with ice. Shake vigorously until chilled. Strain into a martini glass and top with Vanilla & Fig Foam. Garnish with a brandied fig.
Sourwood Honey Syrup
1 cup sourwood honey
1 cup water
Combine ingredients in a pot and bring to a boil. Reduce heat to simmer for two minutes. Remove and let cool. Store in an airtight container for up to eight weeks.
Fig Syrup (yields 8 oz.)
1/4 cup dried mission figs
1/2 cup water
1/2 cup sugar
Quarter the dried mission figs using a sharp kitchen knife and place in an airtight container. Combine sugar and water in a pot and bring to a boil. Reduce heat and simmer until sugar is dissolved. Pour hot mixture over the dried figs. Allow to sit for at least three hours. Transfer fig syrup to a blender and blend on high until smooth. Pour the blended mixture through a cheesecloth to strain. 
Vanilla & Fig Foam
4 oz. finished Fig Syrup
1/2 oz. lemon juice
1/4 oz. (barspoon) vanilla extract
2 egg whites
Place all ingredients in a food grade whipping canister. Close the lid tight and shake a few times to blend. Charge canister with N2O chargers and the foam is complete. (Note: ingredients can be whipped with an electric beater until foamy, though it may not sit atop of the cocktail quite as well.) 
Brandied Figs
1/2 cup sugar
1/2 cup water
1 cup dried mission figs, halved
1/2 cup brandy
Combine sugar and water into a saucepan and bring to a boil. Reduce heat to a simmer and add the dried figs. Reduce liquid by about half and remove from heat. Once cooled, transfer to an airtight container. Add brandy and allow to sit for at least an hour. Use as a garnish. Can be refrigerated for up to a month.
Chemist Spirits & Antidote
151 Coxe Ave., Asheville
(828) 263-6943
chemistspirits.com
antidote.bar