Maggie Jones
Maggie Jones:
Taking Shape: One potter transforms her body of work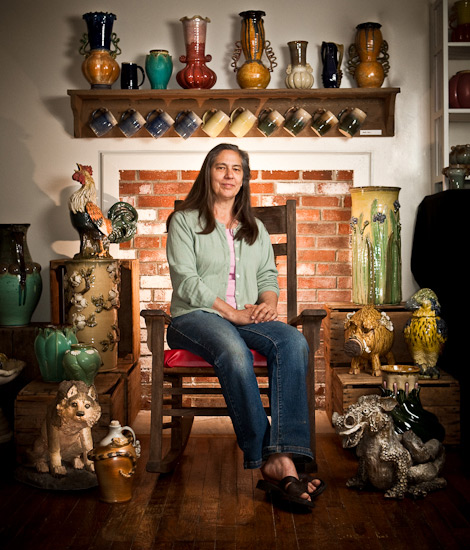 The story of Maggie Jones is one of patience. Starting out as a craftsperson, rather than a fine artist, her early work centered on creating pieces whose purpose was more functional than aesthetic. And she enjoyed a long run in this genre. But 40 years later, the drive to create for the sake of beauty—finding satisfaction in shape, color, concept—now comes foremost to Jones.
Directly out of high school in Connecticut, she apprenticed with a potter, then opened her own studio in the early '70s in New England. She moved to WNC in 1977 with her husband, Etowah-native Freeman Jones, whom she had met a year earlier in Arizona. They combined their talents and developed a family pottery business on a farm in Old Fort.
Their goals were simple enough: make functional works of fine craftsmanship, and make a living at it. The couple founded Turtle Island Pottery line of stoneware in 1980, ran the gauntlet of craft shows each year, won awards, and raised two children.
But, says Jones, "As I aged, my creative urge became even stronger. My visions became broader than making just a mug or a bowl." As she discovered antique art pottery, the arts and crafts movement, and art nouveau styles, "a whole new world opened up."

The natural world—sprawling just outside her countryside studio doors—began to captivate her. Jones' newer work reflects scenarios that she's witnessed or that capture her mind's eye—hard-bodied beetles crawling on a sunflower, a cascade of shells topped by a plump crab, or a snail oozing across the top of a lid.
"Because of this change in my work, I feel I am on the verge of a new direction," says Jones. "It feels like standing on the edge of a cliff viewing the immense possibilities."
 Excited by the bold, glossy colors of turn-of-the-century ceramics, Jones continues to makes her odes to the natural world, and a series of ceramic birds satisfies her desire to "honor the creatures that we live with."
 Jones isn't worried about making such a grand stylistic departure this far into her career, though. Ever the impeccable craftsperson, she makes sure her art maintains some semblance of utilitarianism. She points out that most of her pieces are serviceable for foods, while doubling as sculptures—proving that functionality never goes out of style.