Luxe Redux
Luxe Redux:
Repurposed furnishings and objets d'art find inspired salvation inside the home of a savvy interior design couple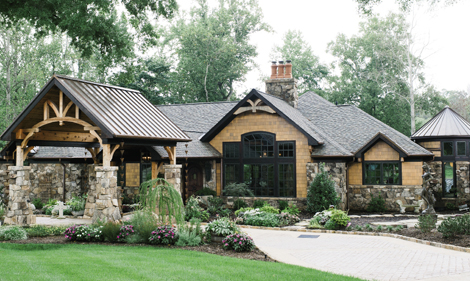 The seductress of salvage. The queen of junk. Debra Whitson blushes and laughs as she lists a couple of the titles she's earned, and rightfully so. She, along with friend and interior design partner, Pamela D. Lee, act as a rescue squad, shopping yard and estate sales and flea markets across the Southeast to uncover cast-off furnishings and architectural elements they can transform into objects of desire. In their eyes, an old Coca-Cola cooler is reimagined as a sink; an industrial steam press is repurposed as a side table; and paint-flecked tin ceiling tiles become wall décor.
Debra artfully displays her rescued home goods alongside jewelry, rustic garden sculptures, and a slew of other handmade found-object baubles at Warehouse 2120 in Hickory, the shop and wholesale furniture business she and her husband, Scott, own. She and Lee operate their interior design business from the store, and Scott oversees the wholesale side of the company, which includes furnishings he's designed, as well as a line made from colorful, recycled Indonesian fishing boats. The store is a gallery of sorts, but it's the Whitsons' home, outfitted with unique reclaimed and handmade furnishings, that truly illuminates the imaginative possibilities of turning trash into treasure.
Sitting on two-and-a-half acres, the 5,500-square-foot stone and cedar-shake lodge is a knockout, with a drive-thru porte cochere and manicured landscaping. Like nearly everything inside, the house comes with its own salvage story.
Debra raised her two sons in a modest 1950s rancher that occupied the current home's footprint. When she and Scott married three years ago, they wanted a new space for a fresh start, but the house hunt didn't turn up anything original enough for their taste. "I loved the property and location, and I'd always dreamed of what this place could be," Debra says. "So when we couldn't find what we wanted, we decided to remodel."
To call the home a remodel is an understatement. The two-year overhaul involved taking the house nearly down to the ground before building it back up. And for Debra and Scott it meant taking up residence in their motor home and later the garage when it was complete. "The garage has a shower and utility sink, but not a kitchen, so we stuck a little fridge in there and cooked outside on an electric griddle," Debra says with a laugh. "There's no telling what the yard guys and workers must have thought."
With a good bit of input from Lee, the couple worked with architect Ed Lunow to draft a layout that made the best use of every inch. "It was important not to add square footage," Debra says. "We didn't want any dead space." So they gave up a coat closet for a pantry, a breakfast nook became a quiet reading den, and a sun porch and living area were combined to create a larger room perfect for entertaining. Debra also got the walk-in closet and bathroom she always wanted. By the time the couple moved in last October, the home's footprint hadn't changed, but after the addition of two garages, a patio and pool, raising the ceiling,  finishing the basement, and taking the look from ranch to mountain lodge, there was nary a resemblance to the old house.
To pull off a revamp that steered clear of mass-produced goods and stayed true to the their eclectic taste, the Whitsons and Lee spent two-and-a-half years in search of all the fixtures and materials. Debra and Scott scoured Whole Log Lumber in Zirconia to find the eight species of wood used for the floors and trim. "It was like a treasure hunt for every single aspect—the faucets, the doors," says Debra. "I just love one-of-a-kind things. And if it doesn't work, I can always sell it in the store."
The couple also called on a handful of artisans to help with everything from the landscaping to the masonry and tile work. One professional was Shanon Wood, who finished the walls throughout using an eco-friendly Venetian plaster. He pulled from his background in restoration and used an age-old European recipe to mix a plaster that doesn't contain VOCs, absorbs humidity, and is naturally mold and mildew resistant. Smooth and shiny like marble, according to Wood, it's the same material that's on the walls at the Louvre where the Mona Lisa hangs.
Lee Carswell of Carswell and Sons Builders went beyond the call of duty to retrofit many of the recycled architectural components, including the doors. Save the custom-built exterior entries, every door in the house is a rescued piece that required custom hinges and mounts. "It's a lot cheaper buying at flea markets and yard sales," says Debra, "but getting the parts specially made can end up costing more, so sometimes it evens out."
Carswell's team also crafted furnishings from pieces and parts the rescue squad brought him, including a set of shelves in a downstairs bathroom that he fashioned from antique crib parts. "Lee and his team never said no to anything," says Debra. "They made everything work. If we didn't have it, they made it."
Another key player was friend and metal-worker Dean Curfman of Oak Hill Iron in Morganton. His handiwork is in all the railings, the hammered copper kitchen countertops, and the oven range hood. He also created a charcoal grill in the form of a treasure chest for the outdoor kitchen. But his most impressive contributions are the tubs.
"I looked through tons of magazines for ideas," recalls Debra. "I didn't want a regular bathtub. I found a stone one in Bali, but it was too expensive." So when she visited Curfman's foundry and saw the rusty industrial boiler tanks he'd been collecting but didn't know what to do with, the wheels started spinning. "I asked him if he'd be willing to sell me one and if he thought he could make a tub out of it. He said 'don't say another word.' He knew."
He made two, in fact, by cutting one boiler in half. Each tub is about four feet wide by four feet tall and fitted with a ladder and bench inside. One sits in the master bathroom, the rustic look offset by an expansive wall of mirrors and a dramatic crystal chandelier. "Our granddaughter loves it," says Debra with a laugh. "She thinks it's her indoor swimming pool." The other tank serves as a soaking tub on the patio with its own gazebo. Scott and Curfman designed it to look like an old water tank off the set of Petticoat Junction.
Outside support aside, it's Debra and Lee's shared shabby-chic aesthetic and interior design savvy that make the home so incredibly intriguing. The blend of feminine touches, masculine rusticity, and industrial elements, all infused with artistic whimsy provide a gold mine of repurposing ideas it could take days to absorb. "It takes a special eye to get the right old things to mix with the right new things, and sometimes it's trial and error" Debra says. "I guess it's an innate thing."
In the master bedroom, an antique lace dress is displayed against a sliding factory door, the layers of paint chipped away to reveal its age. In the kitchen, a rusting antique toy truck by the sink holds dish soap and scrubbers. In the living room, plumbing pipes serve as curtain rods that hold heavy canvas drapes made from used truck tarps and a pair of plush alpaca wool chairs sit daintily by the stone fireplace. The list goes on.
RESOURCES
Architect
Lunow Architecture, Hickory
www.lunowarchitecture.com
Builder    
Carswell and Sons Builders, Hickory
(828) 328-3770
Decorative Finishing
Brushwood, LLC, Hickory
(828) 729-1050
Interior Design
Warehouse 2120, Hickory
www.warehouse2120.com
Landscape Design
Scenic View Landscaping, Conover
www.scenicviewlandscapes.net
Materials
Catawba Valley Building Supply, Hickory
(828) 328-5311
Metal Work
Oak Hill Iron, Morganton
www.oakhilliron.com
Pool & Patio
Anthony & Sylvan Pools, Charlotte
(828) 328-3770
Tile
Studio 321, Hickory    
www.studio321nc.com
Stonemason
Lutz Stone Masonry, Hickory
(828) 244-6432