Lotuses of the Valley
Lotuses of the Valley:
A waterscape continues to bloom thanks to a lotus expert's family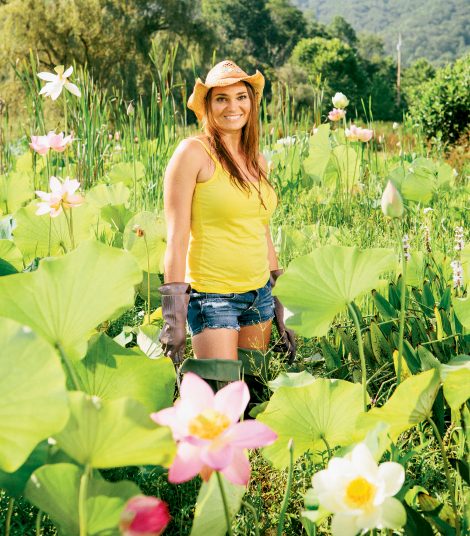 In Egyptian mythology the lotus flower, with its blooms unfurling during the day and retreating at night, is believed to have given birth to the sun. The national flower of India and Vietnam, and a sacred blossom to the Buddhists, Nelumbo nucifera symbolizes purity, majesty, grace, fertility, and serenity.
To view these revered blooms, you might expect to set out for a renowned arboretum or catch a flight to an exotic locale. But in the Cowee Valley, a mountain cove better known for native rhododendrons and mountain laurels, you can view acres of ponds brimming with lotuses, water lilies, and irises. Welcome to Perry's Water Garden.
This wonderland was created by the late Perry Slocum, a renowned flower breeder from Florida who retired to Franklin in 1980 to engage in his passion for hybridizing water lilies and lotuses. He was also the author of several books on the topic, including Waterlilies and Lotuses, Species, Cultivar and New Hybrids.
His gardens attracted the attention of many admirers, but it wasn't just the 10 acres of ponds thick with floating lilies and lotuses that drew the visitors. "He enjoyed people and they enjoyed him,'' says Ben Gibson, Slocum's stepson. "People always came to see the gardens, but some came just to talk to him."
Gibson bought the gardens in 1987, and worked alongside the veteran grower to transition it into an aquatic plant nursery. Although Slocum passed away in 2004, Gibson and his daughter, Nikki, continue the business. Flowers can be ordered online, but seeing the ponds in bloom is awe inspiring. In April, the water irises blooms, followed by the water lilies in May and June, and lotuses in late June and July.
Many of the plants are family namesakes, including best-selling Mrs. Perry D. Slocum Lotus, a pinkish bloom with a pale yellow center, which fades to a creamy white later in the season. There's one for Ben and Nikki as well. Perry left hundreds of new cultivars behind, but his greatest legacy is the family that works to keep his passion alive.
Grow Your Own:
Growing lotuses doesn't require a pond; a half whiskey barrel will do. Line the barrel with plastic to make it water-tight. Fill with water and drop in your potted plant.  Make sure the water reaches about 10 inches above the soil line.
 
---

Perry's Water Garden
136 Gibson Aquatic Farm Road, Franklin
(843) 524-3264
www.perryswatergarden.net
Opens in April. Call for appointment.