A Lofty Feat
A Lofty Feat:
The deft engineering of Guilford Nanney created Chimney Rock's first trail system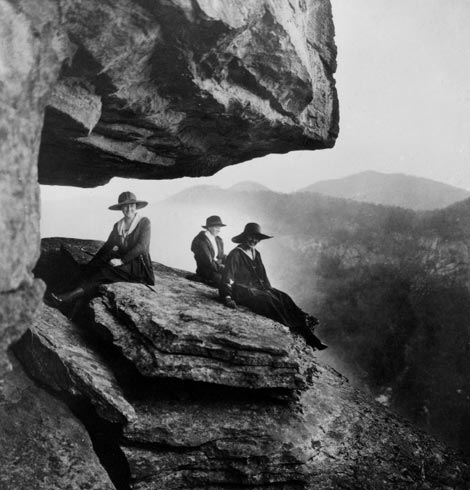 Each year, a quarter of a million people visit Chimney Rock State Park, opting to climb the stairs or ride the 26-story elevator to the pinnacle of the 535 million-year-old monolith for epic views of Hickory Nut Gorge. But in 1875, when traveler Edward King first spied the "antique and weather-beaten castle turret," he could only admire it from afar. "Everywhere Nature seems to have thrown out barriers, determined to prevent one from entering her favorite retreat," King wrote.
By the time Dr. Lucius B. Morse purchased Chimney Rock in 1902, a stairway to the 2,280-foot precipice had been in use for 17 years, installed by the previous owner, Jerome Freeman. Yet as time, weather, and increased visitation took a toll, the need for new stairs and expanded access to Hickory Nut Falls and other viewpoints called for a proper trail system.
Lucius hired carpenter Guilford Nanney for the ambitious task. "Mr. Nanney says that he can take ten men and build a first-class 4-foot trail from the parking place to the bottom of the falls," Lucius recorded in a ledger, adding that the job could be done in two weeks for $200. The result was an astounding network of trails, ladders, and 472 steps that wound through the rocks, grottoes, and across ledges to reach the multiple overlooks. Nanney spent the 1920s, '30s, and '40s constructing and maintaining the buildings and trails, some of which are still in use today.
"Much of what Nanney used was locust wood," says Todd B. Morse, who managed the park for nearly 40 years. "Locust ages really well—in fact, it's almost like iron when it gets old—and there was a plentiful supply in the area." Footings constructed from locust poles were secured to the cliffs or mountain, he explains. Workers used hand drills to bore holes into the rock, then brackets were secured with nails. "It was very safe, but certainly didn't look reassuring compared with modern techniques."
Before he got the position at Chimney Rock, Nanney, who was born in Henderson County in 1871, supported his wife, Mary Merrell, and their four girls by working as a farmer and carpenter-builder.
 "Guilford Nanney traveled the countryside building the tall houses he saw in his head," wrote architectural historian Barbara Miller Lane in her book Housing and Dwelling: Perspectives on Modern Domestic Architecture. "You told him how many rooms you wanted, and he built you a house. That was the transaction. He would not suffer interference and meddling." Today, several of the Queen Anne-style homes Nanney built in Rutherford County are on the National Historic Register.
Nanney spent his latter years working as the park superintendent. He passed away in 1952, but his contributions are remembered. "Our family always gave him the primary credit for the creativity, vision, and hard work that went into building our elaborate trail system," says Todd. "I still marvel at the incredible work that Mr. Nanney and his crews accomplished."     
New heights
The park rebuilt and recently reopened Outcroppings Trail leading to the chimney. More landings provide an easier climb. The Park's elevator, which opened in 1949 as the state's tallest, reopened in June after a modernization. www.chimneyrockpark.com
RESOURCES:
Photographs: (3) courtesy of Morse Family Archive; (Trail) courtesy of Chimney Rock State Park