Locally Grown
Locally Grown:
Warren Wilson College in Swannanoa is cultivating the next generation of farmers.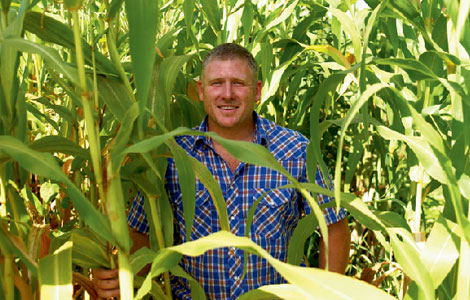 Dressed in a T-shirt and jeans with blue eyes peering out from under a baseball cap that corrals his bushy hair, 29-year-old Aaron Grier looks no different than a host of young men who call Asheville home. But he is one of only a few in his field, a career that was once thought to be a dying breed in America—farming.
Every Wednesday afternoon and Saturday morning, you'll find Grier stashing vegetables into the bags of tailgate market shoppers. His display of shiny purple eggplant, aromatic bunches of basil, sunshine yellow squash, baby carrots, and ripe tomatoes are grown on three acres in Swannanoa. Grier and his wife, Anne, own Gaining Ground Farm and maintain a five-acre pig farm in Fairview and 60 acres of pasture in Leicester.
Across Western North Carolina there are many farmers who, like Grier, graduated from Warren Wilson College, an institute originally opened in 1894 as the Asheville Farm School for youths. Producing farmers is one of the objectives of the school's sustainable agriculture program, as well as teaching them how to deal with all aspects of farming, which includes the ecology and economics of the profession. At least a third of the agricultural program graduates operate their own farms, another third go on to manage private farms, and others go on to graduate school to master subjects like community organizing, sustainable development, and social transformation, says Laura Lengnick, professor of sustainable agriculture at the school.
Truth be told, Grier graduated with a history degree, but a precollege interest in farming, coupled with the unique triad structure of Warren Wilson studies (academics, work, and service), gave him invaluable experience working on the college farm.
"The knowledge I'm using now, came from my experience on the farm crew: cutting hay, planting cereal grains, harvesting corn, rotating cows," says Grier. "At the college you really feel like you're part of the farm. There's a sense of ownership when you're actually producing."
Besides training students, such work crews help keep the college running. The work portion of the triad—applauded by publications such as The New York Times, U.S. News & World Report, and Sierra Magazine—is an integral part of Warren Wilson's infrastructure.
Study, Work & Service
Rolling fields and pastures, sometimes dotted with the college's herd of cows, greet visitors driving into the Swannanoa Valley. A mix of old stone buildings and clapboard structures house classrooms, faculty offices, a library, cafeteria, art gallery, auditorium, gymnasium, and dorms, much like any college. But a line of greenhouses, gardens, animal pens, stalls, and two log cabins allude to a different kind of campus. And, built in 2003, a LEED-certified eco-dorm that puts into practice much of what Warren Wilson College teaches about both agricultural and environmental sustainability.
Students are required to work in order to graduate. Each campus resident logs 15 hours a week on one of more than 100 crews essential to the daily operation of the college. English majors pitch in alongside archaeology and science majors and are just as likely to clean dorms, repair computers, or sling hash in the cafeteria as they are to plow fields or feed cows. In this way, students can earn more than $2,400 in credit toward the cost of their education. But the experience gained goes far beyond that, says Dean of Work Ian Robertson.
"When you come to school, you are preparing for a life of work," says Robertson. "In the professional world, you have all the things you are trained to do, but then there are the situations that just come up. Here, students are pursuing strong liberal arts programs, while also gaining experience in the workplace."
The career services office aids students by helping them realize how they can apply what they learn in their work and service to any career, says Robertson. "And how it will have meaning for them in their value system. Our students are engaged community members wherever they end up."
Real World Practice
Students who graduate from the farm program, for example, develop the ability to work in less-than-ideal conditions, as well as the self-confidence and problem-solving skills needed to face a changing economy, insists WWC farm manager Chase Hubbard.
"Farm work can be tough, with one 14-hour day after another during our hot, busy season and no time off," says Hubbard, who not only manages the farm, but also trains and supervises 25 to 30 students in all aspects of cultivation and livestock management each year.
"The physical and emotional drain can really test young people, but the success gained through these busy times builds exceptional character," he maintains.
The fruits of their work at Warren Wilson are hundreds of thousands of pounds of hay, grain, straw, and meat products for the school. "Providing food for people is compelling work," states Hubbard, "and they love it."
Grier can attest to the long hours and hard work, and supplements his income working as a carpenter. Still, the Griers find success selling at three tailgate markets a week, as well as being a community supported agriculture farm, providing a box of fresh produce every week to CSA members for six months.
Young Farmers Unite
Yet for all the hardships, the growing market for organic and locally grown produce is making it possible for well-run small farms to thrive—not only in historically agricultural Western North Carolina, but in places all over the country. Lengnick, who teaches much of the theoretical side of farming at the college, welcomes this trend.
"The new interest in local food has helped make farming an honorable occupation for the first time since the '70s," says Lengnick. "People are starting to value farming and local sustainability."
Her role, she says, is to prepare scholarly farmers. "I mean that in the best sense of the Thomas Jefferson ideal: thoughtful, well-educated, and practical farmers," she explains. "People who are producing real goods and creating a fabric of community."
It is this combination of practical knowledge and theoretical learning that empowers graduates to be self-sufficient leaders in not only sustainable agriculture but also environmental studies, the sciences,
archaeology, and other subjects, which Warren Wilson College teaches.
"Service learning adds a different kind of practical experience through student participation in community life beyond the campus," Lengnick says. "I believe there is no better way to prepare individuals capable of addressing the challenges of sustainability we face today."
Serving Community
For Meredith McKissick, the opportunity to work with people in the community—not just working on campus—led her to a career in farming. An English major, McKissick received a grant-funded scholarship to be on a service crew, rather than a work crew. She volunteered to be an intern in the Buncombe County Community School garden, working with at-risk youth.
"I fell in love with growing things," the 25-year-old says. She also eventually fell in love with BCCS's agriculture instructor, Casey, who is now her husband and with whom she began Crooked Creek Farms in Old Fort. The couple founded the multicounty-based Foothills Family Farms, a cooperative of 15 farms practicing sustainable production techniques.
Accustomed to an urban lifestyle growing up in Louisville, Kentucky, Meredith admits that changing her major was a difficult decision. But she fashioned an educational experience for herself—writing a farm plan for the Community School, cover-cropping the hard clay dirt to create a rich soil, and reveling in the bounty of flowers and vegetables that grew.
"I had never experienced such gratification and joy from work," says Meredith. "I've never created change like that before. It made me believe that things can be healed, and that was very powerful."
Such is the type of fulfillment that the faculty hopes for with every pupil. "When students come here, they have big social and environmental questions," says Hubbard. "When they go to college, they have a desire to make the world a better place. Many come out trying to match that with a real livelihood." In other words, practicing the ideals that come with being stewards of the land while still making a living.
In every practice, Warren Wilson sets the example for a healthier lifestyle. In 1997, the entire campus community approved an environmental commitment statement that guides most of the practices there today. All campus diesel engines now run on biodiesel. All lawn mowers were converted to propane. Street lamps are
solar-powered and emit minimal light pollution. WWC's recycling and solid waste department composts more than 50 tons of food scraps per year. The school's garden produces 2,000 pounds of staple crops and 500 pounds of other crops for consumption in the cafeteria.
Such endeavors teach students to live in a more harmonious way with nature, but they also impart the value of efficiency on students. Sustainability often translates into dollars and cents saved—a lesson any fledgling business owner will benefit from.
Within the farming community in Western North Carolina, Meredith observes, there is a growing pride and growing competition, and "students are saying 'there must be room for us.'" She's right on both accounts: This area hosts one of the highest concentrations of small farms in the country. But thanks to Warren Wilson College, students are finding toeholds in the agriculture industry, proving that the days of the family farm have not been permanently replaced by large-scale, industrialized agribusiness. In fact, they're bringing back a way of life.