Life Strides
Life Strides:
Horses lead the way to healing and strength for students at Therapeutic Riding of Tryon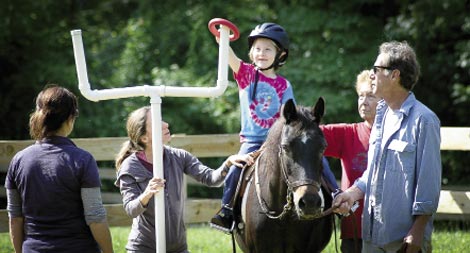 Jason Morrow can't wait to see Mack on the day of his riding lesson. "Mack is a good horse, and he has good posture," the 24-year-old says of the equine friend he works with at Therapeutic Riding of Tryon.
Jason began instruction with TROT shortly after it was founded in 2004. It's a program of Foothills Equestrian Nature Center and uses the healing, gentle nature of horses to help people with physical, developmental, and cognitive disabilities improve balance, strength, coordination,  focus, and confidence. Accredited by the Professional Association of Therapeutic Horsemanship International, TROT serves students ages four and older.
Over the years, TROT has worked with dozens of students who've come to the program with cerebral palsy, traumatic brain injuries, autism, and other disabilities. Equine therapy has been practiced for hundreds of years, and research indicates that riding or simply caring for horses improves a disabled person's health and cognition. "Some of our students go from a wheelchair to the horse," says Administrative Director Robbie Hambright. "On the horse, they can do things without assistance. It gives them confidence and some self-satisfaction."
Each week, students typically attend a one-hour class tailored to their needs. The therapy begins with saddling and grooming the horse. Time in the saddle involves walking the paddock with the assistance of volunteers. More experienced riders can take a faster gait. Participants who aren't able to ride benefit from the program by brushing and interacting with the creatures.
"Horses are big, powerful animals that have such a strong connection to people. And people feel that connection," says Sandra Sibley, TROT's program director. "When you see horses have that effect on students who have challenges and frustrations, it's just so gratifying."
Like almost everyone associated with TROT, Hambright is a volunteer, as are all the horses, including her eight-year-old Gypsy Vanner gelding, Jesse.
"He loves the attention," she says. "He's full of personality and loves the students. And he knows his job—he can tell that some students need more help from him and others don't. It's amazing."
That's why equine therapy is so effective, Sibley says. Horses are "incredibly sensitive, intuitive creatures that seem to understand the nature of the students at TROT. They get it that the people riding them, who are grooming them, are special," she says. "There's no pretense with horses. When a horse reacts with you, it's a very honest interaction. It's totally nonjudgmental. That's important for a lot of people with disabilities."
The benefits are more than psychological, says Sibley, who is one of TROT's two PATH International-certified equine instructors. People with mobility issues can get a sense of walking by being on the back of a striding horse. Touching, smelling, and listening to a horse can help people with autism, who often focus on one activity intensely, integrate multiple senses. Having a horse start and stop at their command gives riders instant feedback that they can process and understand.  
"We have one student who often arrives angry, frustrated, and in tears," Sibley says. "Her life is full of challenges. She's nonverbal and dependent on everyone else for basic needs. As soon as she's on that horse, it all melts away and a smile comes on her face. She has half an hour each week when she's not frustrated and life is good."
Jason's mother, Kristy Morrow, enrolled him in the program to improve his muscle tone. She also hoped the lessons would help him learn to follow instructions and complete tasks in a sequential, logical manner without being reminded of each step.
She's noticed great progress. Jason sits tall in the saddle and is very social, thanks to the opportunity to help around the barn. Riding is something he does that his able-bodied siblings don't, and that boosts his self-esteem. "When you're there, you make new friends," Jason says.
"He's definitely become a more confident person," Kristy says. "He's become stronger. He looks forward to this. He wouldn't let me miss a session." 
Take the reins
     Hambright says being involved with TROT "is the most rewarding volunteer experience I've ever had. When I see the smile on a rider's face and the joy they get from it, I'm part of it."
     The next 10-week session begins in September and is open to residents of Polk, Henderson, and Rutherford counties and Spartanburg and Greenville counties in South Carolina. There is a fee to participate, but scholarships are available. If you're interested in training to become a volunteer, sharing your horse, or enrolling a student, call (828) 859-9012 or visit www.fence.org/trot. 
RESOURCES:
<p> Photography Courtesy of Therapeutic Riding of Tryon</p>