Life & Lyrics
Life & Lyrics:
Tryon commemorates its native High Priestess of Soul, Nina Simone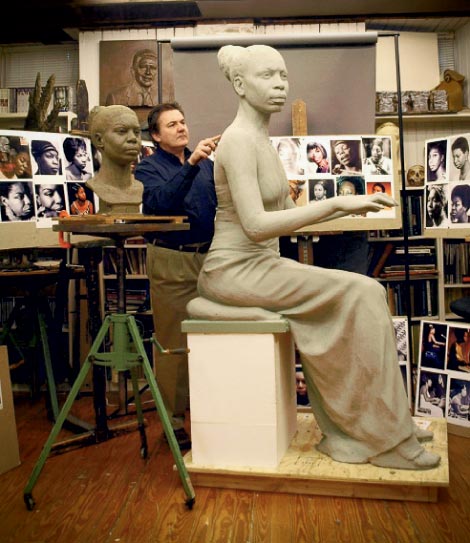 In the late 1930s, Mary Kate Waymon, an ordained minister in Tryon, watched her three-year-old daughter, Eunice, climb on an organ bench and reach for the keys. Within a few years, the girl was playing with unusual talent. Members of the community took notice: Muriel Massinovich gave her music lessons and local families financed her education. Her mother dreamed Eunice would become the world's first black concert pianist. Under the name Nina Simone, she developed a career that spanned six decades, creating 40 albums and leaving a catalog of culturally poignant songs.
"When I came to Tryon, I couldn't believe there was no visible recognition of her life here," says Crys Armbrust, executive director of the Eunice Waymon-Nina Simone Memorial Project. Armbrust set out to preserve her legacy by supporting the education of aspiring youth. Like the community that helped Simone, today's residents, members of the Waymon family, and fans from around the world are lending their support to the project. In 2007, a scholarship was started and has since awarded more than $7,000 in need-based grants to students of various disciplines.
In February, the community will celebrate Simone's birthday in downtown Tryon with music and the dedication of an eight-foot, bronze-cast sculpture by Philadelphia artist Zenos Frudakis. The ceremony coincides with the release of a Nina Simone tribute album to benefit the project. It was produced by Stephen Marley, son of Bob Marley. Stephen will perform at
the dedication, along with Nina's daughter, Simone.
Next fall, the Nina Simone Music Festival celebrates her musical diversity and stands for social change. As Simone once said, "There's no other purpose, so far as I'm concerned, for us except to reflect the times, the situations around us and…the things that millions of people can't say. I think that's the function of an artist—and, of course, those of us who are lucky to leave a legacy so that when we're dead, we also live on."