Experiential Education
Experiential Education:
Technology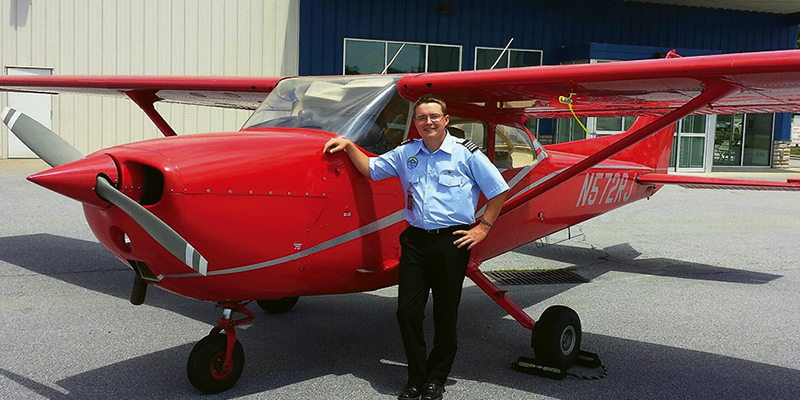 Reaching New Heights with Aviation - Asheville-Buncombe Technical Community College
Beginning their first semester, A-B Tech students on the Career Pilot Technology track combine classroom time with flight time at the Asheville Regional Airport through the school's partner, WNC Aviation. Over the course of five semesters, students acquire their private pilot certificate, instrument rating, and commercial license. Graduates of the program need only 1,250 hours of flight time to achieve their Airline Transport Pilot License (as opposed to the standard 1,500), and partnerships with other programs make that a reality for many grads. Some become flight instructors at WNC Aviation, where they might be chosen for the Piedmont Airlines Cadet Program in a new partnership that includes tuition reimbursement. Beginning this fall, students can also consider continuing into Lenoir-Rhyne University's four-year aviation program.
Building Better - Appalachian State University
Students in ASU's Building Science Program work with construction clients throughout their coursework, so by their senior year, they're prepared for a project of their own. The on-campus IDEXlab serves as home base for their modern apprenticeship. Here, 12 to 16 students across many disciplines, including architectural design, sustainable building, and construction management, spend 30 hours a week over the course of a full academic year working as a team to build a project. These ventures also incorporate facets of service learning, as the structures—like a farmer's market and a pop-up classroom—benefit the community. Scholars with a competitive streak can also gain experience through sustainable building competitions; this year, the team placed second in the national Race to Zero Competition.
"By offering experiential education in our curriculum, we find that students learn more and are more invested in their education because they realize they're working on something bigger than themselves," says Jason Miller, program coordinator. "Plus, it helps them get the job they want or pursue future education because they've experienced something hyper-real. They're doing far more than an entry-level position."
Following the Sun's Power - Appalachian State University
It's all about where the sun meets the street for a crew of ASU students. Scholars from a spectrum of specialities, including physics, computer science, and music, join forces on Team Sunergy, ASU's solar vehicle team. Undergrads and graduate students alike work together on the solar-powered speedster, Apperion, which has placed in several races against international opponents, as well as on auxiliary ventures like sponsor relations. Tech-savvy students are also working on a new concept car to race in 2018.
RESOURCES:
Photographs (2 pilots) courtesy of A-B Tech Community College; (IDExlab students) courtesy of ASU Department of Sustainable Technology and the Built Environment; (solar car) by Marie Freeman