Experiential Education
Experiential Education:
Arts & Humanities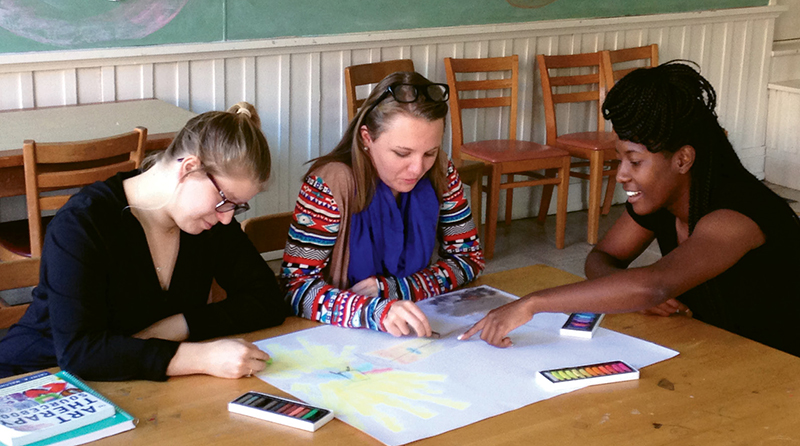 Sharing Art with Community - Mars Hill University
At Mars Hill—where the Art Therapy program meets the requirements for the university's community engagement credit—"experiential" is really about helping others wield the brush. In the program's applications course and internship, students step out of the classroom to create art with community members like kids in Madison County's Smart Start program. Kelly Moore Spencer, coordinator of the program, recognizes the importance of experiential immersion: "It allows students to open up a bit more and explore things on a different level—to embody the education instead of just talking about it."
Connecting with Mountain Heritage - Mars Hill University
Mars Hill's Regional Studies minor begins with an introductory course that takes scholars off campus, most recently fostering efforts to connect the Madison County Extension Office with local farmers. The program's auxiliary, interdisciplinary courses, like Creative Traditions in Southern Appalachia, immerse students in mountain heritage as they take in plucked banjo performances and local breweries, while also cultivating transferrable skills that can be applied to other regions.
Acting Out Through Music and Theater - Lees-McRae College
All the world really is a stage for students in Lees-McRae's Musical Theatre program, who produce three main stage productions annually and are required to attend a summer internship. These internships aren't just about the performance experience, but networking, too. "Theater is a very small world," says program coordinator Michael Hannah. "The actor at theater A this summer may be a director at theater B on the other side of the country next summer. Those kinds of connections are invaluable."
---
Ahead of the Class - Find uniquely enriching opportunities at local middle and high schools, too
Developing New Skills - Asheville School
Asheville School's App Camp is a week-long course, open to all area students ages 13 to 18, where the class works together to develop an iPhone application. Last year, students and teachers created a selfie app customized for sharing content on social media. Students often continue on to develop their own projects. A two-week course is also available, and an Apple engineer visits at least one of the sessions for a keynote talk on career opportunities. The school also has advanced experiential offerings for its enrolled students, from mountaineering to an equestrian program.
Getting Fully Immersed - French Broad River Academy
Students at the French Broad River Academy, which operates two single-gender middle schools in Asheville, keep extensive field journals to document what they learn from their experiences at the school, which range from a yearly trip to Costa Rica, where they stay with a host family, to measuring river flow and testing the water quality of the French Broad. Students also get involved in service work, outdoor leadership, water sports, skiing, and other activities during their time at the academy.
Rounding Out Education - Carolina Day School
At Carolina Day School in Asheville, the new Enrich after-school and summer program is open to all area high schoolers and includes tracks like Music Production Camp, where participants record, edit, and market an album. Other courses slated for fall focus on subjects like "Adulting," where students learn life skills for navigating college and more. Enrolled students at Carolina Day can also take semester courses like Ocean Studies or Robotics that get them out of the classroom or deep into advances in technology.
Enriching Lives - Christ School
The innovative curriculum at this all-boys school in Asheville includes fall and spring Enrichment Days, when students sign up for activities that get them out of the classroom. Previous Enrichment Day activities have included knife forging, visiting the Triangle Universities Nuclear Laboratory and the Wake Forest Institute of Regenerative Medicine, working at Wildwood Farm, and touring the Moog Music factory in Asheville. Students have also taken longer trips to Cuba, California, the Galapagos, and Virginia, where they discussed military history with veterans.
Crafting an Outdoor Experience - Outdoor Academy
Located inside Pisgah National Forest, the academy brings together its four cornerstones—Intellect, Environment, Community, and Craft—in innovative summer or semester-long courses for students ages six to 18. The curriculum emphasizes hands-on environmental education that builds wilderness leadership and technical skills while increasing knowledge of unique regional ecosystems. Natural science classes visit area forests and parks to learn from local habitats, and arts courses include blacksmithing, woodworking, ceramics, and Appalachian song and dance. The school's Garden to Table program involves students in every part of the process of sustainable food production, from growing vegetables to cooking and serving a finished meal.
Finding their Passion - The Academy at SOAR
Balsam, in Jackson County, is home to SOAR, which offers four-week programs on a variety of topics for students with ADHD and other learning disabilities. Students engage in immersive, hands-on learning, spending two weeks on campus and two executing lesson plans in the field. Previous trips have taken students to canoe and do water testing on the Buffalo River, write their own creation myths at Chichen Itza, and play a Mayan-style ballgame in the Yucatan Peninsula.
Working with their Hands - Hendersonville High School
More public schools are offering experiential classes than ever before, and Hendersonville High is among them. Students can enroll in subjects like Biomedical Technology and Health Occupations, which include job shadowing and service learning, and cabinet-making, which emphasizes hands-on, project-based learning. Instructor Gregory Pace notes that he provides "life experience" in the course. "I try to make sure students understand how to use basic tools," he says. "The big thing I tell them is that I want them to understand that they don't have to pay someone $120 an hour to fix something. If they know the tools and have a bit of the concept of doing hands-on things, that will help them in the future."
RESOURCES:
Photographs (2) courtesy of Mars Hill University; (2) courtesy of Lees-McRae College; Photographs (robotics class) courtesy of Carolina Day School; (students on river) Courtesy of French Broad River Academy