Life Lessons
Life Lessons:
At schools throughout the mountains, experiential education takes students out of the classroom and into the world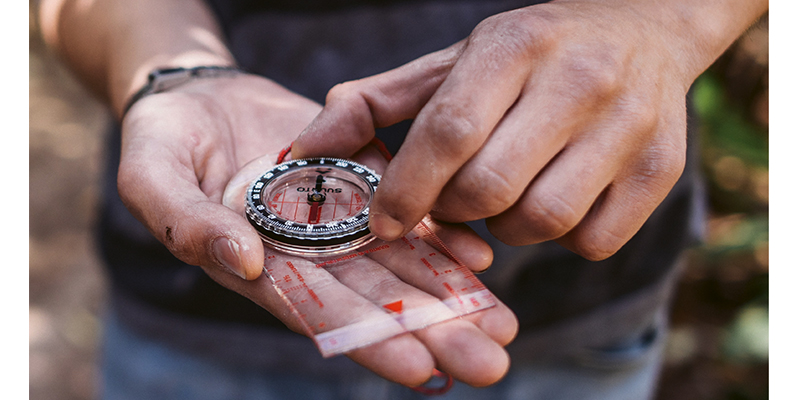 A student majoring in Outdoor Recreation Management at Lees-McRae College demonstrates how to orient a compass. The program is one of a kind in that it combines outdoor skills with hands-on business education—an ideal learning experience for those wishing to start or manage an outdoor enterprise.
Act. ReAct. Apply. Repeat.
That's the mantra that guides experiential educators to engage learners across all ages, disciplines, and learning styles. It's a pedagogy that prods students to dive in and get their hands dirty, with their minds increasingly wrapped around the real world. This active method of transmitting knowledge is intended to immerse, challenge, and motivate students to achieve a richer command of the complexity of their subjects—whether it's learning to build a sustainable business, provide health care to rural residents, study and save our ecosystems, brew our best beer, or solve a crime, among myriad other specialties.
Experiential education is a rising practice across the nation—and Western North Carolina, with its unique mountain resources, is at the forefront of the trend. Here's a sampling of the myriad programs offered at area colleges and secondary schools that are helping students chart a path to meaningful work.
Follow the links below to learn more about experiential educational offerings in Western North Carolina:
- Science
- Business
- Medicine
- Public Service
- Technology
- Parks & Rec
- Service Learning
- Food & Beverage
- Arts & Humanities
RESOURCES:
Photograph by Mike Belleme