Life Cycle
Life Cycle:
Tackle the Beech Mountain ride that inspired Lance Armstrong's comeback from cancer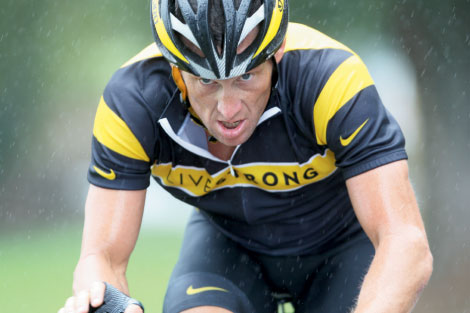 Legs burn, gears crank slowly, and lungs feel as though they're ready to burst for cyclists attempting the climb up Beech Mountain Parkway. It's a steep, winding road that has forced many riders to give up—yet motivated others, most notably Lance Armstrong, to push themselves harder.
This year, the professional cycling world is preparing for Armstrong's second return to the Tour de France, but his original comeback began on this iconic local route 11 years ago.
He'd been to Appalachia before and won the Tour Du Pont race twice, grabbing the lead during the grueling ascent up Beech Mountain. After his battle with cancer, Armstrong returned to the Boone area in 1998 to sort out his life. It was during a ride with friends on that same narrow road that he experienced an epiphany, which he recounted in his 1999 autobiography, It's Not About the Bike.
"That ascent triggered something in me. As I rode upward I reflected on my life, back to all points: my childhood, my early races, my illness, and how it changed me. Maybe it was the primitive act of climbing that made me confront the issues I had been evading for weeks. It was time to quit stalling, I realized. 'Move,' I told myself. 'If you can still move, you aren't sick.'"
Today, riders take on that same ride and put themselves in Armstrong's place. You can, too. Park in downtown Banner Elk and take the measure of the mountain—a 3.4-mile, 1,400-foot climb up Beech Mountain Parkway. You'll cross the Tour Du Pont finish line near Fred's General Mercantile.
If the climb to the East's highest town is too much—or not enough—there are more than 50 miles of paved bike routes around town. Or join one of the Buckeye Recreation Center's organized rides held on July 19 (15 miles), August 16 (11.3 miles), September 20 (eight miles), or October 18 (14 miles).
While your reward at the top may not be as life changing as Armstrong's, just think of the ride down—no pedaling.