Let it Slide
Let it Slide:
Banner Elk's new Wilderness Run Alpine Coaster offers downhill thrills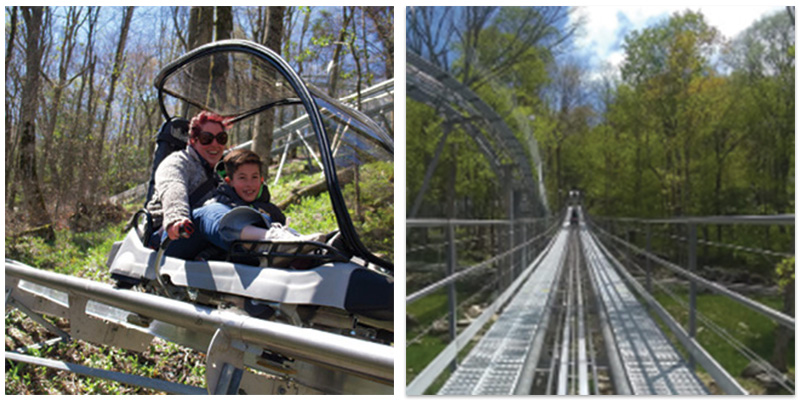 Mountain recreation is all about outdoor immersion, but if you can't see yourself blasting down a rapid-filled river or zip-lining 50 feet in the air, there's a new way to amp up the adrenaline and stay closer to terra firma.
At Banner Elk's Wilderness Run Alpine Coaster, riders control the speed of a plastic and metal sled as they whoosh down a 2,100-foot network of above-ground tracks that loop through trees and around rock formations. The sleds zip along at up to 27 miles per hour and take five to seven minutes to go from top to bottom. That means a popular three-ticket bundle gives you 15 to 17 minutes of ride time.
Wilderness Run opened earlier this year, becoming one of just a few similar coaster attractions at Southern ski areas, including The Wisp resort in Maryland and Ober Gatlinburg in Tennessee. An older-version sled attraction operated at Sugar Mountain during the 1980s, zigzagging down ski slopes on a concrete track.
Aptly named, Wilderness Run immerses guests in a ride down a forested mountainside located just across the street from Sugar Mountain ski area. (Off-season tip: Sugar Mountain offers ski-slope views on weekends from its six-person high-tech chairlift.) 
Wilderness Run Alpine Coaster
3265 Tynecastle Highway 
Banner Elk
(828) 898-7866
wildernessrunalpinecoaster.com
Open daily year-round, 10 a.m. to dusk
Prices vary by age and ticket package