Less Means More
Less Means More:
Three local households live large in fewer square feet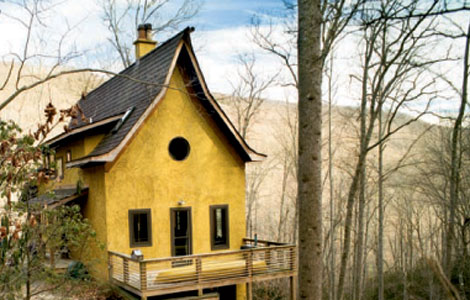 Living with a small footprint is not only good for the Earth; it can also be therapeutic for the soul. Creative design, efficient use of space, and owning only what you need just makes good sense. In a time when the idea of a smaller, humbler abode has also outgrown the real-estate professionals' moniker of "cute," some home buyers are asking for smarter residences. And builders are meeting the demand in residential neighborhoods, downtown condos, and mountainside getaways alike. Here are just a few examples of some Western North Carolinians who understand firsthand that occupying fewer square feet doesn't mean you can't live contentedly.
Artists' Perch
This ultra-open floor plan invites its owners to get creative Take a long drive through Yancey County, follow the directions carefully, and you just might find the home where Mary McBride and her husband, Jimmy Meaux, live in the South Toe River region. The small building stands on what used to be a logging road overlooking Murphy's Creek, near a serene patch of old-growth rhododendron thickets. Though its "praying hands" roofline is distinctly Asian, the small home also has some curiously Louisianan traits coupled with an ever-changing personality. Inside the 1,600-square-foot house, made of aerated-concrete block, there are no interior walls to create rooms; everything is moveable, changeable, and adjustable, depending on the couple's creative urges. Walk into the professional artists' home in July and it will be configured completely differently from when you visited at Thanksgiving. Mary describes it as a shotgun-style house for its end-to-end openness. And two porches—an open one on the west side of the house and a screened porch on the east—function as prime living space in mild weather. "We have a futon on the screened-in deck for when friends visit," says Mary. From there, they can enjoy expansive views of the 11-acre property, nine of which are set aside as a nature preserve. The main floor of the dwelling functions as the couple's all-in-one living room, dining area, kitchen, and office space. On this floor, the only things nailed in place are a three-burner enameled antique gas stove, sink, wood-burning stove for heating, and a few lighting fixtures. "We don't have cabinets, because that would restrict where we put things. It doesn't have to be a kitchen forever," Mary says with a laugh. The two were already living a simple life. While residing in a small apartment as their house was under construction, they determined they needed even fewer belongings. "We realized instead of 25 bowls, we only needed five, and instead of 25 plates, we could live with six," says Mary. In place of kitchen cabinets, they keep heirloom antique armoires, holdovers from the couple's years living in New Orleans; historically, homes there were taxed based on the number of closets and hallways they had, so free-standing storage is the norm. Rather than installing a fixed kitchen island, Mary picked up an old woodworker's table at Penland School, where she works part-time in the gallery. The thick table, measuring about seven feet long, offers plenty of cutting and prep area, built-in pockets for utensils, and as much weathered finish as you'll find in any slab of butcher block. And like everything else, it can be moved around the kitchen as the owners constantly rethink their living space. Upstairs, the open floor plan continues through the bedroom and bathroom, save for two small closets, and a half-bathroom. The bed and some bookshelves occupy the side of the room closest to the wood stove. On the other end, a large bathtub with exposed, hand-bent, copper pipes rests under a long window that conspicuously lacks any sort of drapery—a testament to their secluded location. Compared with the other serene and open floors, the basement studio workshop is crowded with workbenches, belt sanders, drill presses, wheeled tool cabinets, and a utility sink. Mary's eclectic jewelry designs (she makes mainly broaches and earrings) use sterling silver in combination with unconventional mixed materials like rubber, rolled newspaper, and even pieces of an old blackboard she salvaged. At one end of the basement, Jimmy, who also makes jewelry, has created a small workshop where he has taken up the hobby of restoring early 20th-century gooseneck lamps. At least 20 of his refinished pieces line a shelf that runs along the stairway leading back up to the living room—a short flight of about a dozen steps separating the couple's artistic work from their ever-evolving living space. Designers: Mary McBride and Jimmy Meaux Builder: Sunspace Homes, www.sunspacehomes.com
Living Aloft
Industrial-size comfort & convenience in Downtown Asheville One hundred years ago, Coxe Avenue served as one of downtown Asheville's busiest streets. It was lined end-to-end with shops and businesses, many of which have since been torn down or remodeled to serve as offices today. But the old Sawyer Motor Co. building, at the intersection of Hilliard Avenue, got a second life. Today, it holds a spot on the National Register of Historic Places and is home to many young professionals, including Sarah Thomas and her black labrador-Plott hound mix, Levi. The high ceilings, airy design, and large windows that made the building an ideal car dealership and service garage in 1926 lend Thomas' two-bedroom condo the kind of character that architects dream about. Everything in her home has an industrial-size flair about it: heavy-gauge steel I-beams reach to the ceiling of the living room, reclaimed wood floors run through every room, and 10-foot tall, south-facing windows bathe the main living area in natural light almost all day. If the condo didn't already feel bigger than its 1,080-square-feet, it's downright palatial compared to her previous digs. While earning her master's degree at American University in Washington, D.C., Thomas rented a 350-square-foot apartment. Living in that place taught her to economize, downsize, and organize. "There, everything had its place," she admits. "It's just that you could see it all." So having a spacious up-to-date kitchen ideal for entertaining guests, a utility closet to house her washer and dryer, and additional storage in the building's garage are all luxuries. The unit actually belongs to her parents who bought it a few years ago as a vacation retreat from their home in Florida, but Thomas moved in when she took a job teaching Spanish at Asheville-Buncombe Technical Community College. Since then, she's filled the space with furniture that complements the building's age while showing off her personal style. In the hallway, a handsome bench from the 1700s came from an English church. Her television sits on a hand-made cabinet from India, and a small dining table and brightly painted farm chairs date back to the 1800s. A leather couch and, above, an original steel beam—bearing knicks and dents from the building's days housing machinery—divide the living space from the dining and kitchen area. She also works at a replica of Ernest Hemingway's writing desk. The guest bedroom is separated from the living room by a large dividing wall with double sliding doors. Right now, she keeps a bunk bed in that room—a holdover from when she'd visit with her family during college—but she plans to use the space for her home office as well. Down the hall, the master bedroom features a built-in, cubed-glass wall that draws natural light down from the rooftop, to create a vertical skylight in an otherwise windowless room. For Thomas, the condo's best feature is access to downtown. "I grew up playing just about every sport," she says. Now, she gets most of her exercise from living within walking distance to restaurants, the YMCA, shops, and live music venues. Unlike the customers 75 years ago who drove out of the building in a new car, Thomas is just as content to leave her wheels in the garage and make her way across town on her own two feet.
Among the Trees
Building an empty nest in Black mountain After reading Sarah Susanka's book The Not so big house, John and Jane Reeves began researching planned communities and learning about new urbanism. They were drawn to Susanka's philosophy of making less living space more comfortable, beautiful, and efficient. After their three children established homes of their own, the Reeves were ready to shift from a large family home in the city to a smaller residence in an arts-oriented town. It would mean changes in so many ways—their belongings, surroundings, and lifestyle. And so, from 500 miles away in Canton, Ohio, in their approximately 3,000-square-foot home, the Reeves monitored the construction of their new three-story house built on a footprint measuring 22 by 22-feet . The Black Mountain neighborhood of Cheshire has many of these "tree houses"—tall, narrow structures embraced by the surrounding woods, each creating an impression of a modern-day Swiss Family Robinson escape. Like the other similarly designed homes on their street, the Reeves' features a stone and cedar exterior, with lots of pine flooring and natural woodwork inside about 1,400 square feet of space. Instead of manicured lawns, yards are a simple extension of the natural landscape of native plants—rhododendron and mountain laurel, indigenous trees and plants typically covering a forest floor—so goodbye to yard work. "The key to living smaller is knowing what to get rid of," says Jane, referring to the process of downsizing to match their new home. "A smaller house means that you can quickly find yourself living under a lot of clutter." Before the move, the Reeves passed along heirlooms to their children—silver, good china, antiques—and sold the rest. "We knew we would have to be selective about what we kept," Jane says. "To be honest, it felt like a huge weight had been lifted. We don't have to maintain all those things anymore." Jane, now the board chair for the Black Mountain Center for the Arts, and John, a retired United Way executive, moved into the neighborhood in 2002 after briefly considering retiring to the East Coast. When most people their age are looking for single-level homes, the Reeves see their multi-story lifestyle as a blessing. "It keeps us young," says Jane. "It's three rooms on three floors so we are going up and down steps all the time. It's healthy for us." Their home is an essay in efficient use of space. For example, the gas fireplace is tucked into the corner of the living room, and built onto its mantle, resides the cabinetry for an entertainment system. This one-over-the-other arrangement halves the floor space normally required for the two items while creating a focal point for the living room. The main floor is one continuous space that includes a living and dining room, as well as the kitchen with plenty of cabinetry. During the transition to living smaller, Jane eliminated most of her kitchenwares, keeping only the essentials and is now delighted at the simplicity of putting a meal together. Another design advantage of the tree house is the unexpected sense of solitude; whenever John or Jane are in different rooms, chances are they're on another floor, too. For privacy, the bedrooms are situated on the top and bottom floors of the house. The lowest level gets used as the office, guest room, and secondary bath; and it serves as the primary gathering spot for grandchildren when they come to visit. The top floor of the home is the spacious master bedroom and bathroom, accented by an angled roofline ceiling and gable windows. The home is surprisingly cool in the summertime, says John. It's shaded by the forest, and the multiple patios—coupled with the tall, open staircase—allow for excellent ventilation. The oddly shaped building is a big ideological change from their Ohio home. But for the couple looking for a cozy nest in the trees to retire, it's everything they need. Architect: Michael McDonough, www.mcdonougharchitect.com Builder: Ryan McLellan, www.copperwoodbuilders.com