Laurel River Trail
Laurel River Trail:
Difficulty: Easy Round-Trip: 7 Miles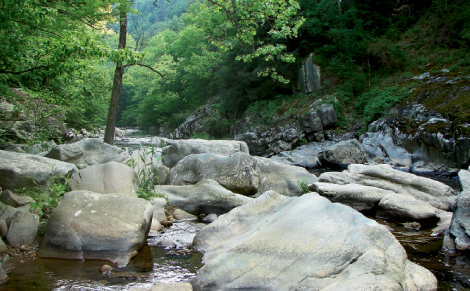 The sturdy green leaves of rhododendron—known by the settlers as "big laurel"—are ubiquitous along the Laurel River Trail near Hot Springs. Early spring blooms make this hike, which flanks Big Laurel Creek, joyous for nature lovers. The delicate white petals and lobed leaves of bloodroot, named for its reddish sap, are abundant. Pack your field guide to hunt for bleeding heart, trillium, and other spring bloomers that flourish within this low-elevation botanical paradise.
Embark on this level hike from the gravel parking area on U.S. 25/70, and follow the wide path downstream. After traversing through private land for roughly a mile, the path narrows and passes several impressive whitewater rapids. Geologic formations throughout this steep river valley offer a trailside attraction, and there are more recent, human relics too: The route follows the path of the bygone Madison County Railroad, which once connected the riverside hamlet of Runion and its sawmill to points beyond. At 3.5 miles, reach present-day railroad tracks at the confluence of the Big Laurel and French Broad rivers. Retrace your steps for a 7-mile round-trip.
Navigate
From Exit 19 on Interstate 26, follow U.S. 25/70 north toward Marshall for about 20 miles. The gravel pull-off is at the junction of N.C. 208.