Last Laugh
Last Laugh:
Moms Mabley, the trailblazing Brevard-born comedienne, gets her due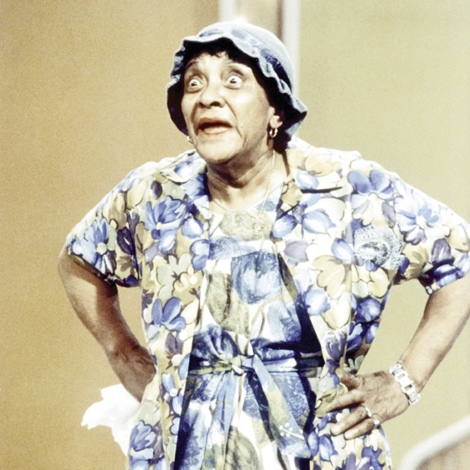 You may never have heard of Jackie "Moms" Mabley, but chances are you've busted a gut laughing at some of the many comedians she inspired to take to the stage. Now, almost 40 years after Mabley's death, a documentary directed by Whoopi Goldberg is finally celebrating this unheralded comedy pioneer.
"In 35 minutes on stage, I can keep laughter in a certain range, building higher and higher 'til, when I tell the last joke, they're all laughing like mad," Mabley said in 1971, late in her storied career. At the time, no one could deny her comedic skills, but few knew the traumatic history from which it sprang.
Born Loretta Mary Aiken in Brevard in 1897, this singular performer entered the world surrounded by peril and promise. A member of what was then one of the area's most prominent black families, she was still just a generation away from slavery.
Mabley's father, Jim Aiken, died when she was 11. He'd run several businesses and volunteered with the fire department. During one fire call, an explosion killed him. Brevard shut down in tribute on his funeral day, and the Transylvania Times remembered him as "the best negro, certainly, in North Carolina."
Her mother was often busy with work, so Mabley was mostly raised by her grandmother. "When I was about 14 Grandma told me, 'There's a world out there, I want you to go out in it,'" Mabley recalled. "'I never had the chance, but I want you to go.'"
Mabley went, first to stay with a cousin in Asheville, then to Ohio to reunite with her mother. But she was under duress: A sexual assault, one of many she'd already endured, had left the teenager pregnant and scared about the future.
"I got down on my knees and asked God to open up a way for me to make me and this child a living," she recounted later. "Suddenly a voice came to me, and it said, 'Go on the stage.' I looked around to see who was talking and I didn't see nobody, but it said 'Go on, I'll go with you.'"
In short order, Mabley landed a role in a traveling play, a production of a comedy called The Rich Aunt from Utah. "I didn't make a mistake or nothing, not from the first beginning, and that started me off," she remembered. Then, in the 1920s, she joined a series of shows on the Chitlin' Circuit, a loose network of black-only venues, where she performed in dramas, comedies and musicals, and quickly became one of the circuit's leading draws.
"I don't care if you could stand on your head," Mabley said of those years. "If you was colored, you couldn't get no work outside the segregated black night club and theatrical circuits."
Late in the Vaudeville era, in the 1930s, Mabley landed in Harlem, where she ultimately adopted the stage name Jackie "Moms" Mabley. The first and last names were a nod to a former boyfriend, while "Moms" was a nickname she'd picked up because of how she cared for both fellow performers and her growing legion of fans. "I'm just a mom," she'd explain. "A child is born, and it ain't no good, no where, no how, without a mom. I'm that mom."
Mabley fell in with the leading black entertainers of her day, sharing bills with the likes of Louis Armstrong, Count Basie, and Duke Ellington. She became a mainstay at famed New York City venues the Apollo Theater, Cotton Club, and Savoy Ballroom.
Ultimately, Mabley crossed over into successes elsewhere, in films, on best-selling records, and on TV variety shows. From the 1930s until her death in 1975, she was America's reigning black comedienne.
Mabley's stand-up comedy character, "Moms," cut a striking stage persona—a colorfully dressed bag lady, often with her dentures pulled out, who dispensed raw racial and sexual humor under cover of code words and in-jokes. She poked her audiences, and the country at large, pointedly in the ribs.
A sampling of Mabley's signature zingers gives a sense of her style:
"Love is like playing checkers: You have to know which man to move."
"There ain't nothin' an old man can do but bring me a message from a young one."
"My husband was ugly. He was so ugly he hurt my feelings. He had to sneak up on a glass of water to get a drink. He used to stand outside the doctor's office and make people sick."
"One of them big cops came running over to me and said, 'Hey woman, don't you know you went through a red light?' I said, 'I seen all you white folks going on the green light; I thought the red light was for us!'"
Comedians who have counted her as an inspiration have included Bill Cosby, Redd Foxx, Eddie Murphy, Richard Pryor, and Wanda Sykes. But it was Whoopi Goldberg who decided to turn Mabley's inspiring run into a lasting tribute. Her documentary, Whoopi Goldberg Presents Moms Mabley, premiered on HBO last November.
Mabley's story "is a huge part of American history, a huge part of entertainment history, and it's a gigantic part of black history," Goldberg noted when the documentary debuted. The film, she said, put Mabley fittingly back in the spotlight.
Efforts to recognize Mabley in her hometown haven't been as successful. For example, in 1997, on what would have been her 100th birthday, the town of Brevard renamed her childhood street, Oaklawn Avenue, after her. Local residents protested, though—they hadn't been consulted about the name change—and the street was quickly reverted to Oaklawn.
But Mabley always remembered WNC well. A few years before she passed, in 1971, she came back to do her act at the old Asheville Community Theatre. Though she'd lived most of her life elsewhere, she spoke fondly of her homeland. "Lord, what a wonderful place God picked out for me to be born in," she told the Asheville Citizen's Bob Terrell in an interview. "The mountains were so high that we grew up thinking that on the other side, everything drops off into eternity."
Looking back on her decades in show business, she wasn't shy about sizing up her influence. "There's not a comedian in show business that hasn't stole material from Moms," she told Terrell. "Not white or black. As fast as they steal 'em, God gives me some more."