Last Band Standing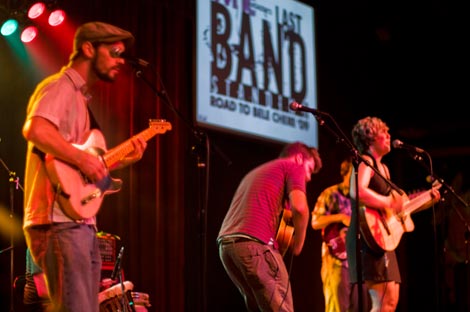 After 15,000 votes and four outstanding live performances, the winner of WNC magazine's Last Band Standing has been chosen.
Congratulations to Now You See Them on their win!
Be sure to see them open Bele Chere at 3:30 p.m. Friday, July 24, on the Rock n' Kiss Stage on Coxe Avenue, in downtown Asheville.
Thanks to all the finalists - Buster, Brushfire Stankgrass, Now You See Them, and A.C.E. - and everyone who entered! We are fortunate to have such a wide range of musical talent in Western North Carolina.
Thanks to Steve Busey with Bele Chere and WCQS, Ashley Davis of 98.1 The River, Lesley Grosch of 880 The Revolution?s Local Edge Radio, Bob Hine of White Horse Black Mountain, and Rebecca Sullock of Mountain Xpress for judging the performaces at the Last Band Standing concert at the Orange Peel.
Most of all, thanks to all the fans who voted. Thank you for supporting
local music in our region!
Be sure to check out the 38 not-t-be-missed bands and musicians in our July issue, on newsstands now. Subscribe online for just $17.95 and receive a
FREE commemorative Last Band Standing T-shirt with your first issue, while
supplies last!
Videos

A.C.E.

Brushfire Stankgrass

Buster

Now You See Them