Lakeshore Trail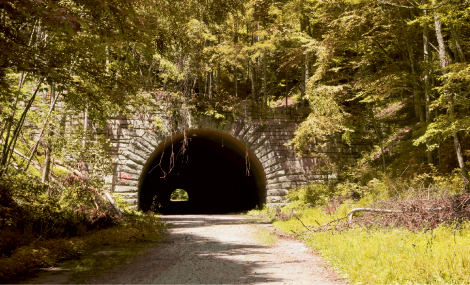 Outside Bryson City is Great Smoky Mountains National Park's legendary 30-mile Lakeshore Trail.
The footpath winds through a remote section of terrain along the shoreline of Lake Fontana. In the 1940s, hundreds of families were relocated to make way for the creation of the lake and expansion of the park. Signs of their former homesteads scattered along the way make this route a lure for nature lovers and history buffs.
You don't have to conquer the entire length to get a taste of the hike's beauty and history. To reach the route, pass through or around the tunnel that marks the end of Lakeview Drive, aka the Road to Nowhere. From the tunnel, walk roughly two miles along Lakeshore Trail and pass the Whiteoak Branch Trail junction. Continue west and pass an old overgrown homestead, soon crossing Gray Wolf Creek. Upstream, a maintained road grade leads to Woody Cemetery, one of several dozen eternal resting places along the north shore still maintained by the National Park Service. Take a side trip to view the orderly rows of hand-chiseled tombstones that have been dulled by the elements over the years. Continue to scenic Forney Creek at mile three and then retrace your steps.                  
---
Difficulty: Moderate
Round-Trip: 6 miles
---
Navigate: From Bryson City, follow Everett Street northwest. The route becomes Lakeview Drive. In roughly 10 miles, the byway ends at the tunnel. Park on the right.